Curiosidades
Candidíase. O tratamento deve fazer três coisas: controlar a exuberância da cândida, matar os fungos que se espalharam pelo corpo e fortalecer o seu sistema imunológico para que ele volte a trabalhar direito.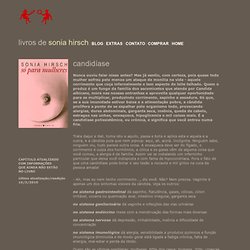 A cândida sobrevive basicamente dos açúcares da nossa alimentação, e lambe os beiços cada vez que pode engolir uma celulazinha morta por falta de vitaminas e sais minerais. Seu ideal é que a gente tome refrigerantes de manhã, almoce sanduíche e sorvete, jante biscoitos com queijo e coma mil balas, biscoitos e chocolates nos intervalos. Playfully Illustrated Placemats Teach Proper Table Manners. Strict instructions, or a treasure map?
Like many of the best educational instruments, it looks more like an interactive puzzle or placemat game than a boring tutorial on how to behave politely at the dinner table. Based on a book titled On Human Relations, and designed by llotllov (aka voll toll, or 'totally awesome' in German … spelled backward), this tabletop accessory takes inspiration from "the fundamental principles of human relations that has the reputation of being the authoritative guide to behaviour, politeness, and etiquette." Part of the fun is perhaps poking fun at the absurdity of certain rules, hinted at by the complex web of dotted lines and instructions sure to keep a child busy and away from playing with their food, if nothing else!
Parkmobile in San Francisco. My Fridge Food - Recipes you already have in your Fridge. Colossal | art + design. Blog athas!.. | REINVENÇÕES, TENDÊNCIAS E DESIGN. 35 Inspiring Color Palettes from Master Painters | Art Varsity. Putting together a great color palette for your design work can be one of the most challenging aspects of any project.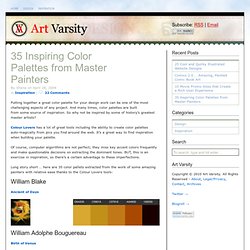 And many times, color palettes are built from some source of inspiration. So why not be inspired by some of history's greatest master artists? Colour Lovers has a lot of great tools including the ability to create color palettes auto-magically from pics you find around the web. It's a great way to find inspiration when building your palette. Dachshunds. Wednes-diy | Free People Clothing Boutique Blog. UPDATE: This post originally ran on March 23 2011, but with summer winding down we wanted to bring it back up for some late summer inspiration!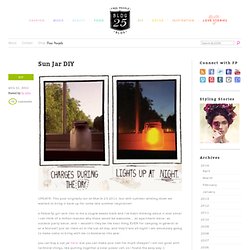 A fellow fp girl sent this to me a couple weeks back and i've been thinking about it ever since! I can think of a million reasons why these would be awesome… as apartment décor, as outdoor party décor, and – wouldn't they be the best thing EVER for camping in general or at a festival? Just let them sit in the sun all day, and they'll last all night! I am absolutely going to make some to bring with me to bonnaroo this year. Showing all quotes that contain bukowski.
---