Funny
2011-04-01-254_That-Great-Old-One.png (PNG-afbeelding, 630x5342 pixels)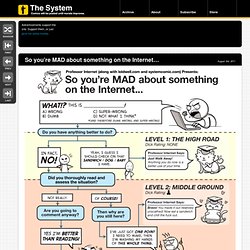 UPDATE: Thanks to everyone for sharing the chart! You can vote for it on Reddit here (please do!) , I would LOVE to see it again on BoingBoing , if someone sends me a Submitterator post I'll add it here as well. If there's anywhere else you share it to, please let me know! After months of discussion and planning, Caldwell and myself, creators of the "So you found something cool on the Internet…" chart on giving credit where credit is due, are proud to present this followup, all about Internet arguments.
So you're MAD about something on the Internet…
15 Signs Improved by Hilarious Graffiti from Ace of Base
2010-01-07-WishesForANewborn.jpg (JPEG-afbeelding, 900x917 pixels)
How my handwriting has changed since Kindergarten
Everyrime I go to school...
Retarded Emails
Time Slower | Strains
Thanks, Jesus, for the food