Quotes?
[Note: This list of Einstein quotes was being forwarded around the Internet in e-mail, so I decided to put it on my web page. I'm afraid I can't vouch for its authenticity, tell you where it came from, who compiled the list, who Kevin Harris is, or anything like that. Still, the quotes are interesting and enlightening.] "Any intelligent fool can make things bigger, more complex, and more violent. It takes a touch of genius -- and a lot of courage -- to move in the opposite direction."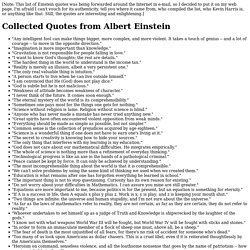 1. "Put your hand on a hot stove for a minute, and it seems like an hour….." – Albert Einstein 2. "When you can't smoke" – Rory Sutherland 3. "Death does not concern us…" – Epicurus 4. "I think it's better to have ideas." – Chris Rock 5. "You gotta be able to smile…"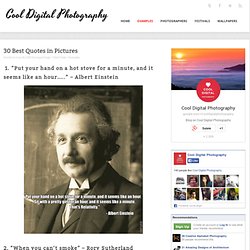 If life is a journey, then philosophy is like a compass. It helps us to find our way through the jungle of possibilities that life presents. This website is about philosophy in the widest sense. It includes science, religion, mythology and other fields of thought that are not within the traditional scope of philosophy. However, it makes not much sense to treat these fields separately. Everything is connected.