Training
Suite. 345 Free PowerPoint templates, themes and backgrounds. Apprentissages formels et informels: Leçons de la méthode Kaizen et importance du feedback. Dans un article précédent, je vous ai présenté le modèle 70/20/10, selon lequel le développement des compétences et l'acquisition des connaissances s'effectuent pour 70% « on the job », pour 20% par les interactions avec les autres et seulement pour 10% grâce à la formation formelle.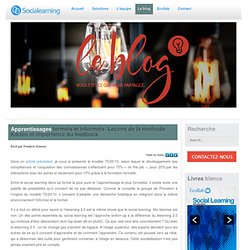 Entre le social learning dans sa forme la plus pure et l'apprentissage le plus formalisé, il existe toute une palette de possibilités qu'il convient de ne pas délaisser. Comme le conseille le groupe de Princeton à l'origine du modèle 70/20/10, il convient d'adopter une démarche holistique en intégrant dans le même environnement l'informel et le formel. Il y a tout un débat pour savoir si l'elearning 2.0 est la même chose que le social learning. Ma réponse est non.
Brainstorming
How to Read Body Language to Reveal the Underlying Truth in Almost Any Situation. Creativity.
---