Save the Planet
The IUCN Red List of Threatened Species.
Country-Specific Environmental Protection. Earth Day. Earth Hour. Friends of the Earth. Green Education. Environmentally Friendly Detergents. Veganism. Renewable Energy. Environment-Friendly Home Improvements. Green Design. Meat & Its Impact On The Environment. Animal & Animal Rights Protection. Rainforest Protection. Green Parenthood - Only Environmentally Friendly Things. Foundation : ecology and environment concerns non profit organisation. Home | Rainforest Alliance. Plants For A Future : 7000 Edible, Medicinal & Useful Plants. Recommended this month New Book ** Plantes Comestibles: Le guide pour vous inspirer a choisir et cultiver des plantes comestibles hors du commun [Paperback] Edible Plants: French Translation.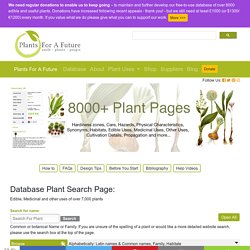 La traduction française du livre Plantes comestibles (Edible Plants) est maintenant disponible! Partagez ce lien avec vos amis. Nous sommes convaincus que les plantes peuvent répondre à la majorité de nos besoins, tout en respectant la santé de notre planète. WWF. Home page.
---