Conferences
Gameconfs. Games For Learning Institute. Serious Play Conference. What is EDUCAUSE? EdMedia. Tampere, Finland: June 23-27, 2014 Hosted by: University of Tampere and Tampere University of Applied Sciences The EdMedia World Conference on Educational Media and Technology is an international conference, organized by the Association for the Advancement of Computing in Education (AACE).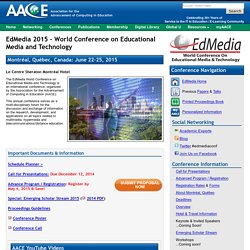 This annual conference serves as a multi-disciplinary forum for the discussion and exchange of information on the research, development, and applications on all topics related to multimedia, hypermedia and telecommunications/distance education. Writing Academic Papers for AACE Conferences: Getting Started Related presentation in PDF. eLearning DevCon 2011. The eLearning Guild has taken over production of the eLearning DevCon™ & mLearning DevCon™ conferences from Callidus Software, Inc. who acquired them in 2011 along with their acquisition of Rapid Intake.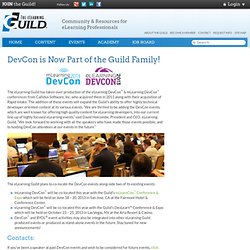 The addition of these events will expand the Guild's ability to offer highly technical developer oriented content at its various events. "We are thrilled to be adding the DevCon events, which are well known for offering high quality content for eLearning developers, into our current line-up of highly focused eLearning events," said David Holcombe, President and CEO, eLearning Guild. "We look forward to working with all the speakers who have made those events possible, and to hosting DevCon attendees at our events in the future." The eLearning Guild plans to co-locate the DevCon events along-side two of its existing events: Www.glsconference.org.
ICLS 2012 in Sydney - International Conference of the Learning Sciences. International Conference of the Learning Sciences 2 - 6 July, 2012 in Sydney The Future of Learning Brought to you by ISLS, hosted by the CoCo Research Centre at the University of Sydney.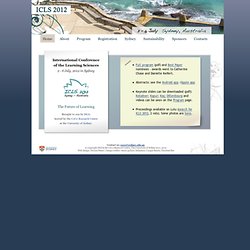 Full program (pdf) and Best Paper nominees - awards went to Catherine Chase and Danielle Keifert. Abstracts: see the Android app /Apple app Keynote slides can be downloaded (pdf): Kolodner; Kapur; Kay; Dillenbourg and videos can be seen on the Program page. ECER 2012 Emerging Researchers. EERA: ECER 2012, Cádiz. Ir13.aoir. EERA | Eastern Educational Research Association. Artificial Intelligence in Education. H.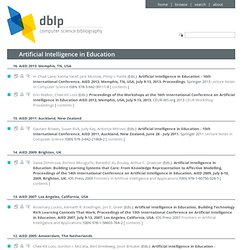 Chad Lane, Kalina Yacef, Jack Mostow, Philip I. Pavlik (Eds.): Artificial Intelligence in Education - 16th International Conference, AIED 2013, Memphis, TN, USA, July 9-13, 2013. Proceedings. Springer 2013 Lecture Notes in Computer Science ISBN 978-3-642-39111-8 [ contents ]Vania Dimitrova, Riichiro Mizoguchi, Benedict du Boulay, Arthur C. AERA Homepage. International Society of the Learning Sciences - Home.
---