GoodPlanet
Yann Arthus-Bertrand, le nouveau Johnny d'Optic 2000
Zoom Tous mes potes vont se foutre de moi mais je n'ai pas peur de mettre ma gueule dans une publicité. C'est pour la bonne cause, c'est une façon d'avancer et de faire passer mon message ». Voici les propos, sans détours, de la nouvelle « icône » d'Optic 2000, Yann Arthus-Bertrand, qui, avec sa dégaine à la Brassens et sa contribution à la protection de l'environnement, via sa Fondation GoodPlanet, ouvre un nouveau chapitre dans la communication de l'opticien.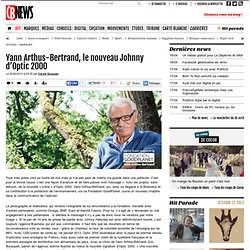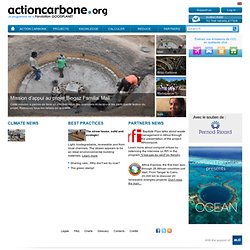 Mali Mission d'appui au projet Biogaz Familial Mali Cette mission a permis de faire un état des lieux des avancées et de réunir les participants autour du projet. Retrouvez tous les détails en actualité.
|| Action Carbone : Opérateur de compensation carbone, à but non lucratif, pour lutter ensemble contre le changement climatique
ActionCarbone GP (ActionCarbone_) on Twitter
Homme, 30, Paris, France Enregistré le 5 juin 2008 Hors ligne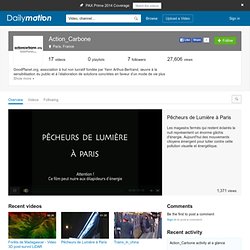 - Action_Carbone
Découvrez les Posters GoodPlanet, un kit de 20 affiches pédagogiques sur les enjeux du développement durable distribués chaque année gratuitement dans tous les établissements scolaires de France et de Belgique. Disponible pour les enseignants et les chefs d'établissement auprès du réseau SCEREN-CNDP et de la Ligue de l'enseignement, les Posters GoodPlanet sont également disponibles aupr's de la Fondation GoodPlanet pour les ONG, les collectivités, les festival, les centres hospitaliers ou pénitentiaires etc. Découvrez ci-dessous et téléchargez en haute définition toutes les éditions des Posters GoodPlanet.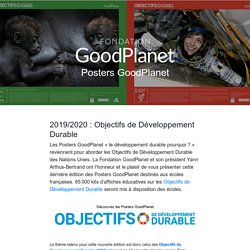 HOME WATCH THIS MOVIE!
live from Copenhagen - GoodPlanet live from Copenhagen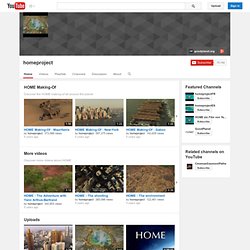 TO DEBATE AND TAKE ACTION http://www.goodplanet.org/en More information on : http://www.goodplanet.info We are living in exceptional times. Scientists tell us that we have 10 years to change the way we live, avert the depletion of natural resources and the catastrophic evolution of the Earth's climate. The stakes are high for us and our children.
Chaîne de GoodPlanetorg
About GoodPlanet GoodPlanet is a foundation that was created in 2005 to raise public awareness of environmental protection and to bring concrete solutions to the Earth's ecological crisis. The foundation is chaired by Yann Arthus-Bertrand. Since 1990 Yann Arthus-Bertrand has flown over one hundred countries around the world. Extraordinary aerial views of nature and descriptive texts invite all of us to reflect upon the our planet's evolution and its inhabitants' future. Since 1990 Yann Arthu...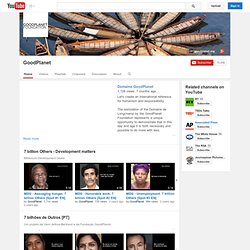 Good Planet - GoodPlanet
Language: English Bahasa Indonesia Bahasa Melayu Dansk
GoodPlanet (GoodPlanet_) on Twitter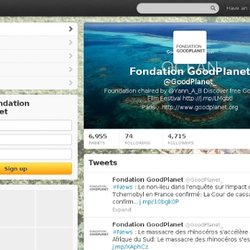 goodplanet association
GoodPlanet on Vimeo
According to the World Health Organization (WHO), the Millenium Development Goal (MDG) set by 192 countries in 2000 target of halving the proportion of people without sustainable access to safe drinking water has been reached early in March. 884 million people worldwide still do not have access to clean drinking water though – that is almost one out of every seven people – and 2 million of them die every year. Update : Following wide demand, we are once again showing « Planet Ocean » at 2:00pm, instead of « Home ». Films Screening and discussion 2pm: Planet Ocean (Home) 4.30 pm: 7 billion Others
GoodPlanet Film Festival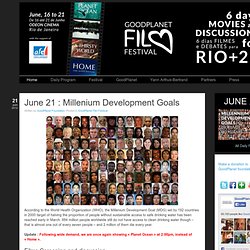 6 billion others / 6 milliards d'autres