GoodPlanet
Yann Arthus-Bertrand, le nouveau Johnny d'Optic 2000. Tous mes potes vont se foutre de moi mais je n'ai pas peur de mettre ma gueule dans une publicité.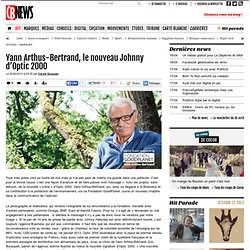 C'est pour la bonne cause, c'est une façon d'avancer et de faire passer mon message ». Voici les propos, sans détours, de la nouvelle « icône » d'Optic 2000, Yann Arthus-Bertrand, qui, avec sa dégaine à la Brassens et sa contribution à la protection de l'environnement, via sa Fondation GoodPlanet, ouvre un nouveau chapitre dans la communication de l'opticien. Le photographe et réalisateur, qui reverse l'intégralité de sa rémunération a la fondation, travaille avec d'autres partenaires, comme Omega, BNP, Suez et bientôt Casino. Fondation GoodPlanet : l'?cologie et l'environnement au coeur des consciences. Accueil. || Action Carbone : Opérateur de compensation carbone, à but non lucratif, pour lutter ensemble contre le changement climatique. ActionCarbone GP (ActionCarbone_)
- Action_Carbone. Le D?veloppement Durable, Pourquoi ? HOME WATCH THIS MOVIE! HOME v2 (homethemovie.org) Homeproject's Channel. TO DEBATE AND TAKE ACTION More information on : We are living in exceptional times.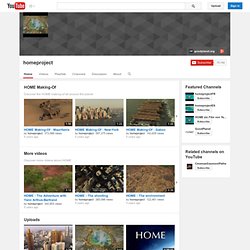 Scientists tell us that we have 10 years to change the way we live, avert the depletion of natural resources and the catastrophic evolution of the Earth's climate. The stakes are high for us and our children. Chaîne de GoodPlanetorg. About GoodPlanet GoodPlanet is a foundation that was created in 2005 to raise public awareness of environmental protection and to bring concrete solutions to the Earth's ecological crisis.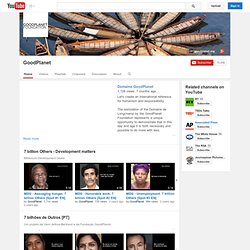 The foundation is chaired by Yann Arthus-Bertrand. Since 1990 Yann Arthus-Bertrand has flown over one hundred countries around the world. Extraordinary aerial views of nature and descriptive texts invite all of us to reflect upon the our planet's evolution and its inhabitants' future. Since 1990 Yann Arthu... Good Planet - GoodPlanet.
Agir pour le climat avec Action Carbone Action Carbone est un programme de la fondation GoodPlanet présidée par Yann Arthus-Bertrand.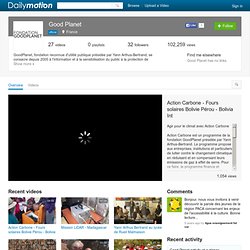 Le programme propose aux entreprises, institutions et particuliers de lutter contre le changement climatique en réduisant et en compensant leurs émissions de gaz à effet de serre. GoodPlanet (GoodPlanet_) Goodplanet association. GoodPlanet. GoodPlanet Film Festival. 6 milliards d'autres.
6 billion others / 6 milliards d'autres.