Useful lists
100-downloads.com | Top 100 downloads of free software for Windows XP & Windows 7. The Best Free Software of 2012. Looking for the best free programs to run on your desktop with Windows, MacOS, or even over the Web in your browser?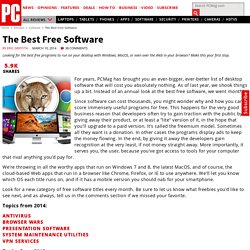 Make this your first stop. For years, PCMag has brought you an ever-bigger, ever-better list of desktop software that will cost you absolutely nothing. 20 Useful OS X Tips. Because we are all different, operating system developers always put more than one way of doing things in their systems.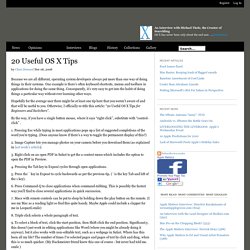 One example is there's often keyboard shortcuts, menus and toolbars in applications for doing the same thing. Consequently, it's very easy to get into the habit of doing things a particular way without ever learning other ways. Hopefully for the average user there might be at least one tip here that you weren't aware of and that will be useful to you. 7 outils indispensables de ton PC que tu n'utilises jamais. Bon, j'exagère, tu en utilises sûrement au moins un.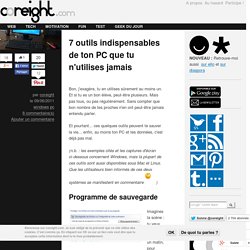 Et si tu es un bon élève, peut-être plusieurs. Mais pas tous, ou pas régulièrement. Sans compter que bon nombre de tes proches n'en ont peut-être jamais entendu parler. Et pourtant... ces quelques outils peuvent te sauver la vie... enfin, au moins ton PC et tes données, c'est déjà pas mal. (n.b. : les exemples cités et les captures d'écran ci-dessous concernent Windows, mais la plupart de ces outils sont aussi disponibles sous Mac et Linux.
100+ awesome free and open source applications - Software - Seopher.com. Posted on Tuesday 27th of September 2011 at 13:05 in SoftwareIt has always amazed me quite how many incredible, varied and useful applications are available for free on the Internet.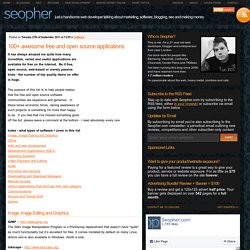 Be it free, open source, web-based or merely passive trials - the number of top quality items on offer is huge. The purpose of this list is to help people realise that the free and open source software communities are expansive and generous. In these tense economic times, raising awareness of such projects is something I'm more than happy to do. If you feel that I've missed something good off the list, please leave a comment at the bottom - I read absolutely every one. 25 Useful Ubuntu Shortcuts To Make your Life Easier. Sponsored Links Earlier, i have posted about useful windows shortcuts.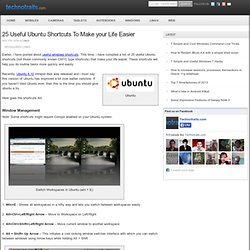 This time, i have compiled a list of 25 useful Ubuntu shortcuts (not those commonly known Ctrl+C type shortcuts) that make your life easier. These shortcuts will help you do routine tasks more quickly and easily. Dan Rodney's List of Mac OS X Keyboard Shortcuts & Keystrokes. I like to figure out the fastest way to do things.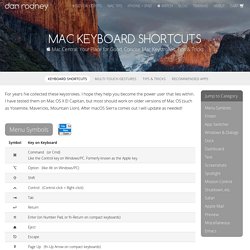 I hope these keystrokes help you to become the power user that lies within. These keystrokes have been tested in Mac OS X Mavericks (Mac OS 10.9) but most should work on other versions of Mac OS (10.8 Mountain Lion, 10.7 Lion, etc.). Menu Symbols Finder. Web Mashups and APIs - ProgrammableWeb. 30 Days to Learn HTML & CSS - Free Tuts+ Premium Course. 70 Things Every Computer Geek Should Know. | Arrow Webzine. The term 'geek', once used to label a circus freak, has morphed in meaning over the years.
What was once an unusual profession transferred into a word indicating social awkwardness. As time has gone on, the word has yet again morphed to indicate a new type of individual: someone who is obsessive over one (or more) particular subjects, whether it be science, photography, electronics, computers, media, or any other field. A geek is one who isn't satisfied knowing only the surface facts, but instead has a visceral desire to learn everything possible about a particular subject. A techie geek is usually one who knows a little about everything, and is thus the person family and friends turn to whenever they have a question. 21 Lesser-Known Open-Source Applications for Windows. Unless you've been hiding under a rock in Madagascar for the last few years, you undoubtedly already know about the All-Star open-source applications for Windows.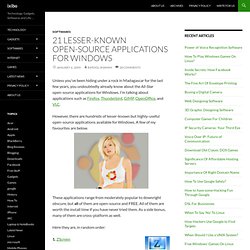 I'm talking about applications such as Firefox, Thunderbird, GIMP, OpenOffice, and VLC. However, there are hundreds of lesser-known but highly-useful open-source applications available for Windows. A few of my favourites are below. These applications range from moderately popular to downright obscure, but all of them are open-source and FREE.
Logiciels Libres. Nouvelles notices Corregidor Correction et Gestion Intelligentes de Dictées Assistées par Ordinateur | FR | WIN | GPL 14 avril 2014 Consonnex Le Soundex revisité | FR | WIN | TUX 24 février 2014 iner6 calcul de l'inertie thermique d'un bâtiment | WIN | MAC 21 décembre 2013 Pendu_SVG Pendu des mots savants, rares ou drôles du français.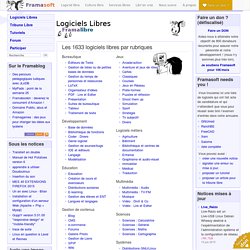 . | FR | WIN | MAC 21 décembre 2013 Algem Logiciel de gestion d'activités culturelles | WIN | TUX | MAC 26 août 2013 Miniflux Lecteur de flux RSS minimaliste 11 août 2013 OpenClinica Solution d'EDC (EDC est l'acronyme de Electronic Data Capture) Open Source. Cool Websites, Software and Internet Tips. CrunchBase, The Free Tech Company Database. Outils de veille gratuits. Windows 7 Sticky Notes Tips, Tricks, Backup, Restore, Format, FAQ. If you are a regular Windows 7 | 8 sticky notes user, you might find these tips & tricks to use, format, backup and restore handy.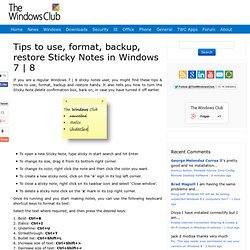 It also tells you how to turn the Sticky Note delete confirmation box, back on, in case you have turned it off earlier. To open a new Sticky Note, type sticky in start search and hit Enter.To change its size, drag it from its bottom right corner.To change its color, right click the note and then click the color you want.To create a new sticky note, click on the '+' sign in its top left corner.To close a sticky note, right click on its taskbar icon and select 'Close window'.To delete a sticky note click on the 'x' mark in its top right corner. Once its running and you start making notes, you can use the following keyboard shortcut keys to format its text: 10 interesantes aplicaciones para videoconferencias y reuniones online. La red ha sido el mejor medio para establecer el sistema globalizado que hoy nos rige, aunque lo importante es que su constante evolución ha permitido que cualquiera pueda sacar lo mejor de sus características para establecer relaciones laborales -o de cualquier otro tipo- de contacto o de trabajo colaborativo en cuestión de segundos.
Como muestra, las videoconferencias y las reuniones online tan útiles y sencillas de armar con las debidas herramientas. Aquí están, gracias a la ayuda de Hongkiat, 10 de las mejores: 1. AccountKiller. 10 Puzzle Websites to Sharpen Your Programming Skills - StumbleUpon. Solving programming puzzles is a fun way to develop your logical and problem solving abilities. Also, when you're familiarizing yourself with a new programming language, solving puzzles for that language can help speed up the learning process. Here are the top 10 popular programming puzzle sites that will help test your thinking and improve your programming, problem solving, and logical thinking skills. 1. Diez libros libres sobre tecnología en castellano que debes copiar. Y leer. De nada sirve acumular libros y libros electrónicos si quedarán recluidos en un oscuro directorio de tu sistema operativo.
Planea tus lecturas, organiza tu tiempo, evita abrumarte... Pero no nos desviemos del tema: quiero ofrecerte una recopilación de diez trabajos de excelencia relacionadas con asuntos tecnológicos, que son de libre distribución y están escritos/traducidos en/al castellano. En orden cronológico, aquí los tienen. 101 Essential Freelancing Resources. Envato Studio is an online marketplace for freelance services focused on design and web-development. Services range from designing a logo to WordPress customization, and all service providers have been reviewed and recommended by our expert review team. If you were a user of the FreelanceSwitch Job Board (as either a freelancer or client) we recommend you check out Envato Studio.
Also check out the Envato Studio Blog. This is now home to some of the content published on FreelanceSwitch (including the Freelance Freedom Comic) as well as fresh content that may be of interest. How to Copy Music from Your iPod to Your Computer. Most Popular Repurposing Tricks of 2011 - StumbleUpon. Top 10 Ways to Speed Up Your Computer's Boot Time. Wwwhat's new? » 1000 aplicaciones web 2.0 clasificadas - Aplicaciones gratis web 2.0. 5 herramientas clave con versión móvil para enseñar periodismo digital. Computer and Internet Tools and Resources. IpTools.com - Free DNS tools. 101 Free admin tools. 3 New Tools for Promoting Your Interests. 10 Useful Findings About How People View Websites. 42 New Digital Media Resources You May Have Missed.
---