Cities
Le ciel est sombre, la pluie tombe et le tonnerre menace, un jour idéal pour les zombies ! La zombie walk est bien entendu maintenue, la météo s'accorde avec le thème de la fin du monde, et voici d'ailleurs un petit guide pour les suivants qui souhaitent nous rejoindre, à tout à l'heure ! La zombie Walk est la marche des fiertés zombie. C'est un rassemblement de Morts-vivants dans le but de unnngh arrrrh uuuuaaaah cerveauuuu.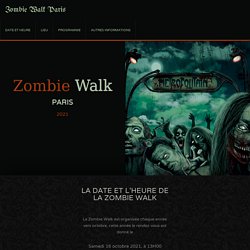 Paris Zombie
Niños,planes y actividades de Madrid en Guía del Ocio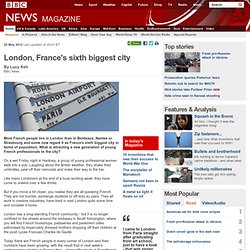 London, France's sixth biggest city
29 May 2012Last updated at 20:41 ET By Lucy Ash BBC News More French people live in London than in Bordeaux, Nantes or Strasbourg and some now regard it as France's sixth biggest city in terms of population. What is attracting a new generation of young French professionals to the city? On a wet Friday night in Hackney, a group of young professional women walk into a pub.
Événements à venir au Château - Les Amis du Château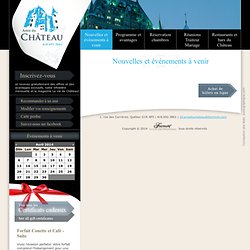 Vivez l'évasion parfaite! Votre forfait comprend l'hébergement pour une nuit dans une suite et le petit-déjeuner buffet des plus copieux. La suite combine le luxe et le raffinement avec une vue spectaculaire sur le fleuve Saint-Laurent.
Cano Infos - International, Qubec, Canada, Socit, Mto ...
Sortir à Paris : trouver un restaurant à Paris, un hôtel, un bar, une discothèque…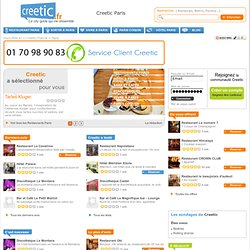 Vous êtes ici > Creetic France > Paris Creetic a testé Restaurant NapoletanoLe décor, ici, n'a rien d'exceptionnel. On doit certainement la renommée de cette cantine, paris...
janvier 13th, 2008 · 7 Comments · Voici le planning de la semaine, si vous avez des commentaires, des suggestions de visites ou des idees de questions a poser. Voici la listes des societes et intervenants que nous rencontrons: Stan Christensen
San Francisco
Unknown Paris ; discovering secret places few American tourist knows
Paris Notes: Hidden Paris
Hidden Paris Paris Notes contributor and author of Paris Discovered : Explorations in the City of Light Friends and acquaintances often ask which is my very favorite of all the places I've visited and written about in Paris. Having fallen in love with so much of the City of Light, this is a tough one to answer.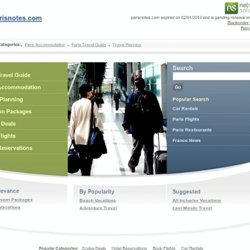 Reis om de Wereld
De Madrid al cielo...: El Parque de la Bombilla - Blog sobre Madrid
Parque de la Bombilla. Senda del Rey. Avenida Valladolid, de Carlos Viñas El Parque de la Bombilla es uno de los rincones más entrañables y menos conocidos de Madrid. Está situado entre la Avenida de Valladolid, la Ciudad Universitaria y la Estación Norte, llamada popularmente Estación de Príncipe Pío.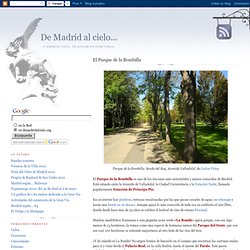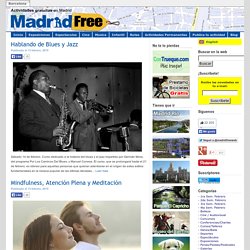 Viernes 11 de abril. El Cuarteto Lírico Eurídice presenta Concierto Hispanoamericano: Canciones cultas, tanto españolas como latinoamericanas, compuestas, entre otros por Carlos Gustavino, Eduardo Toldrá, Ernesto Lecuona, Adolfo Mejía, Manuel Penella….y tan populares y apreciadas como "Se Equivocó la Paloma", "María la O", "Pueblito mi Pueblo", "Cartagena" y la deliciosa Habanera "Todas las Mañanitas". Dónde: Centro Cultural Casa del Reloj… Leer más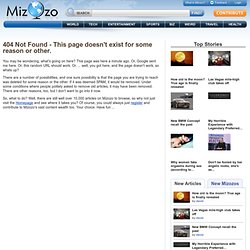 You may be wondering, what's going on here? This page was here a minute ago. Or, Google sent me here. Or, this random URL should work. Or, ... well, you got here, and the page doesn't work, so whats up?
Who cares if London's hotels and restaurants tend to be on the expensive side? No city in the world has more free stuff to do. In addition to world-class museums without a ticket admission, you get the parks, canal walks, super markets (Portobello Road Market at Notting Hill Gate, Camden Market at Chalk Farm Rd, wonderful Columbia Road Flower Market at Gosset St in East London etc) and maybe some royal-spotting, and you can fill a life. London, thank you! Here's the mere start of the free list: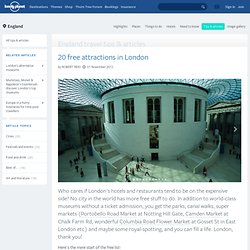 Austin
Créative Paris :: Tourisme créatif à Paris
By Saif on March 12, 2011 Fenhuan considered one of the 10 most beautiful cities in China. The city was founded during the Ming Dynasty (1368-1644). Originally the town was inhabited by soldiers sent to subdue the local Miao people. Check out the pictures given below. 29 Photos
The world's most beautiful bridge turns 75 on 27 May 2102. Much is in the works to celebrate, including a 'necklace of mirrors' which, in pure San Francisco fashion, even planners have 'no idea what's going to happen.' Regardless of when you go, there's more to enjoying the Golden Gate Bridge than just going, taking a snapshot and moving on. Its beauty opens up more as you see it from different times of day, and from different views. Here are the 10 best - but whatever you do, don't leave without getting at least one view from the north side.
Top 10 places to view the Golden Gate Bridge
s favorite spots in Dublin - SEE PHOTOS | Ireland Vacations
Grand Canal Dock Theater SEE PHOTOS - click here Over eight million tourists visit Dublin City every year, either passing through or staying for a while. All of them most likely have guide books and will hit the major tourist attraction but we decided to put together a list of some of our (the locals) favorite spots in Dublin. To see a show, sit back and watch the world go by, get back to nature or find that unique souvenir, here is our list of Dubliner's favorite spots: Red Rock, Sutton, Dublin Just 25 minutes outside the City Centre and you will find yourself in Sutton Village on the north coast of Dublin. The Red Rock walk is one of our favorite walks in Dublin, due to its easy access from the city and also because of the feeling of remoteness you get standing up on top of the cliffs looking out to sea.
Paris from Arch to Arch – Wallpaper Dreams
Cool and Weird Stuff
The Global Vibe | The Limerick Vibe
Amsterdam Tries to Change Culture With 'Repair Cafes'
49 Hours of SF | San Francisco, CA | Sanfrancisco.travel
Duendemad.com
Les petits plaisirs parisiens
Tracking Taxi Flow Across the City - Interactive
ocio-madrid - sindinero.org
chambre.des.couleurs.france-i
Inicio BA