Arts, Culture & Entertainment
Interview: Edward Burtynsky Talks About 'Water' El regreso de los camaradas del frente. Observé con melancolía la gorra de oficial de la Wehrmacht que perteneció a Sven Hassel (Frederiksburg, Dinamarca, 1917-Barcelona 2012).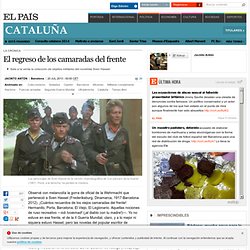 ¡Cuántos recuerdos de los viejos camaradas del frente! Hermanito, Porta, Barcelona, El Viejo, El Legionario. Con estas organizaciones saciarás tu hambre de libros – Asuntos sociales – Noticias, última hora, vídeos y fotos de Asuntos sociales en lainformacion. Libros Libres Foto: Grupo 2013 "Este libro es libre, no se compra ni se vende", así reza el sello de cada libro que sale de una de las primeras librerías gratuitas en España, que se encuentra en la calle Covarrubias de Madrid.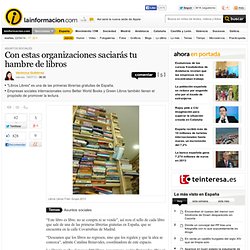 "Deseamos que los libros no regresen, sino que los regalen y que la idea se conozca", admite Catalina Benavides, coordinadora de este espacio. La librería recibe al menos 500 libros por semana, según Benavides. "No sé cuántos ejemplares tenemos en total porque están entrando y saliendo constantemente", dice. 7 Dicas para se ter sucesso nas mídias sociais. Olá Pessoal, o meu último post aqui já está fazendo muito tempo e vocês nem imaginam o turbilhão de coisas que me aconteceram neste meio tempo e que me impossibilitou de escrever para o FDG.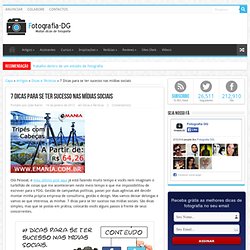 Gestão de campanhas políticas, passei por duas agências até decidir montar minha própria empresa de consultoria, gestão e design. Mas vamos deixar delongas e vamos ao que interessa, as minhas 7 dicas para se ter sucesso nas mídias sociais. São dicas simples, mas que se postas em prática, colocarão vocês alguns passos à frente de seus concorrentes. Crie perfis e página para sua empresa nas principais redes sociais, como linkedin, facebook, twitter, Google + e integre estas ferramentas umas com as outras, de forma que interajam entre si.
Fotos encontradas | Porque la fotografía se hizo para ser mirada. César Fernández Arias - Crónica sintética. J. Alfaro García - Fotógrafo | Alicante · Novelda · Sant Joan d' Alacant. Les 12 campagnes choc les plus brutales contre les violences conjugales. Pour lutter contre les violences conjugales dont le chiffre ne baisse pas, les associations rivalisent d'imagination pour créer des publicités et affichages qui marqueront les esprits.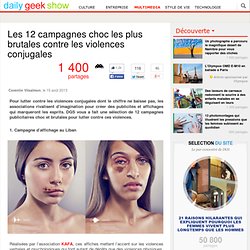 DGS vous a fait une sélection de 12 campagnes publicitaires choc et brutales pour lutter contre ces violences. 1. Campagne d'affichage au Liban. Website Reviews | Intelligent & Inspired | The Good Web Guide. Acoustic Mirror: Archive. De la pana a la pena. En inglés suena mejor.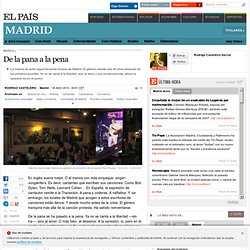 O al menos con más empaque: singer-songwriters. Es decir, cantantes que escriben sus canciones. Como Bob Dylan, Tom Waits, Leonard Cohen… En España, la expresión de cantautor remite a la Transición. A pana y coderas. A naftalina. Los siete motivos más absurdos y ridículos para prohibir un libro. Los siete motivos más absurdos y ridículos para prohibir un libro Posted by queleerblog on septiembre 2, 2013 · 1 Comentario La condena de determinados libros es algo que ha sucedido siempre, y el famoso escrutinio de El Quijote es un buen ejemplo de ello: el cura y el barbero desechan de la biblioteca del valiente hidalgo todos aquellos libros que no merece la pena leer.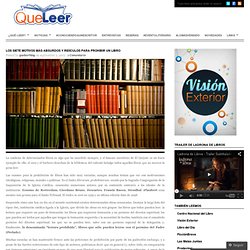 Las razones para la prohibición de libros han sido muy variadas, aunque muchas tenían que ver con motivaciones ideológicas, religiosas, morales o políticas. Ya el Index librorum prohibitorum, creado por la Sagrada Congregación de la Inquisición de la Iglesia Católica, censuraba numerosos autores por su contenido contrario a los ideales de la institución: Erasmo de Rotterdam, Giordano Bruno, Descartes, Francis Bacon, Stendhal oFlaubert eran mentes non gratas para el Santo Tribunal.
La voz en la tercera edad - Vox Technologies Vocal Studio. Ya que hace poco hemos hablado acerca de si se puede aprender a cantar a los 30 años, ¿por qué no hablar acerca de la voz en la tercera edad?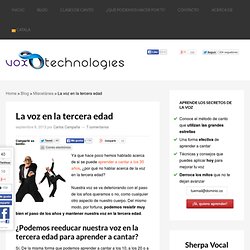 Nuestra voz se va deteriorando con el paso de los años queramos o no, como cualquier otro aspecto de nuestro cuerpo. Del mismo modo, por fortuna, podemos resistir muy bien el paso de los años y mantener nuestra voz en la tercera edad. ¿Podemos reeducar nuestra voz en la tercera edad para aprender a cantar? Sí. Jose romussi. All the current and upcoming exhibitions - euromuse.net. Dale al 'play': entérate de la fecha de estreno de las nuevas temporadas de tus series favoritas. Fantásticas 29 de septiembre: Once Upon a Time, estreno T3, ABC 3 de octubre: Bella y Bestia, estreno T2, SyFy.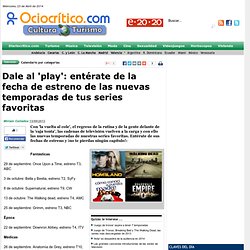 Ficción sonora online. An Annotated Guide to 15 of David Bowie's Favorite Books. The Independent recently published a pretty fascinating list of David Bowie's 100 favorite books.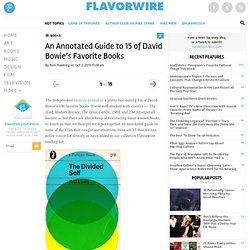 It was well stocked with classics — The Iliad, Madam Bovary, The Great Gatsby, 1984, and The Stranger all feature — but there are also a heap of fascinating lesser-known books, so much so that we thought we'd put together an annotated guide to some of the titles that caught our attention. Here are 15 that we can either vouch for directly or have added to our collective Flavorwire reading list. El edén creativo. Snapscore - providing insights to your accomplishments and professional career - snapscore. The Horror, the Horror. In Unutterable Horror, his deeply knowledgeable, lively, and unabashedly opinionated history of supernatural fiction, S.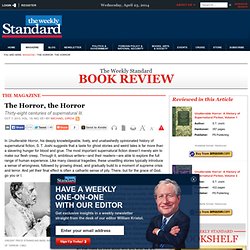 T. Joshi suggests that a taste for ghost stories and weird tales is far more than a slavering hunger for blood and grue. The most important supernatural fiction doesn't merely aim to make our flesh creep. SatCesc.com. CultureCritic - Film Reviews. Exhibition Reviews. Theatre Reviews. Music. 19 worst mistakes a photographer can make. 19 worst mistakes a photographer can make There's a lot of talk on forums, in online and offline communities about mistakes, dos and don'ts in photography and a general tendency from everyone to give advice to rookies. Now, some of that advice is legitimate and it comes from somewhat experienced photographers. But most of it is just hot air and you could be doing yourself a favor by ignoring it. There is no recipe for success in photography and the list of mistakes that should be avoided is a lot longer than 19.
Even if you avoid the following mistakes, plus a few more , it still doesn't mean you're going to end up a hot shot with three assistants and a production crew that rivals most low budget movies. Quiénes somos. ¿Qué es "Cómo la hice"? La fotografía sigue conservando cierto halo de misterio a pesar de sus casi dos siglos de historia. El proyecto de "Cómo la hice" surge con el ánimo de aprender algunos de sus secretos. Presentation, Presentation, Presentation. This week's column by Ctein After my earlier column, "We Need Our Audiences," Kathy Li (a.k.a. inkista) and I continued to discuss online venues and audiences.
When I wrote that column, I got things a little wrong. I said that Kathy didn't have a website or online gallery for presenting her work, and that was technically correct. But she does post to Flickr, and I knew that at the time. The rise of documentary film: The shocking truth. Centro de la Imagen | Es un espacio dedicado a la investigación, la formación, el análisis y la divulgación de la fotografía y la imagen entre diversos públicos. Fue creado en 1994 por el Conaculta. Woo Media - Music PR & Social Media - Agency located in Bilbao and Ibiza. Beautiful/Decay Artist & Design - Daily Art And Design Blog. Two-Shots: Leanne Shapton's Sunday Night Movie Paintings. In 2011, Leanne Shapton, the illustrator and writer, published a series of watercolors called "A Month of…," which was posted online in monthly installments grouped by theme.
The eighth and final collection, "Sunday Night Movies," included thirty-one illustrated scenes from films that Shapton had watched on Sunday nights. A year later, the Canadian publisher Drawn and Quarterly asked Shapton to expand that theme into a longer book of paintings. Here, Shapton presents a selection from her forthcoming book, and explains some themes in the series that became apparent to her only after she was finished. The first subject I learned to draw, that I drew over and over, was a head in profile. Fotografía > soitu.es|
Música > soitu.es| Animation legend Hayao Miyazaki under attack in Japan for anti-war film. Top 100 Photos of the Year 2012. 14 fantastic foreign sci-fi movies you really need to see. Blog de la Revista Kokoro. Artweeters = Contemporary Art + Social Media.
To curate. Design & Illustration. Music. Elepé - Revista musical con artistas, grupos y todos sus álbumes. Bonobo - Kiara. The Wire Archive Live | Exact Editions | Blog. Fotos: Los mejores discos en vivo de todos los tiempos. Los 10 músicos más ricos del mundo. Earbits, una radio online para web y Android que vale la pena conocer.
7 Music Discovery Tools to Find New Tunes. Artículo: Documentales musicales imprescindibles. La música de fondo I. Image et son. Watch exclusive live music concerts and music videos on Baeblemusic.com. Playjack. Books & Literature. POLARS SCANDINAVES. LINKS : BOOK/SHOP. Booktrack - Booktrack - Amplify your story. Librote, una red social de lectura. Audience Picks: Top 100 'Killer Thrillers' 100 Consejos para Escritores.
10 librerías de Madrid en las que consultar al camarero. Discogs - Database and Marketplace for Music on Vinyl, CD, Cassette, MP3 and More. Readium, crea tu biblioteca y lee libros electrónicos ePub en tu navegador Chrome | Prólogo por Gabriel García Márquez. Librería online, Venta de libros. La Feria del Libro piensa en papel.
Arte urbano. Culture Magazines. Culture, Knowledge & Encyclopedies. Longreads. Photography. Home | Daily Inspiration. Comic. Theatre, Dance & Circus.
Architecture, Urbanism. Entertainment. Movies, TV, Documentaries. Movies & TV. Documentary Power.
---