Art Webs
Video of Artist's Book Triennial opening in Vilnius Theme: "Love" Artists near the Gallery "Titanikas" in Vilnius. from the left to the right: Kestutis Vasiliunas, Roberta Vaigeltaite-Vasiliuniene (Lithuania), Hanne Matthiesen (Denmark), Dalia Lopez Madrona (Sweden), lady from Hungary, Josephine Tabbert (Germany), Andras Butak (Hungary), Elisabetta Diamanti (Italy), Lucas Kunz (Germany), Krassimira Drenska (Switzerland), Katriona S.W. Persson (Sweden), Angeline Rood (The Netherlands), Else Juhl Lundhus (Denamark), Maja Ingerslev (Denamark), Marianne Laimer (Sweden), Inger Agnete Diemer (Denmark) Dear Friends in Art, I want to congratulate you with the opening of the 6th International Artist's Book Triennial Vilnius 2012.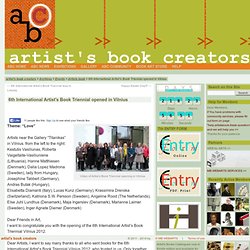 6th International Artist's Book Triennial opened in Vilnius | artists book creators
The launch of Damien Hirst's new Web site, which offers a voyeuristic live camera feed into the heart of his studio, is certainly a step forward in adventurousness for famous artists on the Internet (in comparison, Gerhard Richter's looks like Geocities). But Hirst is still far from avant garde in the wild world of artist Web sites, where new media artists turn the Internet into a visual playground and conceptualists build puzzling and wonderful hybrid pages. Below, ARTINFO rounds up our picks for 20 of the most notable Web sites for contemporary artists, from figures you know to others more obscure.
20 Artists With Must-Click Web Sites, From Tauba Auerbach to Andrea Zittel
Arlen Schumer/ Alain Longuet/ Alejandro Cerón / Barton Lewis / Michael Peterson / Kye Wilson / Russell Chartier/ Silvia Toy / Martin McGill / Rogier Dirkx/ Toby Kaufmann-Buhler / Tahir Un / Jessye Mc Dowell / Marcantonio Lunardi / Yannick Verdier Monsegur / Linda See / Rohan Graeffly / Keaton Fox / Geogette Soh / Sije Kingma / Lotta-Pia Kallio / Mariel Sanhueza / Johana Hartwig / Jerome Bouchez / Stefano Giannoti / Sally Grizzell Larson / Sam Spreckley / Ian Henderson / Ezra Wube / SB / bARuT / zerOposition ... Soirée spéciale "STREETVIDEOART à Sceaux" -20:00, le mercredi 6 février 2013 au cinéma Trianon StreetVideoArt Workshop "Walk your Telly" / 04 - 19 October 2012
Home
Manifesta Journal | around curatorial practices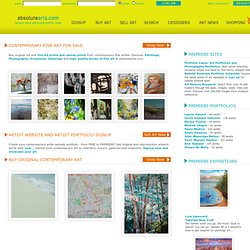 Discover over 150,000 works of contemporary art. Search by medium, subject matter, price and theme... research over 200,000 works by over 22,000 masters in the indepth art history section. Browse through new Art Blogs. Use our advanced artwork search interface. Call for Artists, Premiere Portfolio sign-up for your Free Portfolio or create an Artist Portfolio today and sell your art at the marketplace for contemporary Art! Start a Gallery Site to exclusively showcase your gallery.
i 3 Votes Art Radar takes a closer look at some of the most influential contemporary South Asian neo-miniaturists.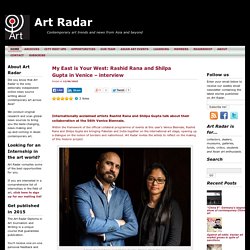 Art Radar Asia | Contemporary art trends and news from Asia and beyond
Inanna, de Carolyn Carlson
spa.RK. best electronics in town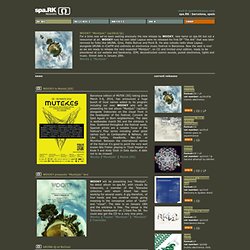 First edition in Barcelona of the worldwide event Record Store Day. For the occasion, a lot of Barcelona labels - from spa.RK, Discotinu, Foehn on the electronica side till all the indie labels in the city such as Snap Snap Club, Astrohúngaro, B-Core, La Gàbia, Galleta, Canada, Bankrobbe, Producciones Doradas and many more - in an event that will take place in all the independent record stores of the city: B-Core, Paradiso, Luchador, Wah Wah, Surco… Dj sessions, beers, live, special and limited releases, a download compilation of all the labels… spa.RK will be having a showcase in Paradiso featuring BRUNA dj, BRADIEN djs and special price for all the records. April 21st, smells to music spring in Barcelona. RSD Barcelona
SightsWithin.com - Welcome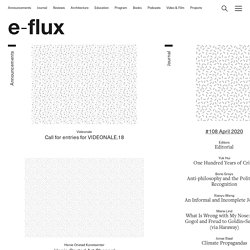 Deimantas Narkevičius's "Cupboard and a Play"By Laura McLean-Ferris Archetypal pretty boys with guitars play a gig in a second-hand bookshop. T-shirts hang off their limber bodies, their pale skin wrapped tightly around their cheekbones. An audience, primarily made up of young people, occupies the space, nodding their heads, smoking and clambering over one another while the band bounces,... continue reading Carolee Schneemann's "Water Light/Water Needle"By Morgan Quaintance An idyllic scene of Dionysian abandon: six naked bodies splash across the sun-flecked, crystalline surface of a lake, moving, one by one, in slow motion past the camera's lens.
Art Agenda
Last call for applications for Ch.ACO 2014 Ch.ACO, the Contemporary Art Fair of Chile, is proud to announce its sixth edition at Mapocho Station Cultural Centre, a cultural reference in the city of Santiago. Ch.ACO is the most important platform of visual arts in the country; it is held in the city of Santiago, known nowadays as a booming city in Latin America. Ch.ACO is offering a new market place for galleries from Latin America, Europe, USA and Pacific Coast, bringing in five days... continue reading Carlo Zanni at Marsèlleria During the Salone del Mobile 2014, Marsèlleria presents OROBORO, an exhibition that puts Carlo Zanni's works in dialogue with a selection of design items created by designers Raw-Edges, Ilaria Innocenti and Giorgia Zanellato and by producer Mirko Rizzi spanning the three floors of Marsèlleria.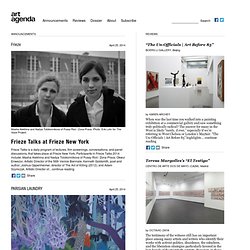 the imagery planet
The server encountered an internal error or misconfiguration and was unable to complete your request. Please contact the server administrator, webadmin@kundenserver.de and inform them of the time the error occurred, and anything you might have done that may have caused the error. More information about this error may be available in the server error log. Additionally, a 404 Not Found error was encountered while trying to use an ErrorDocument to handle the request.
Google Art Project : tech/culture/droit
Nowhereisland