Architecture Blogs & Magazines
FLAV+InfoArquitectura. Dezeen architecture and design magazine. KNSTRCT. Dubai Architecture- The Burj al Alam, or The World Tower.
Upon completion it will rank as the world's highest hotel. It is expected to be finished by 2009. Architecture. Drawing ARCHITECTURE. Architecture Design for Architects. Urbanity.es - Arquitectura, infraestructuras, urbanismo, etc... After The Meltdown: Where Does Architecture Go From Here? By Vanessa Quirk (click here for original article) © Megan Jett You can get into Architecture for one of two reasons: good architecture or bad.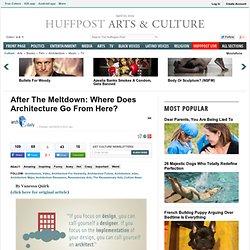 Inspirational Gallery #29 - Architecture. Tumblr Architecture. With over 15 billion page views a month Tumblr has become an insanely popular blogging platform.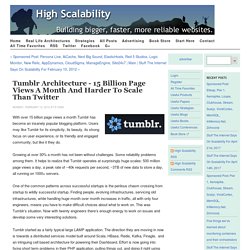 Users may like Tumblr for its simplicity, its beauty, its strong focus on user experience, or its friendly and engaged community, but like it they do. Growing at over 30% a month has not been without challenges. Kinetic architecture (1/3) « VANGUARQ. Kinetic architecture (1/3) fLUX, Binary Waves – Lab[au] Another great project by LAb[au], "fLUX binary waves" is an urban and cybernetic installation based on the measuring of infrastructural ( passengers, cars…) and communicational ( electromagnetic fields produced by mobile phones, radio…) flows and their transposition into luminous, sonic and kinetic rules.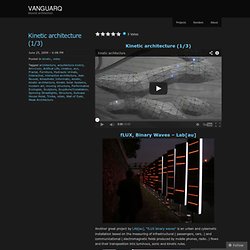 This relation between the installation and the urban activity happens in real time and sets each person as an element of the installation, as a centre of the public realm. News! Historia de la arquitectura moderna. MANIFESTO ARCHITECTURE. Archinomy. Architettura - People meet in architecture. Biennale Architettura 7 giugno > 23 novembre 2014 14.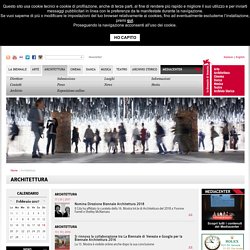 Mostra Internazionale di Architettura Tre manifestazioni complementari Fundamentals accoglie tre manifestazioni complementari: Absorbing Modernity 1914-2014 è un invito rivolto ai padiglioni nazionali che mostreranno il processo di annullamento delle caratteristiche nazionali. Froot.nl. Tomaat architecture magazine. La Forma Moderna en Latinoamérica. TEORIAS DE LA ARQUITECTURA. La forma moderna. Architecture & Patrimoine. Froot.nl.
---