Another Big Networks
Here are the 15 Most Popular Social Networking Sites as derived from our eBizMBA Rank which is a constantly updated average of each website's Alexa Global Traffic Rank, and U.S. Traffic Rank from both Compete and Quantcast."*#*" Denotes an estimate for sites with limited data. 1 | Facebook3 - eBizMBA Rank | 900,000,000 - Estimated Unique Monthly Visitors | 3 - Compete Rank | 3 - Quantcast Rank | 2 - Alexa Rank | Updated: April 1, 2014. The Most Popular Social Networking Sites | eBizMBA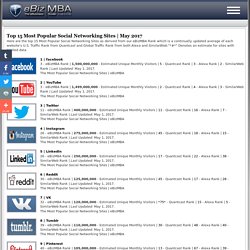 Discover Yourself!
Del.icio.us popular sites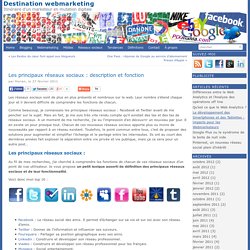 Les réseaux sociaux sont de plus en plus présents et nombreux sur le web. Leur nombre s'étend chaque jour et il devient difficile de comprendre les fonctions de chacun. Comme beaucoup, je connaissais les principaux réseaux sociaux : Facebook et Twitter avant de me pencher sur le sujet. Mais en fait, je me suis très vite rendu compte qu'il y existait des tas et des tas de réseaux sociaux.
La roulette russe du chat - Chatroulette.com video cam - ParisMa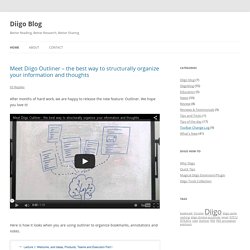 Diigo Blog
Diigo Welcomes its 7th Million User with a Major Redesign~ heightening its focus on being a "multi-tool" for knowledge management Diigo was started as a simple social bookmarking service in 2005, and is now widely regarded as the most widely used and most robust web annotation tool in the world. By steadily enhancing its offerings beyond bookmarking/annotation to include web archiving, image/screenshot markup, group collaboration, improved information organization and presentation, and mobile apps, Diigo has effectively become an integrated "multi-tool" for personal knowledge management (PKM). Diigo, as a multi-tool for PKM, now touches on the entire workflow for knowledge-oriented information consumption, from browsing, reading, researching, annotating, storing, organizing, remembering, collaborating, sharing, to connecting dots into knowledge – a workflow that we believe is still largely ad-hoc and inefficient.
Open Social Network (Facebook alternative)