Fantasy Resources
Underrated Mythical/Fantastical Creatures. Areas. You are here: These are the areas which are currently available in the Encyclopedia Mythica.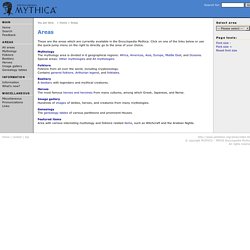 Click on one of the links below or use the quick-jump menu on the right to directly go to the area of your choice. Mythology The mythology area is divided in 6 geographical regions: Africa, Americas, Asia, Europe, Middle East, and Oceania. Mythological Monsters. 30 Days of WorldBuilding. By popular demand, you can now download the Magical WorldBuilder Guide in three easy-to-carry (non-DRM) formats: PDF for printing out at home or reading on a computerePub for use with many fine ereader devicesMOBI for use with Kindles and MobiPocket software.As of 2007, The world-builder exercises are licensed under a Creative Commons license to help you in deciding whether you can translate (yes, with credit back), distribute to your writing group (yes, with credit), sell (not without permission), reprint (yes, for non-commercial purposes), or mirror (yes, with credit back) this useful guide!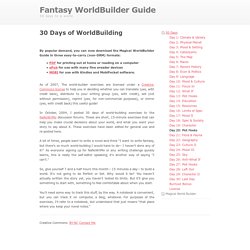 In October, 2004, I posted 30 days of world-building exercises to the NaNoWriMo discussion forums. These are short, 15-minute exercises that can help you make crucial decisions about your world, and what you want your story to say about it. Faery Lore. Faery Lore Lore / Faery Types / Elemental Faeries / Attract Faeries / Faery Garden / Garden Dedication Lore Beltane is the time when nature comes alive and the Spirits of Nature are most active.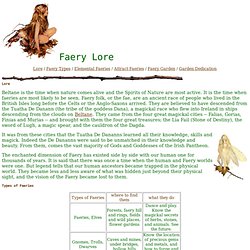 It is the time when faeries are most likely to be seen. Faery folk, or the fae, are an ancient race of people who lived in the British Isles long before the Celts or the Anglo-Saxons arrived. World Mythology, Folklore, Cultures and Classical Studies. Godchecker.com - Your Guide To The Gods. Main Page - Monstropedia - the largest encyclopedia about monsters.
---