Vectoriel
Inkscape at the Libre Graphics Meeting April 12, 2014 The Inkscape project mustered nine developers, translators and document writers for a productive meeting. As well as countless user interactions over the course of the five day event. This is what happened...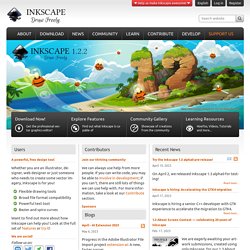 Imppao's Weblog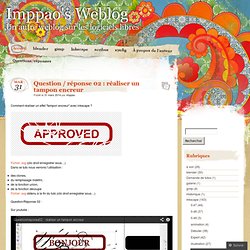 mar31 Comment réaliser un effet "tampon encreur" avec inkscape ? Fichier .svg (clic droit enregistrer sous…) Dans ce tuto nous verrons l'utilisation : des clones,du remplissage indéfini,de la fonction union,de la fonction découpe Fichier .svg obtenu à la fin du tuto (clic droit enregistrer sous…)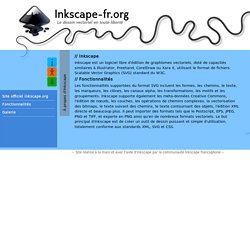 Inkscape est un logiciel libre d'édition de graphismes vectoriels, doté de capacités similaires à Illustrator, Freehand, CorelDraw ou Xara X, utilisant le format de fichiers Scalable Vector Graphics (SVG) standard du W3C. Les fonctionnalités supportées du format SVG incluent les formes, les chemins, le texte, les marqueurs, les clônes, les canaux alpha, les transformations, les motifs et les groupements. Inkscape supporte également les méta-données Creative Commons, l'édition de nœuds, les couches, les opérations de chemins complexes, la vectorisation des bitmaps, le texte suivant des chemins, le texte contournant des objets, l'édition XML directe et beaucoup plus.