Natural Solutions
Get flash to fully experience Pearltrees
This was easier than I thought it would be. One of Betsy's goals for the year was to ditch some of our standard cleaners that we use around the house and make them! Honestly, I was a bit skeptical about this project mainly because I wasn't sure that homemade cleaners would really get the job done.
Let us be clear: Baking soda is not going to permanently cure your acne or turn back the cruel hand of time. But if you're looking to detoxify your body and your household, this multitasking ingredient will make your life easier (and more beautiful) without denting your coffers. Mom may have taught you that baking soda will make your bread rise and your fridge smell better, but did you know of its many cosmetic applications?
You've probably heard that you can pour water over your wrists or neck to cool off quickly, but we've got the lowdown on all the body's best cooling spots, as well as the most effective ways to use them.
Citronella candles are an effective way to keep mosquitoes away, but the quality makes can be pricey, and don't last as long as most people would like.
As the outdoor season approaches, many homeowners and outdoor enthusiasts look for ways to control mosquitoes . With all the publicity about the West Nile virus, mosquito repelling products are gaining in popularity.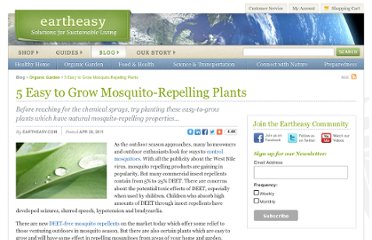 Herbal amulets, gris gris bags and sachets are small fabric bags filled with herbs and other fillings intended to achieve a particular magical goal. They are popular for protection and attracting positive influences into your life such as love, psychic ability, prosperity and the like.
photo: charles chan * The next time you find yourself in need of a household product like stain remover, shower cleaner or ant deterrent, check the pantry before heading to the store. You might just find what you need, in the form of a common kitchen ingredient.
Let's keep things simple this week. When it comes to personal-care products, we are big believers in streamlining what you use—see " Eight Products You Think You Need But Don't " for a refresher—buying less in general, and getting creative.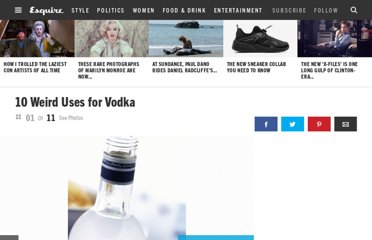 Vodka has been enjoyed since at least the early Middle Ages, and is well known as one of the world's most popular spirits. Its versatility in mixing and high alcohol content have made it extremely popular in cocktails, and it is still widely enjoyed 'neat' (straight up) in much of Eastern and Northern Europe.
Photo Credit It's that taxing in-between time of the semester again – spring break is over, papers and projects are coming due, and finals are looming ahead.