Movies
RWaM & GIR
An Archive of Sorts Posted Sunday, August. 10, 2008 by ssjvaporeon And it happened....two years later.... I know this site itself has been dead for about two years now, but I just wanted to throw this up.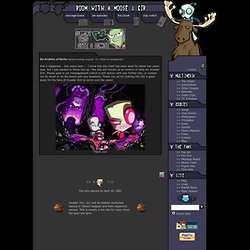 The Official Tim Burton Website
Hayao Miyazaki (宮崎 駿, Miyazaki Hayao?) is considered one of the greatest animators and directors in Japan. The entertaining plots, compelling characters and breathtaking animation in his films have earned him international renown from critics as well as public recognition within Japan. Disney's commitment to introduce the films to the rest of the world will let more people appreciate the high-quality works Miyazaki has given us. Brief biography
Database error - GhibliWiki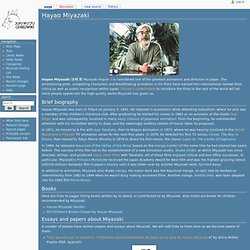 Edit Storyline The son of a sailor, 5-year old Sosuke lives a quiet life on an oceanside cliff with his mother Lisa. One fateful day, he finds a beautiful goldfish trapped in a bottle on the beach and upon rescuing her, names her Ponyo. But she is no ordinary goldfish. The daughter of a masterful wizard and a sea goddess, Ponyo uses her father's magic to transform herself into a young girl and quickly falls in love with Sosuke, but the use of such powerful sorcery causes a dangerous imbalance in the world.
Ponyo (2008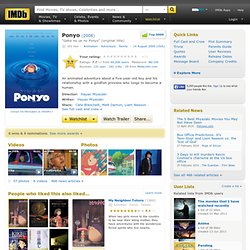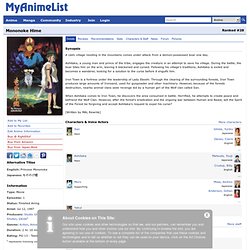 Princess Mononoke
Let me start by saying that I am not a Miyazaki-disciple. I do not view him as the "grandmaster of everything anime." When I say "yeah...Miyazaki is ok" I say it not out of ignorance (I've almost every one of his films) but because I personally find him to be incredibly overrated. However I find that when he has all of his stuff together, Miyazaki can destroy practically any other director out there, the man is incredibly talented, but his problem is consistency.
[ adapted from Mimi o Sumaseba (manga) ] Alternative title: If you listen carefully Lời thì thầm của trái tim (Vietnamese) Mimi o Sumaseba (Japanese)
Whisper of the Heart (movie)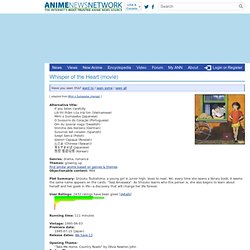 Kiki's Delivery Service | Now On DVD | Walt Disney Studios Home Entertainment
:: spirited away ::