Blog
2009 July | 2DM Blogazine
2DM Blogazine
"Family" and "traditions", the two words everything revolved around during the Christmas holidays and New Year's Eve. It was the perfect time to ask a few questions to the Italian designer Antonio Aricò, who decided to leave Milan 3 years ago, and return back home with his family, in Calabria. 3 years ago you decided to go back home. Can you tell us something about your home in Italy and why you decided to return to your origin?In the South of Italy the idea of "home" is still something big and strong, something that goes beyond the concept of "house" or "furniture". It concerns family stories and moments, it is about a continuous sharing and it is based on the idea of hospitality and cosiness.
Featuring Jason Cox, Matt Watters, and Matt Williams all shot on Impossible Project Polaroid Film ShareThis Giovanni Bonamy shot on Impossible Project Polaroid Film Models : Joshua McGee, Matt Williams, and Henry Rogers Styled by J.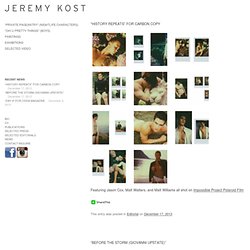 Jeremy Kost
sex on toast.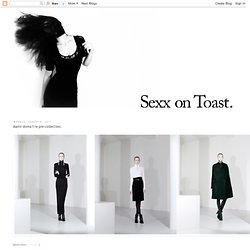 I've spent the past few weeks reassessing my life.What is important? What do I want from life? What do I want to do?
VOGUE HOMMES JAPAN BLOG
jdvision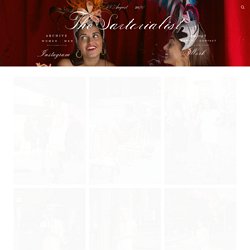 Friday, April 4, 2014 On the Street……Sixteenth St., New York Yes, it's still that cold in New York! I love how the b&w of the image places the focus on the texture of these two beautiful coats!
GIVENCHY AUTUMN/WINTER 2009/10 MEN'S ACCESSORIES
U_MAG++ONLINE MAGAZINE
Dear Shaded Viewers, Spring had come to Kyoto. Nothing exuberant, just a few plum and cherry blossoms here and there, mixed in with fresh bamboo. The Zen garden par excellence is at Ryo an-ji, long and rectangular, raked gravel and rock.
Diane, a Shaded View on Fashion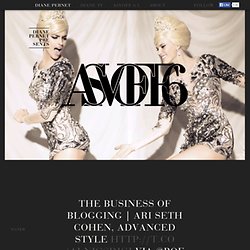 Samsung spends an estimated $13 billion a year on marketing, and one of its targets is fashion industry influencers. We take a look how the company has managed to convert a few of the majors. Read more → Summer's almost here.