Outils entreprenneur
Use Appcelerator Titanium to build mobile apps for iPhone & Android and desktop apps for Windows, Mac OS X & Linux from Web technologies. Boxify.me Offers Free, No Sign-Up File Sharing for Groups. Square – Accept credit card payments with your mobile phone. Scribd. HootSuite. Outils pour les webmasters - Accueil. Analytics | Site Web officiel. Prezi - The Zooming Presentation Editor. Video Slideshow Maker with Music.
Simplifiez-vous la vie. Project management software, online collaboration: Basecamp. Highly recommended.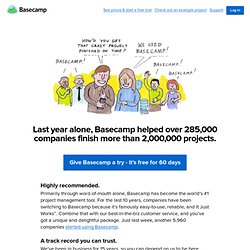 Primarily through word-of-mouth alone, Basecamp has become the world's #1 project management tool. For the last 10 years, companies have been switching to Basecamp because it's famously easy-to-use, reliable, and It Just Works™. Highrise: Small Business CRM, Web-Based Contact Manager. Email Marketing and Email List Manager.