Outils entreprenneur
Boxify.me Offers Free, No Sign-Up File Sharing for Groups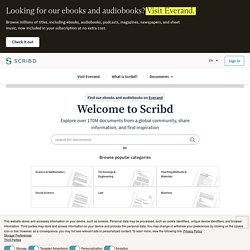 What do I get with my subscription? Your subscription enables you to read thousands of professionally published, popular books in a wide variety of genres on Scribd.com and on supported mobile devices. In addition, you will have full access to millions of user-contributed written works that have been published on Scribd like short stories and essays. How many books can I read each month? Read as much as you want, whenever you want. Scribd doesn't limit the number of books you can read.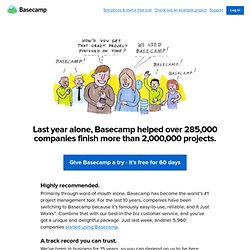 Project management software, online collaboration: Basecamp
Start your free trial. You'll be up and running in less than a minute. Already have another Basecamp, Highrise, Backpack, or Campfire account?
Highrise: Small Business CRM, Web-Based Contact Manager
Sign in "Searching through old email conversations was a pain. Highrise makes it easy to remember everything." — Michael, Owner of MWC Accounting Save and organize notes and email conversations for up to 30,000 customers and contacts.