Investors & Funds
VantagePoint Capital Partners
Walden Asset Management
Brown Advisory Funds Website Winslow Shareholder Services Login If you are interested in sustainable investing, or in learning more about the Brown Advisory Winslow Sustainability Fund, we invite you to visit the Brown Advisory Funds website . On September 26, 2012, the shareholders of the Winslow Green Growth Fund approved a plan to reorganize into the Brown Advisory Winslow Sustainability Fund, part of the Brown Advisory Funds. The reorganization will occur after the close of the market on October 19, 2012.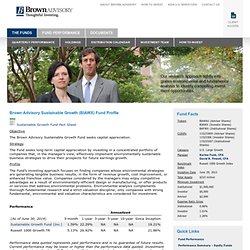 WGGFX (Winslow Management, Winslow Green Growth Fund)
VFTSX (Vanguard FTSE Social Index Fund Investor Shares)
Generation Investment Management LLP
PRBLX (Parnassus - Equity Income Fund)
Capital appreciation and current income. The Parnassus Equity Income Fund is a diversified, fundamental, U.S., large-cap, core equity fund. The Fund invests principally in undervalued equity securities of large-capitalization companies.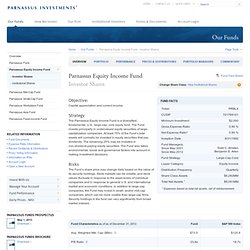 NBSRX (Neuberger Berman)
Domini Social Investments
Calvert Investments
CALSTRS (California State Teachers' Retirement System)
Appleseed Fund (APPLX)