Architecture
Primitive Living in Saijo, Hiroshima | Yatzer& Exterior view /// photo © Toshiyuki Yano (Nacasa&Partners Inc.)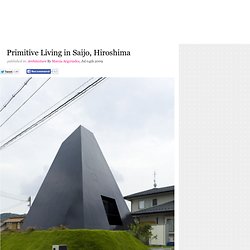 Design: Suppose Design Office, Japan Lead Architect: Makoto Tanijiri Site area: 246 m2 Building area: 50.41 m2 Total floor area: 115.51m2 "When I always create, I think that I want to find the charm of the plan," claims 35 year old talented architect Makoto Tanijiri, chief architect of Suppose Design Office. In the nine year existence of Suppose Design Office they have built more than 50 works of architecture, almost all single-family homes, among other projects. The impressive number of works completed topped up in 2007 with the modern pit dwelling in Saijo, Hiroshima.
In Saijo, a town known for it sake, a jet black pyramid unexpectedly stands out; when first seen it seems as if it's a house from the future. Happy Haus - Price - Happy Haus are the leaders in designing prefabricated homes. Our architecturally designed homes are affordable, sustainable and adaptable. Happy Haus offer a variety of pod and haus layouts designed by leading Australian architects, Donovan Hill (DHAN Series) Owen & Vokes (WHITE Series) and Durbach Block (DB Double Series).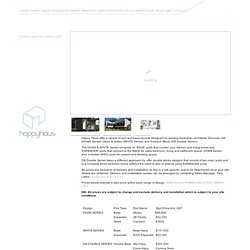 The DHAN & WHITE Series comprise of 'BASE' pods that contain your kitchen and living areas and 'EXPANDER' pods that connect to the BASE for extra bedroom, living and bathroom space. DHAN Series also includes SHED pods for carport and decking space. DB Double Series takes a different approach by offer double storey designs that consist of two main pods and is a complete three bedroom home without the need to add or extend using EXPANDER pods. Small Studio Apartment. You've seen a lot of ingenious ideas on how to decorate small studio apartments on Freshome.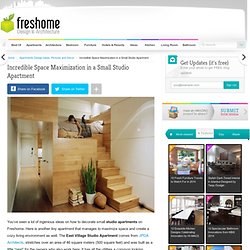 Here is another tiny apartment that manages to maximize space and create a cozy living environment as well. The East Village Studio Apartment comes from JPDA Architects, stretches over an area of 46 square meters (500 square feet) and was built as a little "nest" for the owners who also work here. It has all the utilities a common looking contemporary home has and dare we say a lot more. This original crib has storage space and shelves in the most unusual and unexpected places, reducing clutter and contributing to a clean and fresh interior design. The wood gives this home its warmth which is "intensified" by the friendly vegetation pots spread around the open studio. Yh2_Yiacouvakis Hamelin Architects Geometrie Noire, in Saint-Hyppolite,... Saint-Hypolite is small town in the Laurentide, a scenic region used mostly as a weekend getaway for Montrealers.
The house is built within a dense forest on a slight hill, bordering the opening of a small river. Through the trees, we perceive the body of the black building, divided into three blocks that get linked through glass passageways. StumbleUpon. The Cabin This treeroom's location was based on the idea of creating a platform high up on a sharp hillside overlooking the Lule River valley.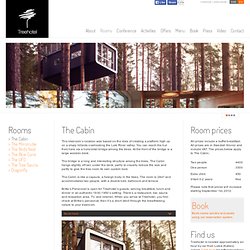 You can reach the hut from here via a horizontal bridge among the trees. At the front of the bridge is a large wooden deck. Earthbag Construction - StumbleUpon. EarthBag Homes - you're standing on the building materials... earthbag home Long sandbags are filled on-site and arranged in layers or as compressed coils.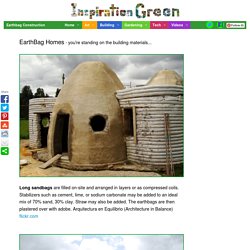 Stabilizers such as cement, lime, or sodium carbonate may be added to an ideal mix of 70% sand, 30% clay. Straw may also be added. The earthbags are then plastered over with adobe. Pictures - Salewa Headquarters - Architizer - Empowering Architecture:... The Pierre & Below The Clouds - StumbleUpon.
Vacker villa av Young & Young I Franklin, Michigan ligger villan här ovan.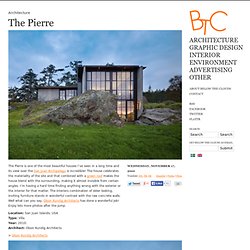 Jag vet rätt lite om den vackra villan men jag vet att den är ritad av Young & Young Architects och helt och hållet konstruerad av insulating concrete forms, som är frigolitformar fyllda med cement som både är starka och isolerar väl. Young & Young Architects jobbar med det de kallar "orcanic architecture"och är medlem av The U.S. Hanse Colani Rotor House - StumbleUpon. Designer Luigi Colani has created a space-saving house with a six square meter cylinder inside that contains a bedroom, kitchen and bathroom. + hanse-haus.de The cylinder rotates left or right bringing the room you want into view of the main living room.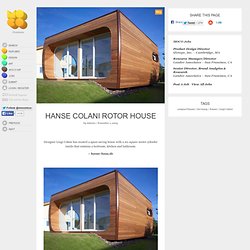 See-through church, Limburg/Belgium by Gijs Van Vaerenbergh | Architecture Lab. Project Details: Location: Limburg, Belgium Type: Cultural - Public Architects: Gijs Van Vaerenbergh - www.gijsvanvaerenbergh.com Photos: Kristof Vrancken / Z33 – Mine Daelemans photo by Kristof Vrancken / Z33 The church is a part of the Z-OUT project of Z33, house for contemporary art based in Hasselt, Belgium.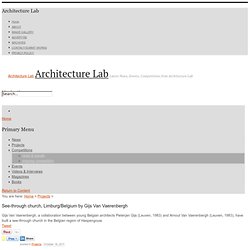 Z-OUT is an ambitious longterm art in public space project that will be realised on different locations in the Flemish region of Limburg over the next five years. photo by Kristof Vrancken. Glass door with a surprise - StumbleUpon. 12 bizarre real-life places that are stranger than science fiction. Science fiction is home to some fantastic societies, from Cloud City to Bartertown.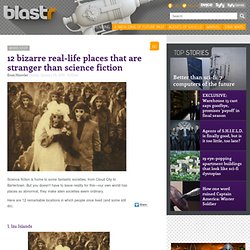 But you doesn't have to leave reality for this—our own world has places so abnormal, they make alien societies seem ordinary. Here are 12 remarkable locations in which people once lived (and some still do). 1. CNC carpentry: the 'selfsupportingframework' Two students working on load-bearing systems in the architecture department at Kassel University, Mischa Proll and Andreas Günther, have taken advantage of the wide range of design techniques available and breathed new life into a one-hundred-year-old construction concept. The traditional reziprocal frame consists of short wooden joists, whose ends are carpentry-joined to a surface structure. With consistant types of profiles, lengths of elements and positions of the knots on the axises, a dome shape is created. The first documenting of such a framework, also called a "mandala roof", dates back to the 12th century, according to the students' research, when a Buddhist monk by the name of Chogen created designs for temples, whose influence can still be seen today in the architecture of domes in China and Japan.
The variation of individual parameters, for instance changing the join between two elements, leads to a change in all the other subsequent joins. Stalking a suburban&tardis. Product overview and information. HelioVolt modules enable the rapid growth of distributed solar energy. Our glass laminate modules are compatible with existing industry installation tools and practices, and do not require complex and expensive custom mounting solutions.
The frameless modules can be deployed in commercial rooftops, ground mount utility scale solar farms, building-integrated photovoltaics (BIPV) and custom applications like car parking solar shades. Download our latest product data sheet here » (We will continue to provide updates to our module specifications sheet, as its contents are subject to change) Electrical Performance* Product I-V Curves. Shell by ARTechnic - Architecture Linked - Architect &Architectural... In. Love. That's how I feel about Shell by Japanese architecture firm ARTechnic.
I'm sure my husband thought I'd never say that about a concrete structure, but this is so beautiful. I yearn to inhabit the space. Bolefloor. Explosive Mix: Regional Cabin Meets Concrete Modernism | Designs &Ideas... Google Sketchup 6 released (by @baekdal) #notes. Have a wooded lot? Time to build a forest book nook! Links. Englands First Passive House is a Vaulted Green-Roofed Wonder | Inhabitat -... Dedece Blog | Container Architecture = Pop Up Architecture ? or Cargotecture ? Loftcube. Free Spirit Spheres. Underground Homes - House and Interior Design Inspiration for Your Home - Search Result on HouseInDesign.com. New Underground Eco-friendly Hotel Bella Vista By Matteo Thun.
---