Minimum Viable Product
What is the minimum viable product?
Eric Ries and I recently sat down to talk about minimum viable products: the product with just the necessary features to get money and feedback from early adopters. The minimum viable product (MVP) is often an ad on Google.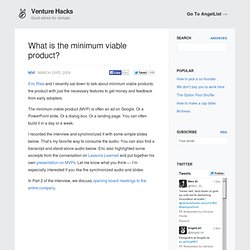 Monitor110: A Post Mortem
Turning Failure into Learning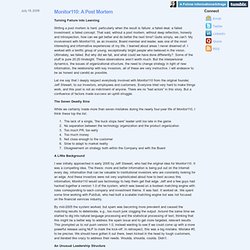 Lessons from our failed startup / OliveScreens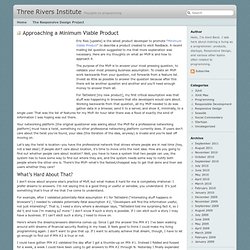 The purpose of the MVP is to answer your most pressing question or validate your most pressing business assumption.
Three Rivers Institute » Blog Archive » Approaching a Minimum Viable Product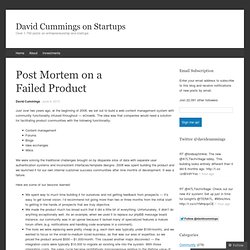 Just over two years ago, at the beginning of 2008, we set out to build a web content management system with community functionality infused throughout — eCrowds. The idea was that companies would need a solution for facilitating product communities with the following functionality: Content managementForumsBlogsIdea exchangesWikis
Post Mortem on a Failed Product
One of the most important lean startup techniques is called the minimum viable product. Its power is matched only by the amount of confusion that it causes, because it's actually quite hard to do. It certainly took me many years to make sense of it.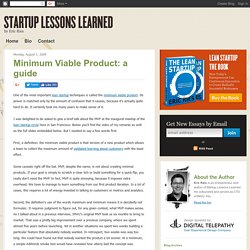 #1: Be NarrowFocus on the smallest possible problem you could solve that would potentially be useful.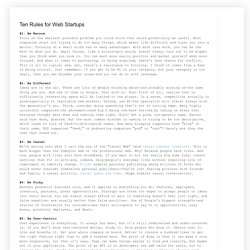 Lately, you can't swing a dead cat at a gathering of Internet entrepreneurs without hitting someone in mid-sentence talking about their "minimum viable product."
Minimum Viable Product rant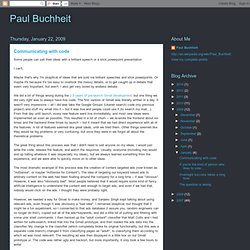 Communicating with code
Some people can sell their ideas with a brilliant speech or a slick powerpoint presentation. I can't.