Neurologie
Info programme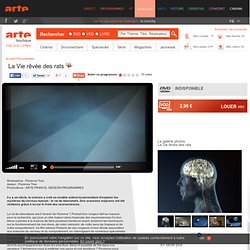 La Vie rêvée des rats
TEDxLaDéfense - Philippe VAN DEN BOSCH - Neurosciences et harmonie
ANC - Approche Neurocognitive et Comportementale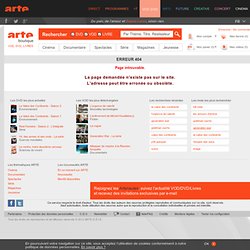 Des moines en laboratoire
Info programme 2007 - 51 min - 583 Mo - Couleur et Noir et Blanc - Stéréo - 16/9 - Tout public Territoires disponibles : Monde entier
florence TRAN on Vimeo
ADN Le cerveau de demain - une vidéo High-tech et Science
Jill Bolte Taylor - Neurology/ Brain stroke
Antonio Damasio - neuroscience
Dieu: c'est dans ta tête! » Article » OWNI, News Augmented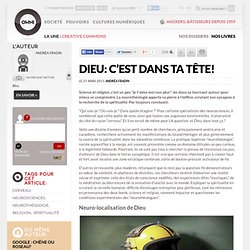 Science et religion, c'est un peu "je t'aime moi non plus": les deux se tournant autour pour mieux se comprendre. La neurothéologie apporte sa pierre à l'édifice, scrutant nos synapses à la recherche de la spiritualité.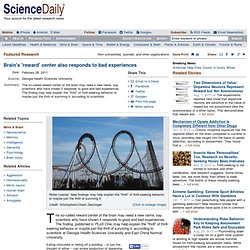 Feb. 28, 2011 — The so-called reward center of the brain may need a new name, say scientists who have shown it responds to good and bad experiences. The finding, published in PLoS One , may help explain the "thrill" of thrill-seeking behavior or maybe just the thrill of surviving it, according to scientists at Georgia Health Sciences University and East China Normal University. Eating chocolate or falling off a building -- or just the thought of either -- can evoke production of dopamine, a neurotransmitter that can make the heart race and motivate behavior, said Dr.
Brain's 'reward' center also responds to bad experiences
Cellphone Use Tied to Brain Changes
Researchers from the National Institutes of Health have found that less than an hour of cellphone use can speed up brain activity in the area closest to the phone antenna, raising new questions about the health effects of low levels of radiation emitted from cellphones.
David Brooks on Neuroscience
So in your efforts to answer the question Heckman poses, you ended up reading books about neuroscience proper? Right. And I started with the easy ones.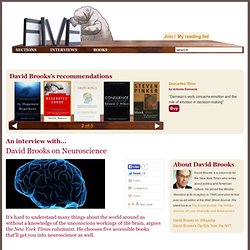 Edward Osborne Wilson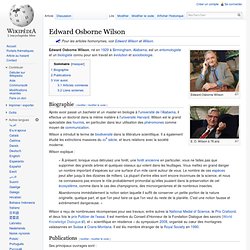 Un article de Wikipédia, l'encyclopédie libre. Edward Osborne Wilson E.
Consilience.ppt
Edward Osborn Wilson
Edward Osborn Wilson ( b. 1929, Birmingham AL) Former Frank B.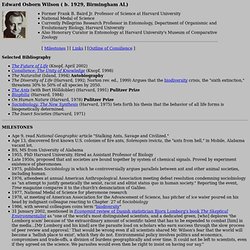 Consilience (book)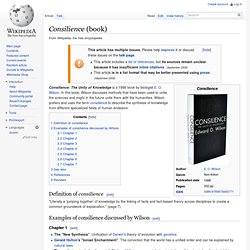 Consilience: The Unity of Knowledge is a 1998 book by biologist E. O. Wilson .
richard ogle: Smart World: Breakthrough Creativity and the New Science of Ideas
Brain Plasticity Future Salon with Professor Michael M Merzenich Part 2 on Vimeo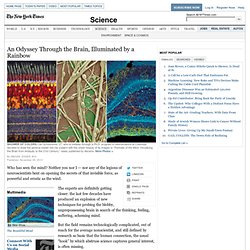 Colorful Images to Help Illuminate the Brain
SHOWER OF COLORS Carl Schoonover, 27, who is midway through a Ph.D. program in neuroscience at Columbia, decided to draw the general reader into his subject with the sheer beauty of its images in "Portraits of the Mind: Visualizing the Brain from Antiquity to the 21st Century," newly published by Abrams.
The Beautiful Mind - Slide Show
It is only fitting that the story of the brain should be a visual one, for the visuals had the ancients fooled for millenniums.
Brain Anatomy and Functions
Portraits of the Mind
George Church: doing something new is a risk but so is doing nothing.
How to Build a Human Brain, in 7 Easy Steps | Mind & Brain
The Twitter Spot in Your Brain
These days, you can't go online without bumping into someone styling himself as a social media guru, a Facebook expert, or a power user of Twitter.
What Happened to the Hominids Who May Have Been Smarter Than Us? | Human Origins
Even if brain size accounts for just 10 to 20 percent of an IQ test score, it is possible to conjecture what kind of average scores would be made by a group of people with 30 percent larger brains. We can readily calculate that a population with a mean brain size of 1,750 cc would be expected to have an average IQ of 149. This is a score that would be labeled at the genius level.
Return of the "amazing" Boskops
www.cogitoz.com/Upload/Downloads/Article neuropsychiatrie de l'enfant.pdf