Histoire
1 BEFORE EAST AND WEST WHAT IS THE WEST?"When a man is tired of London," said Samuel Johnson, "he is tired of life; for there is in London all that life can aff ord." It was 1777, and every current of thought, every bright new invention, was energizing Dr. Johnson's hometown. London had cathedrals and palaces, parks and rivers, mansions and slums. Above all, it had things to buy—things beyond the wildest imaginings of previous generations.
Why the West Rules - for Now: The Patterns of History, and What They Reveal About the Future: Amazon.fr: Ian Morris: Livres anglais et étrangers
Ian Morris is interested in understanding why the west has dominated the earth for the last few centuries. He began his career as an archaeologist and historian of ancient Greece, studying early texts and excavating sites around the Mediterranean Sea, but in recent years he has moved toward larger-scale questions and an evolutionary approach to world history. He has written or edited more than eleven books. His book, Why the West Rules—For Now, asks how geography and natural resources have shaped the distribution of wealth and power around the world across the last 20,000 years and how they will shape our future. Morris discussed this subject in a February 2012 lecture entitled "Why the West Rules—For Now." The book was named one of 100 Notable Books of 2011 by the New York Times and as one of the best reads for 2011 by Nature.
Classics and History Expert - Ian Morris | Humanities at Stanford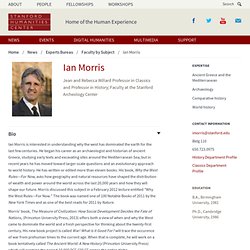 Un article de Wikipédia, l'encyclopédie libre. Victor Serge Portrait de Victor Serge.
Victor Serge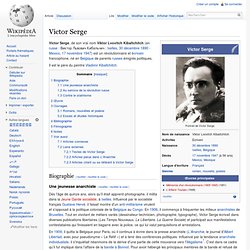 Chris Hedge - war journalist
Avant d'inaugurer notre seconde visite sur le thème de la Mer, de la Mort et des Marins lors des Journées du Patrimoine de Pays les 18 et 19 juin, Memor ha Istor vous propose tout au long du mois de mars de découvrir des légendes, des anecdotes et des histoires autour de la mer et des côtes bretonnes. L'occcasion d'en apprendre un peu plus sur la culture et le patrimoine de notre chère Bretagne. Pourquoi Charles-Eugène Potron est-il si connu à Ouessant? Que s'est-il passé la nuit du 19 novembre 1905 à l'entrée des "passes" de Saint Malo?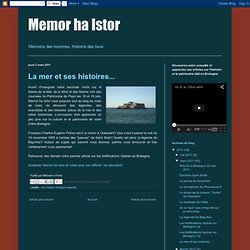 La mer et ses histoires...
Memor ha Istor (MemorhaIstor) on Twitter
Une histoire des maisons closes à Paris - Paul Teyssier
Disparition des civilisations anciennes