Evolution
First living things on land clarification
Whales evolution
Origins of Oceans
Evolution In 5 Minutes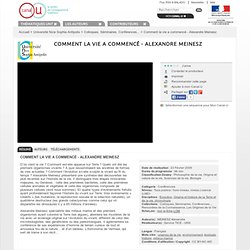 Alexandre Meinesz – Comment la vie a commencé
Comment la vie a commencé - Alexandre Meinesz D'où vient la vie ? Comment est-elle apparue sur Terre ?
500,000,000 years in 50 seconds flat
Charles Darwin (1809-1882)
Autour de Darwin / Livres
Evolution, Diet and Health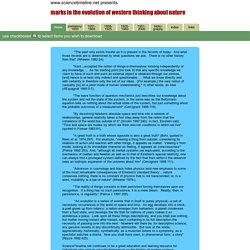 Science Timeline Marks in the evolution of science.
"The past only exists insofar as it is present in the records of today. And what those records are is determined by what questions we ask. There is no other history than that" (Wheeler 1982:24). "Kant...accepted the notion of things-in-themselves existing independently of any knowledge....
Big History Project (bh_p) sur Twitter
Have an account? Sign in New to Twitter? Join Today » Forgot password?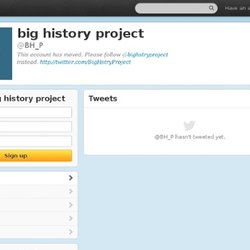 Empathy / Compassion /Altruism
Pierre-Henri Gouyon - Mnhn/AgroParis
Introduction to Evolution and Natural Selection
Evolution of life: home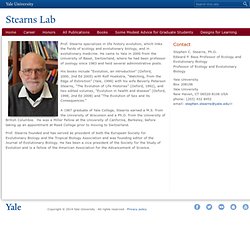 Prof. Stearns specializes in life history evolution, which links the fields of ecology and evolutionary biology, and in evolutionary medicine. He came to Yale in 2000 from the University of Basel, Switzerland, where he had been professor of zoology since 1983 and held several administrative posts. His books include "Evolution, an introduction" (Oxford, 2000, 2nd Ed 2005) with Rolf Hoekstra, "Watching, from the Edge of Extinction" (Yale, 1999) with his wife Beverly Peterson Stearns, "The Evolution of Life Histories" (Oxford, 1992), and two edited volumes, "Evolution in health and disease" (Oxford, 1998, 2nd Ed 2008) and "The Evolution of Sex and its Consequences." A 1967 graduate of Yale College, Stearns earned a M.S. from the University of Wisconsin and a Ph.D. from the University of British Columbia.
Stephen C. Stearns - Yale University
Exit from comment view mode. Click to hide this space NEW HAVEN – Many public-policy decisions are based on implicit assumptions about "human nature," and it is currently popular to speculate about how evolution might have shaped human behavior and psychology. But this raises some important questions: are humans continuing to evolve – and, if so, is our basic biological nature changing – or has modern culture stopped evolution? For some traits, we do not have to speculate – we can measure and compare on the basis of studies covering thousands of individuals over several generations. Such studies have not yet been done on most of the traits where speculation is popular, but they have been done on some traits of medical interest.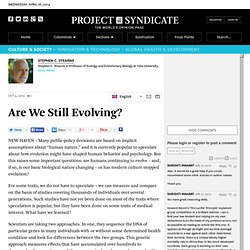 Are We Still Evolving? - Project Syndicate