User-centered design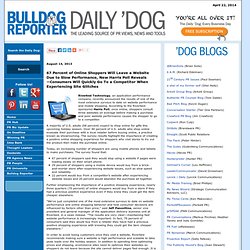 67 Percent of Online Shoppers Will Leave a Website Due to Slow Performance, New Harris Poll Reveals—Consumers Will Quickly Go To a Competitor When Experiencing Site Glitches
August 14, 2013 67 Percent of Online Shoppers Will Leave a Website Due to Slow Performance, New Harris Poll Reveals—Consumers Will Quickly Go To a Competitor When Experiencing Site Glitches Riverbed Technology, an application performance company, recently announced the results of one of the most extensive surveys to date on website performance and mobile shopping. According to the Riverbed-sponsored Harris Poll, once online, shoppers consult three websites on average before making a purchase and poor website performance causes the shopper to go to a competitor.
Horizontal Attention Leans Left
Parallel & Iterative Design + Competitive Testing = High Usability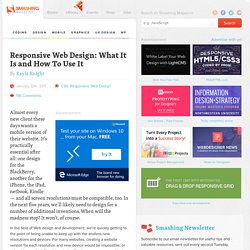 Advertisement Almost every new client these days wants a mobile version of their website. It's practically essential after all: one design for the BlackBerry, another for the iPhone, the iPad, netbook, Kindle — and all screen resolutions must be compatible, too.
iQ Blog - a blog about usability, accessibility and user-centred design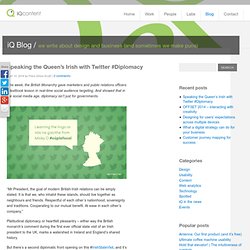 We're a small country. And Ireland probably isn't the first place that jumps to mind when you think about international creativity hubs. That's why OFFSET, the annual creative industry festival held in Dublin's Docklands, is all the more remarkable. It's an event that punches above its weight on the international scene, to the point where it was recently ranked as one of the most significant milestones in modern design by Computer Arts Magazine (just beside the iPad). And over the years has attracted luminaries and legends of design, illustration and photography including Paula Scher, George Lois, Bob Gill and Oliviero Toscani. These heavy hitters speak alongside an amazing pedigree of Irish talent; this year alone featured Maser (street art), Richard Moss (photography), Brown Bag Films (animation) and Chris Judge (illustration).
Photos as Web Content