Social Media
Moms Still Make Social a Priority. Women with children living at home are prime targets for marketers, making many household purchase decisions and also spending significant amounts of time with media—especially digital. eMarketer estimates that mothers are significantly more likely to be internet users than the average American, at 94.5% vs. 75.7% of the overall population at the end of 2012.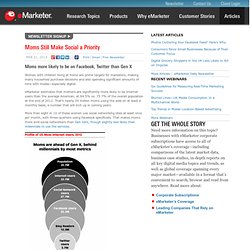 That's nearly 34 million moms using the web on at least a monthly basis, a number that will inch up in coming years. Images: 5 Ways to Be Pinworthy. Heidi Cohen | June 11, 2012 | 0 Comments inShare71 Test out what Pinterest has to offer and then assess your internal content to see how you can create pinnable content for your business. 2012 is the year of the image, particularly photographs.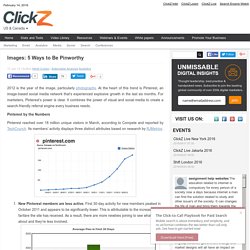 8 Tips To Maximize Your Brand's YouTube Presence. Michael "MJ" Jaindl is chief client officer at Buddy Media, maker of the social-enterprise software of choice for eight of the top ten advertisers in the world.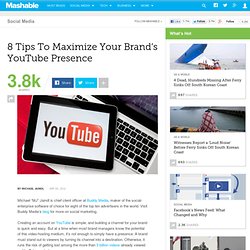 Visit Buddy Media's blog for more on social marketing. Creating an account on YouTube is simple, and building a channel for your brand is quick and easy. But at a time when most brand managers know the potential of this video-hosting medium, it's not enough to simply have a presence. A brand must stand out to viewers by turning its channel into a destination. Which Social Network Should You Use -- and When? [INFOGRAPHIC] Want to make the most of the social web?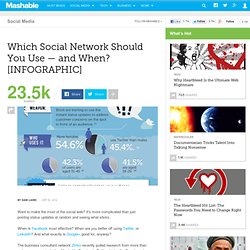 It's more complicated than just posting status updates at random and seeing what sticks. When is Facebook most effective? When are you better off using Twitter, or LinkedIn? And what exactly is Google+ good for, anyway? 9 Indicators Of A Social Web Influencer. Over the past three years, the measure of influence on social media has evolved considerably.
Since the inception of Twitter followers, "engagement" has become a new buzzword of marketers, who have finally realized that social networks are being used to listen to an audience before speaking to the same individuals. In 2012, their next challenge will be to convert "engagement" into a concrete tacit. Social Marketing Insights: Hispanics Love Social Media More Than the General Population, New uSamp Study Finds: Survey Finds Hispanics More Likely To Be On Facebook, YouTube and Google+ — But LinkedIn Is the Odd Man Out.
April 23, 2012 Social Marketing Insights: Hispanics Love Social Media More Than the General Population, New uSamp Study Finds: Survey Finds Hispanics More Likely To Be On Facebook, YouTube and Google+ — But LinkedIn Is the Odd Man Out Hispanics embrace social media such as Facebook, YouTube and Google+ more than the general population — but when it comes to sharing personal information about themselves, Hispanics are more cautious, according to survey results recently announced. uSamp, which provides targeted audiences for global consumer insights, engaged 650 members from its newly inaugurated Hispanic panel, SúperOpinión.com, to survey participants on their attitudes toward social media compared to the general population.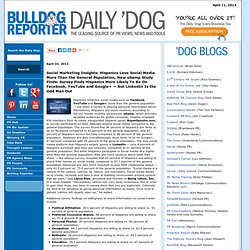 The survey found that 90 percent of Hispanics are likely to be on Facebook compared to 81 percent of the general population, and 57 percent of Hispanics access YouTube compared to 46 percent of the general population. How to Master YouTube Promoted Videos. Matt Lawson is the vice president of marketing at Marin Software, the largest paid search management provider.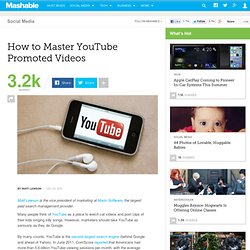 Many people think of YouTube as a place to watch cat videos and post clips of their kids singing silly songs. However, marketers should take YouTube as seriously as they do Google. By many counts, YouTube is the second-largest search engine (behind Google and ahead of Yahoo). In June 2011, ComScore reported that Americans had more than 5.6 billion YouTube viewing sessions per month, with the average visitor frequenting the site 23 times a month at an average of 26 minutes per visit.
6 Ways to Acquire New Customers via Social Media. We all know social media is an important tool for brand awareness and customer acquisition — but how exactly are you supposed to convert random Twitter and Facebook users into real-life customers?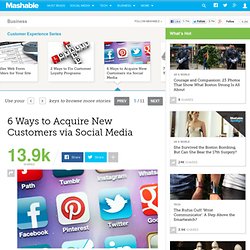 Well, that depends. Different brands have different challenges when it comes to customer acquisition: "If you're our customer, you've signed up for a year-long service, unlike the Starbucks of the world, where you can be a customer by coming in for a cup of coffee one day," says Lisa D'Aromando, social media community manager at Equinox. Whether you're a clothing shop, a restaurant or a subscription service, you must tailor your strategy so that it makes sense for your brand. That said, there are a few universal ways to help your company attract new faces on the social web. Google+ Holds Promise but Remains Weak on Usage. In the second half of 2011, after months of speculation about whether—and how—Google would finally "get" social, the search giant rolled out Google+ to great fanfare.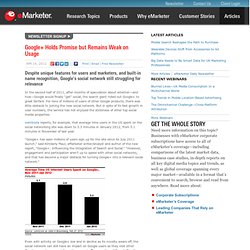 For tens of millions of users of other Google products, there was little obstacle to joining the new social network. But in spite of its fast growth in user numbers, the service has not enjoyed the stickiness of other top social media properties. comScore reports, for example, that average time users in the US spent on the social networking site was down to 3.3 minutes in January 2012, from 5.1 minutes in November of last year. Social media: The state of play in 2012. Social media usage continues to rise, without any sign of reaching a saturation point in the near future, as Christian Arno points out in an article published on Search Engine Watch.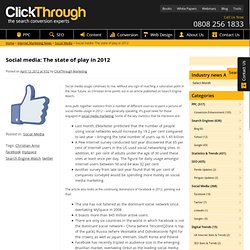 Arno pulls together statistics from a number of different sources to paint a picture of social media usage in 2012 – and generally speaking, it's good news for those engaged in social media marketing. Some of the key statistics that he mentions are: Last month, EMarketer predicted that the number of people using social networks would increase by 19.2 per cent compared to last year – bringing the total number of users up to 1.43 billionA Pew Internet survey conducted last year discovered that 65 per cent of internet users in the US used social networking sites.
In addition, 61 per cent of adults under the age of 30 used these sites at least once per day. Lindt Places $10 Value on Easter Repins for Autism Cause. Lisa Lacy | April 6, 2012 | 0 Comments inShare30 Pinterest Easter campaign raises money for Autism Speaks. Are repins on Pinterest worth $10? Swiss chocolatier Lindt thinks so. Pinterest Could Be Key for Retailers, Study Says. How To Manage A Google+ Page As A Team. This week, Google+ enabled up to 50 people at a time to manage Google+ brand pages. Pages were a long-awaited feature after launch, but they only allowed individual administrators when they arrived. Since brand pages are how organizations manage their presence on Google+, many page owners need to give multiple team members the ability to edit and moderate. Twitter. BarnRaisers. How to Find Experts on Twitter with InboxQ ~ LockerGnome Social Media & Technology. The End of Social Media 1.0 Brian Solis. InShare850 The debut of a series introducing The End of Business as Usual… Follow us on Twitter!
Like us on Facebook! Circle us on Google+! I would like to talk about an inflection point in social media that requires pause. How Younger Adults React to Brands on Social Networks. Older social media users have grown more likely to follow brands on social media sites as they've gained more experience interacting on them, but younger adults still outnumber them in this activity. Millennials' enthusiasm for making friends with brands, though, may not be too far above average. The "American Millennials" survey, conducted by Barkley in advance of September's Share.Like.Buy conference, found that over half of millennials, defined here as consumers ages 16 to 34, liked checking out brands on social media sites.
That compared with just over a third of older adults. The survey, fielded in partnership with the Service Management Group and sponsored by Boston Consulting Group, also found that a third of millennials like brands more if they use social media. That was nearly double the percentage of older adults who said the same. Making It Easier to Share With Who You Want. 10 things Google+ does better. When you want to know about new technology, who better to offer an opinion than the founder and creator of a tech news blog? Mashable's Pete Cashmore recently shared his thoughts on Google+ with CNN. Cashmore says the fast-growing social network is best at these 10 things:
Better Facebook Fan Page: Essential Tips, Apps and Examples. Strategic Marketing and Reputation Adviser Davia Temin, CEO of Temin and Company, Releases "The 10 Don'ts of Corporate Social Media": The "Black Box" Mystique of Social Media Has Created a "Wild West" Frontier, She Says | Bul. Google on target to be 2nd largest social networking site | YouGov US Opinion Center. 5 Tips And Guides For Getting The Most Out Of #NewTwitter. What Are Your Top 5 Twitter Time Savers. Michele Price - 12 Most. Driving Social Media & Customer Acquisition Throughout the Customer Lifecycle. Posting Strategies that Encourage Engagement on Facebook.
---