Archive
Open Library is an open, editable library catalog, building towards a web page for every book ever published. More Just like Wikipedia, you can contribute new information or corrections to the catalog. You can browse by subject , author or lists members have created.
Im Tresor der Deutschen Nationalbibliothek zeigt das Deutsche Buch- und Schriftmuseum die Ausstellung Illustrierte Idylle? Die Gartenlaube: Gesichter eines Massenblattes. Die nächste Führung findet am Donnerstag, 10. April 2014 um 17 Uhr statt.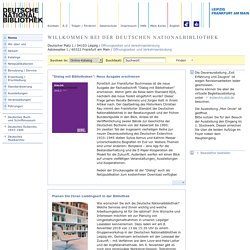 Home
To explore the iKnow system please use the top navigation menu to access the iScan - to monitor and search WI-WE issues, the iDelphi - to assess and prioritise WI-WE issues, the iLibrary - to share innovation and foresight and horizon scanning (FHS) documents, the iCommunity - to engage and network innovation and FHS people, the iNews - to feature selected contributions to iKnow's FHS systems, and the iOracle - to map FHS practices, players and outcomes – in collaboration with the mapping activities of the European Foresight Platform. To learn about the iKnow project's objectives and background, please click here . You are now in our iBank of issues, also called WI-WE Bank. In this platform you will be able to access 500 Wild Cards and 396 Weak Signals (total of 896 WI-WE) mapped by some of our 2160 active members.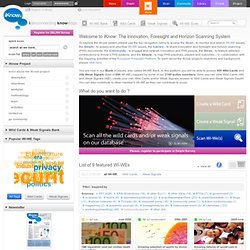 iKnow WI-WE Bank