Fun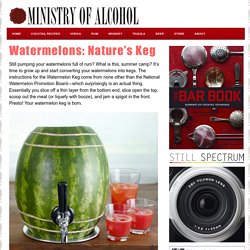 Still pumping your watermelons full of rum? What is this, summer camp? It's time to grow up and start converting your watermelons into kegs.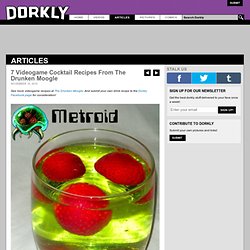 See more videogame recipes at The Drunken Moogle . And submit your own drink recipe to the Dorkly Facebook page for consideration! Metroid (Metroid Cocktail) Ingredients: 1/2 shot Bacardi Big Apple Rum 1/2 shot Coconut Rum 1/2 glass Kiwi Strawberry Minute Maid (or Kool-Aid) A little less than 1/2 a glass Sprite 3 Strawberries Directions: Shake the two rums and Kiwi Strawberry Minute Maid and pour into a lowball glass. Add the Sprite for a bit of flavor and carbonation.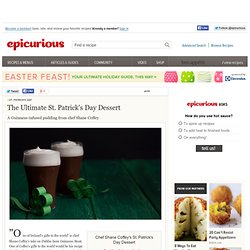 "O ne of Ireland's gifts to the world" is chef Shane Coffey's take on Dublin-born Guinness Stout. One of Coffey's gifts to the world would be his recipe for Coffey, who is now executive chef at the Meridian Club in the Turks & Caicos, cooked up this recipe when he was at Alias on New York City's Lower East Side. He wanted to make Irish-inspired dishes for the restaurant's St. Patrick's Day celebration, but, stumped in his quest to create an easy dessert for the prix-fixe menu, he took refuge at his favorite New York pub, Molly's.
The Ultimate St. Patricks Day Dessert St. Patricks Day at Epicurious.com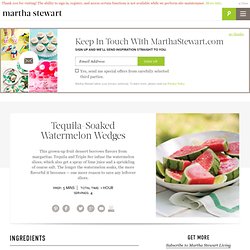 Save to your Collections Sorry for the inconvenience! Saving is temporarily unavailable as we work through a few kinks in our new recipe design (we hope you like it!). Don't worry, your collections are safe and you'll be able to save recipes again very soon. Review this Recipe
Creepy Cocktails and Drinks for your Halloween Party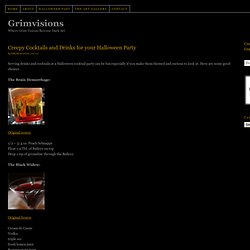 Serving drinks and cocktails at a Halloween cocktail party can be fun especially if you make them themed and curious to look at. Here are some good choices. Original source
Gourmet | July 2009 by Kay Chun photo by Romulo Yanes user rating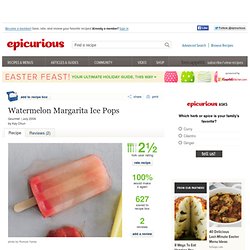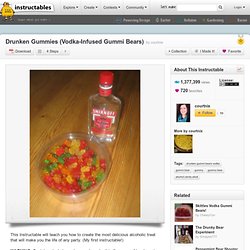 This Instructable takes a bit more than a week to complete, but the end result is certainly worth it! You will need: - 1 1/2 cups of vodka (can use more or less if desired) - 1 tub of gummi bear candies, plastic with lid (about 1kg. Tub found at Wal-mart) - 1 can of frozen juice concentrate, any flavour desired (I used fruit punch.) You can keep the juice frozen for now, as you will not need it for a few days. - First step is to open the lid of your gummi bears and pour in the vodka.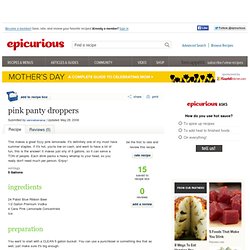 This makes a great fizzy pink lemonade. It's definitely one of my must have summer staples. If it's hot, you're low on cash, and want to have a lot of fun, this is the answer! It makes just shy of 5 gallons, so it can serve a TON of people. Each drink packs a heavy whallop to your head, so you really don't need much per person. Enjoy!
It's time again for childhood and adulthood to collide in a most delicious way! You can infuse vodka with Jolly Rancher candies, much the same way we make Skittles Vodka . Actually, this process is much easier, and the results are fabulous: tasty and gorgeous to look at. You can whip up batches of five Jolly Ranchers Vodka flavors in only twelve to fourteen hours with minimal labor on your part, so they make wonderful, affordable, memorable gifts, too. The Materials: I bought more than I actually needed: a 1.75 liter bottle of vodka and a 3.75 pound bag of Jolly Ranchers .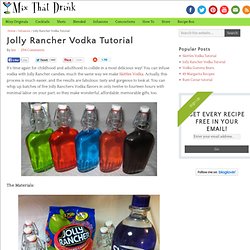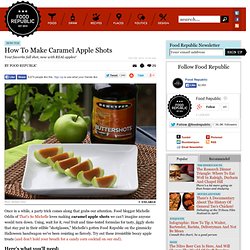 Photo: Michelle Oddis Once in a while, a party trick comes along that grabs our attention. Food blogger Michelle Oddis of That's So Michelle loves making caramel apple shots we can't imagine anyone would turn down. Using, wait for it, real fruit and time-tested formulas for tasty, jiggly shots that stay put in their edible "shotglasses," Michelle's gotten Food Republic on the gimmicky Halloween bandwagon we've been resisting so fiercely. Try out these irresistible boozy apple treats (and don't hold your breath for a candy corn cocktail on our end). Here's what you'll need: