Poetry
This Is Your Brain on Metaphors. The Stone is a forum for contemporary philosophers and other thinkers on issues both timely and timeless.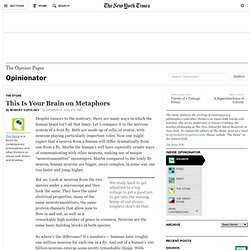 Despite rumors to the contrary, there are many ways in which the human brain isn't all that fancy. Let's compare it to the nervous system of a fruit fly. Both are made up of cells, of course, with neurons playing particularly important roles. Now one might expect that a neuron from a human will differ dramatically from one from a fly. Poetry Archive. T. S. Eliot. Thomas Stearns Eliot OM (26 September 1888 – 4 January 1965) was an essayist, publisher, playwright, literary and social critic and "one of the twentieth century's major poets.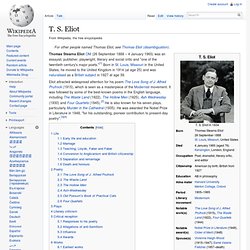 "[1] Born in St. Louis, Missouri in the United States, he moved to the United Kingdom in 1914 (at age 25) and was naturalised as a British subject in 1927 at age 39. The Association of Writers & Writing Programs -- Serving Writers. The Poetry Foundation : Find Poems and Poets. Discover Poetry. Hampton Roads Writers. Hampton Roads Writers -- Eric Webb. Eric M.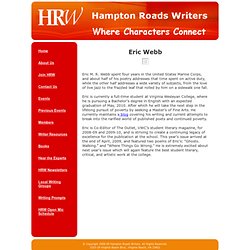 R. Webb spent four years in the United States Marine Corps, and about half of his poetry addresses that time spent on active duty, while the other half addresses a wide variety of subjects, from the love of live jazz to the frazzled leaf that rolled by him on a sidewalk one fall. Eric is currently a full-time student at Virginia Wesleyan College, where he is pursuing a Bachelor's degree in English with an expected graduation of May, 2010. The Poetry Society of Virginia Home Page. Poets.org - Poetry, Poems, Bios & More.
---