Cook
Get flash to fully experience Pearltrees
Ingredients: 250g plain flour 200g brown sugar 60g butter, softened 1/4 teaspoon bicarbonate of soda 1/4 teaspoon ground cinnamon 1/4 teaspoon ground cloves 1/4 teaspoon ground ginger pinch of white pepper 1 egg, beaten 1 egg, beaten (extra) 150g dark chocolate silver cachous Method: 1. Preheat oven to 190 degrees and line two baking trays with non-stick paper. 2. Combine all ingredients and blend until well blended (mixture will appear crumbly). 3. Add half of extra beaten egg, then knead the mixture with your hands until it holds together (use more beaten egg if necessary). 4. Shape dough into a ball. 5.
Last week, we cleared our heads and palates with bracing juniper . This week, I'm getting carried away with caraway, that warming, earthy spice that's so delicious in everything from hefty winter stews to delicate biscuits and cakes. I love its complexity.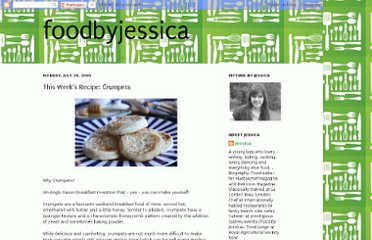 Why Crumpets? An Anglo Saxon breakfast invention that – yes – you can make yourself! Crumpets are a favourite weekend breakfast food of mine, served hot, smothered with butter and a little honey. Similar to pikelets, crumpets have a spongier texture and a characteristic honeycomb pattern created by the addition of yeast and sometimes baking powder. While delicious and comforting, crumpets are not much more difficult to make than pancake simply with a longer resting time (which can be well spent reading the newspaper before other family members get their hands on it).
June 30, 2011 | By Adam Roberts | 18 Comments When the James Beard award-winning editor of The Washington Post food section writes a cookbook, you know you better buy it. In my case, I blurbed it–(look for me on the back cover!)–because the book in question, Joe Yonan's "Serve Yourself," is truly excellent.
While blessed with many attributes, a roasted chicken has its drawbacks. One biggie is that it usually limits your guest list to about four people tops. But chickens are adaptable creatures and open to being flexible. One way to stretch a chicken, quite literally, is to spatchcock it (a fun way of saying butterfly), stuff its gills and other tender parts, literally expanding the bird to feed more people. Thanks to the spatchcocking, the skin loosens up a bit, and more of the cheese mixture can fit than if you were to stuff it while in its traditional yogic child's pose. Never spatchcocked a chicken?
Recipe This is one of the best soups I've ever had. Laksa is a kind of brothy noodle stew, very often made with chicken and coconut milk.