Resources 4 Lessons
Create interactive flash postIt tools / games for education
Stage 1: Brainstorming Students are asked to identify as many factors as they can to help explain the key question under consideration. These are written into the "PostIts" and dragged around the screen filling the space. Stage 2: Categorisation Next, students work in pairs to come up with three to five headings under which the factors can be categorised. A key is then created so that each category is represented by a different colour.
Are you new to Teachit? Click here to start finding your way around. Typically a time for reinvention and being a 'better' self, we think that if there's any call for resolutions, they should come from us, not you - hence the list below. After all, you're the ones contending with controlled assessment, stroppy, sun-deprived students and a merry-go-round of reforms.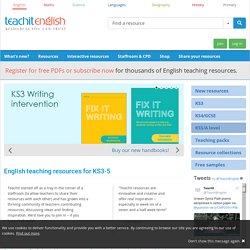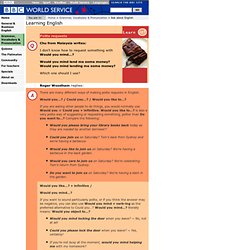 Learning English | BBC World Service
Can I / could I / may I / might I If you are requesting something for yourself, all of these forms are possible. May and might are considered to be more polite, more formal or more tentative than can and could, but can and could are usually preferred in normal usage. Compare the following: Can I ask a favour of you? ~ Of course you can.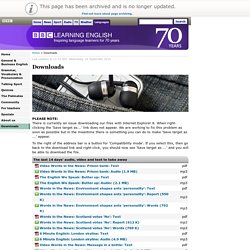 You may not copy, reproduce, edit, adapt, alter, republish, post, broadcast, transmit, make available to the public, or otherwise use audio, video or other material downloaded from BBC Learning English in any way except for your own personal or educational non-commercial use. You may not use the files for the purpose of promoting, advertising, endorsing or implying a connection with you (or any third party) and the BBC, its agents or employees. The BBC will not be liable for any loss or damage which you may suffer as a result of or connected with the download or use of this file. What this meansIf you are a teacher you may copy audio, video and documents to use in your class but you may not make any charge for this material and you may not make the material available through any other website or publication.
BBC World Service | Learning English | Learn it - archive