Random
Food tips that make life easier. Well, At Least There Was Good Stuff to Read: The Books of the Decade. Anybody remember how anxious and thrilled we were in those last months of the 20th century?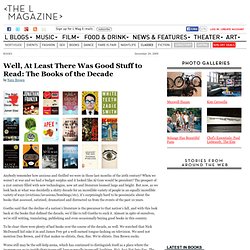 When we weren't at war and we had a budget surplus and it looked like Al Gore would be president? The prospect of a 21st century filled with new technologies, new art and literature loomed large and bright. But now, as we look back at what was decidedly a shitty decade for an incredible variety of people in an equally incredible variety of ways (evictions/invasions/bombings/etc), it's surprisingly hard to be pessimistic about the books that assessed, satirized, dramatized and distracted us from the events of the past 10 years.
LoveIt. Dollar Rubber Club Will Mail Condoms To Your Home Each Month. A naughty new startup called the Dollar Rubber Club -- which mails its subscribers a pack of latex prophylactics every month for a flat fee -- is not the "Netflix of condoms," its co-founder Dan Elwell tells me over Skype.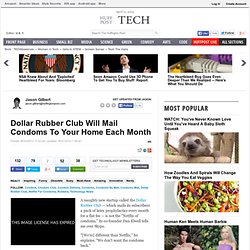 "[We're] different than Netflix," he explains. "We don't want the condoms back. " Still, the comparison to Netflix is -- like so many sexual attractions -- somewhat irresistible. Art 1. Optical Design. Wanelo - bookmark your favorite products - StumbleUpon. Everythings Right - StumbleUpon. MyQuotes - Polyvore - StumbleUpon.
Vintage Wanna Bee: HOW TO MAKE A FB TIMELINE COVER... - StumbleUpon. So, you know how facebook is always super annoying and changes their layout constantly?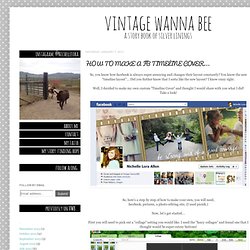 You know the new "timeline layout"... Did you further know that I sorta like the new layout? I know crazy right. Well, I decided to make my own custom "Timeline Cover" and thought I would share with you what I did! Take a look! Most Popular Repurposing Tricks of 2011 - StumbleUpon. The best trick of all is repairing broken stuff.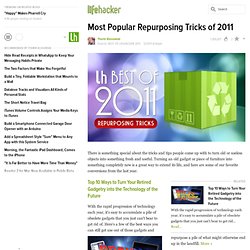 You would be amazed that in this throw away age so many things can be repaired easily. Invest your money in quality tools, and you will find the tool pays for itself in the first few repairs you make with it. There are wonderful adhesives and tapes that people aren't aware of that work wonders. Take an hour and go to a home hardware store and really browse around to discover some of these wonders of the modern world. You can also look online at some great catalogs that sell woodworking supplies, and find a great assortment of fine tools that you can use to repair almost anything. 3-part portraits - Wall to Watch. I feel melty. | Light&Spoon - StumbleUpon. EDIT 11/5/2012: We are no longer selling custom crayon pieces in our Etsy shop.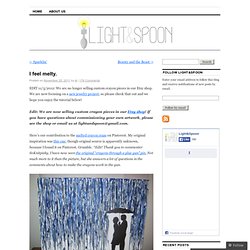 We are now focusing on a new jewelry project, so please check that out and we hope you enjoy the tutorial below! Edit: We are now selling custom crayon pieces in our Etsy shop! Get up off your butt & dance!! | jcarpenter33 | 8tracks. 25 clever ideas to make life easier - StumbleUpon. Via: amy-newnostalgia.blogspot.com Why didn't I think of that?!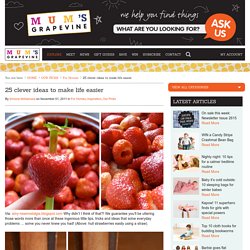 We guarantee you'll be uttering those words more than once at these ingenious little tips, tricks and ideas that solve everyday problems … some you never knew you had! Nate Slawson, diode v2n3. You are the rain a girl at school smells like purple bubble gum, like she took off all her clothes after being stuck outside during a thunderstorm & if I could tell her why her arms are boss, why her neck is boss, why her hips are boss, I imagine she would bandage me softly like winter. you are a pharmacy you have a hundred secret names & I am the world's worst shoplifter.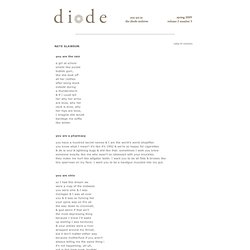 You know what I mean? It's like it's 1992 & we're so happy for cigarettes & de la soul & lightning bugs & shit like that. sometimes I wish you knew someone exactly like me who wasn't so obsessed with your knuckles. Joss Whedon - When I say, "I love you," its not because I want you... - StumbleUpon. Whichbook | A new way of choosing what to read next - StumbleUpon. Kissing Quotes, Great Quotes About Kisses - StumbleUpon. A kiss.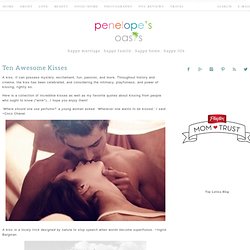 It can possess mystery, excitement, fun, passion, and more. Throughout history and cinema, the kiss has been celebrated, and considering the intimacy, playfulness, and power of kissing, rightly so. The Dream. The Dream I dreamed that you had ceased to love me— not that you had come from other beds back to mine, or gone from mine to others, just that something in your heart had stopped.
I willed myself awake to find you still beside me. It was just a dream, I thought, yet when I turned to kiss you, in your eyes I saw that you had ceased to love me. I willed myself awake a second time to find myself alone, as I have been these many months, but did not know if it was terror or relief I felt, and whether.
---