Foodblogs in english
Chock full of mouth-watering photography to inspire, Back to Basics is Michael's simple approach to cooking basics that he wants to share with every home cook. Once you understand the basics behind a recipe, you can then stir your personality into your cooking. You'll see how easy it is to impress family and friends in your own kitchen.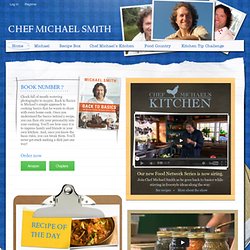 Chef Michael Smith | Home
If you told me 5 years ago that my coffee table would not only host my own cookbook, but also a cookbook written by a friend of mine, it wouldn't even be something that my brain could grasp and I would probably just laugh it off. But here we are, and that sentence is a reality. Nick from Macheesmo was a once rival, turned friend and also powerful ally in the world of food blogging, and his book Love your Leftovers, comes out in a few days! Love your Leftovers is an epic tome of meal planning that teaches you how to cook in large batches and then repurpose the leftovers into dinners later in the week. Nick is modest on the cover when he says there are "over 100" recipes in the book, because many of the recipes feature variations and twists with full ingredient lists.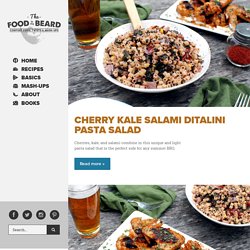 Single Guy Cooking | Single People Can Cook Too
One Single Cook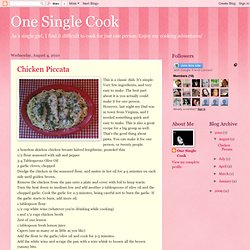 This is a classic dish. It's simple. Very few ingredients, and very easy to make. The best part about it is you actually could make it for one person. However, last night my Dad was in town from Virginia, and I needed something quick and easy to make. This is also a great recipe for a big group as well.
Thank you! We've got you signed up. Why not go all the way? If you haven't already, become a full member to get access to our Secret Stash.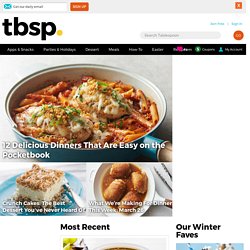 I was commissioned to photograph & redesign Le Parisien Cafe's menu. Quite an intimidating project, but the moment I walked in to the cafe, I knew it wasn't going to be difficult to capture the beauty of their pastries and sandwiches! Their glass case is filled with cakes, tarts, beignets stuffed with creme patissiere and my favorite, french macarons! I could have spent all day photographing their food, but I had to quickly wrap up the shoot before the lunch crowd came. NOTE TO SELF: eat breakfast before photographing food.
The Boogie Blog
I'm not the only one who is sometimes confounded by the French language. We recently had lunch at Café des Musées and my (French) partner ordered the entrecôte. Which I was eyeing on the menu, as I always do. But since I just finished a holiday food binge of epic proportions (plus a recent trip to San Francisco, where I gorged on tortillas, chow fun, and burritos), I decided to be a little more prudent and order the daily chalkboard special, a game dish that came with a salade de saison. Americans have an interesting relationship with steaks and beef: Before ordering, most people want to know what cut they're going to get.
When I was finalizing the recipes in The Perfect Scoop, I was conflicted about something sweet. Even more so than I usually am. Some might call it a character flaw, but for me it's normale.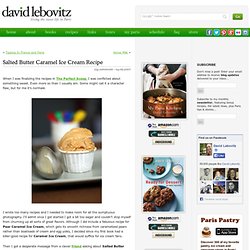 I'm on a mission to create a few go-to crock-pot meals my family will actually eat. Overall they are such good eaters UNTIL you mix everything together. Then they poke and prod at their plates, making faces and picking out the one or 2 things they will eat out of the stew. Read the rest of this post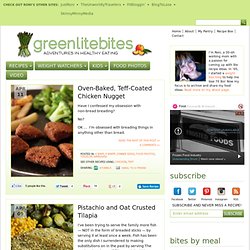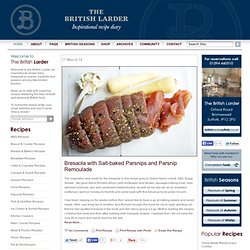 The inspiration and credit for the bresaola in this recipe goes to Diana Henry's book 'Salt, Sugar, Smoke'. My good friend Richard Arbon (self-confessed food fanatic, sausage-making lover, best salt beef producer, jam and condiment extraordinaire, as well as his day job as an excellent craftsman) went on holiday to Norfolk and came back with this fabulous book under his arm. I had been harping on for weeks before that I would like to have a go at making salami and cured meats. Well, one thing led to another, and Richard brought this book for me to read, pointing out that he had spotted bresaola in the book and did I fancy giving it a go. Before reading the recipes, I ordered the meat and then after reading both bresaola recipes, I realised that I did not have the cure #2 to hand and had to resort to the wet
Welcome to the British Larder – The British Larder
Author Notes: If I'm trying to relax, a nice mug of warm milk always seems to do the trick. So does liquor, but this is a more virtuous non-alcoholic option, for when I'm looking to keep my virtue intact. Inspired by Amanda's Chai recipe, I quickly found myself addicted to the stuff, (thanks Amanda) and thought it might be just as nice without the tea. (less)Author Notes: If I'm trying to relax, a nice mug of warm milk always seems to do the trick. So does liquor, but this is a more virtuous non-alcoholic option, for whe (…more) - mrslarkin
Milk and Honey recipe from food52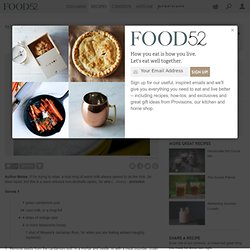 I'm not sure whether or not it makes me feel better, but I certainly wasn't the only Christmas shopping procrastinator bustling around out in the world today! Without fail, I end up being way too busy to shop early, and I end up with a full list of family members to shop for in minimal time. Luckily, I expected the challenge, this being the last weekend before Christmas, so I bundled up in a warm coat, loaded my ipod with holiday favorites, and ventured out with the attitude that I'd make do with whatever happened! Rain was pouring down, the stores were hopping, and I actually made some really great progress despite the never ending lines.
Say it with Sprinkles - A Blog About Baking & Sprinkles » Be Sweet...
Tuesday, September 6, 2011 Chai Snickerdoodles* When I got married, no one told me that Jorge and I would eventually be able to have an entire conversation without opening our mouths. That instead, all we would have to do is look at each other and an entire conversation can take place. I also had no idea how little a guy could care about my hair.
Chai Snickerdoodles