Oh that crafty goodness
Create Your Own Lace Pottery. Make a Pink Ruffly Umbrella. Home » $5 and Under, cheap crafts, From Our Readers, Headline, Tutorials 22 June 2010 56,461 views 12 Comments by heather In addition to choosing a winner of the CSI Dollar Store Project, I was also able to choose my top 10 projects.
It wasn't easy to narrow the top ten down, but all of the top 10 projects were innovative and showed me something I haven't seen before (or cleverly twisted something I have seen before). One of my top tenners, Becky, made a pretty pink ruffly umbrella out of an unlikely material. Make a Recycled Soda Bottle Jewelry Stand. Home » $5 and Under, Accessories, cheap crafts, Headline 22 April 2012 32,327 views 6 Comments by rhonda Happy Earth Day!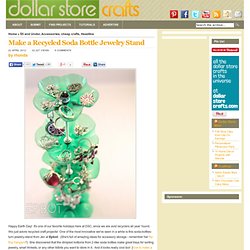 It's one of our favorite holidays here at DSC, since we are avid recyclers all year 'round. Make a Beaded Chandelier. Welcome to Dollar Store Crafts - the internet's original site for all Dollar Store Crafts!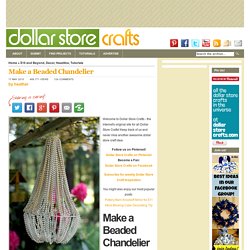 Keep track of us and never miss another awesome dollar store craft idea: Follow us on Pinterest! Dollar Store Crafts on PinterestBecome a Fan:Dollar Store Crafts on Facebook Subscribe for weekly Dollar Store Craft-Inspiration You might also enjoy our most popular posts:Pottery-Barn Knockoff Mirror for $11Mind-Blowing Cake Decorating Tip. Cell Phone Charging Dock (From Card Box) Craft Recycled: Cell Phone Charging Station from a Lotion Bottle. By Becky Striepe on March 14, 2012 Ashley over at Make It Love It was tired of leaving her cell phone on the floor while it charged.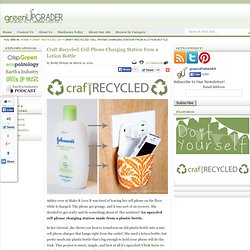 The phone got grungy, and it was sort of an eyesore. She decided to get crafty and do something about it! It's a good idea to use free paint chips: - StumbleUpon. Check out the 31 ways paint chips are used in all kinds of projects!!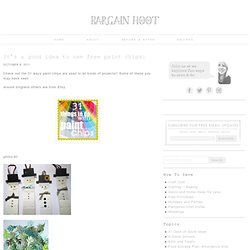 Some of these you may have seen around blogland others are from Etsy. 1.PaintswatchWall2.SnowmanOrnaments3.cut leaves 4. Most Popular Repurposing Tricks of 2011 - StumbleUpon. The best trick of all is repairing broken stuff.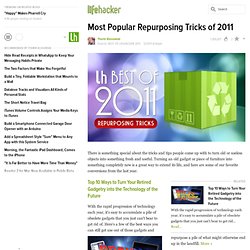 You would be amazed that in this throw away age so many things can be repaired easily. Invest your money in quality tools, and you will find the tool pays for itself in the first few repairs you make with it. There are wonderful adhesives and tapes that people aren't aware of that work wonders. The 30 Minute $6 Dress Tutorial | papernstitch. Guest post by Rachael at Talk 2 the Trees.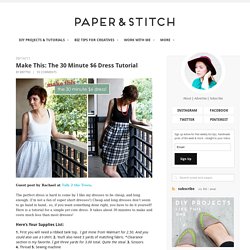 The perfect dress is hard to come by. I like my dresses to be cheap, and long enough. (I'm not a fan of super short dresses!) Cheap and long dresses don't seem to go hand in hand.. so, if you want something done right, you have to do it yourself! I feel melty. | Light&Spoon. EDIT 11/5/2012: We are no longer selling custom crayon pieces in our Etsy shop.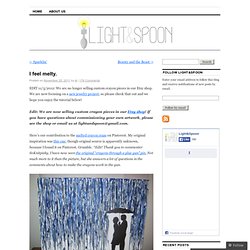 We are now focusing on a new jewelry project, so please check that out and we hope you enjoy the tutorial below! Edit: We are now selling custom crayon pieces in our Etsy shop! If you have questions about commissioning your own artwork, please see the shop or email us at lightandspoon@gmail.com. Here's our contribution to the melted crayon craze on Pinterest. How to make an Outdoor Candle Lantern Inexpensively. Last week I made a candle chandelier for my deck.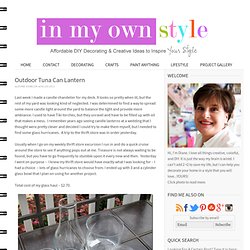 It looks so pretty when lit, but the rest of my yard was looking kind of neglected. I was determined to find a way to spread some more candle light around the yard to balance the light and provide more ambiance. I used to have Tiki torches, but they unravel and have to be filled up with oil that makes a mess. FASTEST RECYCLED T-SHIRT TOTE BAG. Are you looking for a great, low-cost recycling project to do at home or with a group?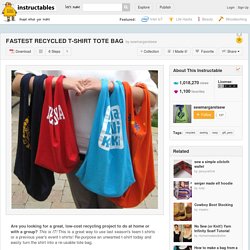 This is IT! This is a great way to use last season's team t-shirts or a previous year's event t-shirts! Tree Wall Decal. Cute and quirky wall deco One of my worst habits that I find annoying about myself is when I come home after a long day of work, I tend to throw my jacket on the nearest piece of furniture. I hate the way a coat stand takes up space, so I decided to put hooks in the walls, but that looked terrible. Instead, I made a tree wall decal to make it look as if my clothes and stuff are hanging off of the tree branches. One Pearl Button. My Favorite Blogs. Creative Guest: Nike from Choose to THRIVE. Is it just me, or does guest posting on Ucreate seem a little like sitting down on the couch with Oprah?
I'm just a bit excited to be here people, and am trying my darndest to keep the couch jumping and fist pumps to a minimum… Anyway, I'm Nike. That's Neekah … Living With Lindsay — Creating a Beautiful Home, One Glue Gun Burn at a Time. Apartment Therapy Ohdeedoh. Name: Adele (10 months)Location: United States For Adele's room, Greg and I wanted something fun, bright, and cheerful, and a little bit geeky/steampunk without taking over the room with nerdiness (we'd considered, and dismissed, Portal, Mario, and pirate-ninja).
I quickly latched onto a cheerful (5-legged) octopus image I'd seen somewhere and a bedding set that mixed a bunch of contrasting but color coordinated prints in a very fun way. Shabby Blogs. A bit of green :: Crafts :: Plastic Cup Lamp. Now that my university is closed for winter holidays, I finally have more free time to do all the crafty things I've been wanting to. One of these is a lamp made from plastic cups I've seen at taf, the art foundation, in the Monastiraki region in the center of Athens.
When I first saw it at taf, I was amazed; I looked closely and I couldn't believe my eyes! The object itself is so peculiar, modern and alien-like it could be in any design exhibition. Eight-day-of-christmas-8-maids-milking. I had such a great response when I asked about Aprons I am thinking about doing "Apron week" the first week in January. If you like this idea let me know AND email me a picture or link to any aprons you would like ot see made and I will tackle it! I love a challenge! Would you guys like to do this? I love love love pretty aprons and I actually think this is the one area where Anthropologie prices aren't that bad. BUT having said that free is always better! Better Late Than Never....Anthro Knock Off Lamp Tutorial. Upcycled Skirts: Umbrellas Converted into Colorful Clothes. Cute & Easy Fabric/Ribbon Bandaids. Most favorited all-time.