Socialnetworking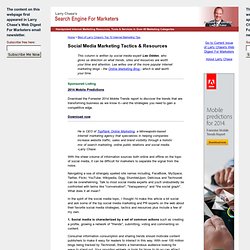 Social Media Marketing Tactics & Resources
Home > Best of Larry Chase's Top 10 Internet Marketing Tips This column is written by social media expert Lee Odden , who gives us direction on what trends, sites and resources are worth your time and attention. Lee writes one of the more popular Internet marketing blogs - the Online Marketing Blog - which is well worth your time. Sponsored Listing He is CEO of TopRank Online Marketing , a Minneapolis-based Internet marketing agency that specializes in helping companies increase website traffic, sales and brand visibility through a holistic mix of search marketing, online public relations and social media.
Socialtext Enterprise 2.0 Kit
That is an increase from 27% in 2007 ; on average the wealthy have 2 social memberships.. Most wealthy consumers are logging on via MySpace (16%) followed by LinkedIn (13%) and Facebook (11%). "Being connected is second nature to these over-achievers," said Milton Pedraza, CEO of the Luxury Institute. "We are pleasantly surprised at the rapid acceleration in the over 55- year-old wealthy consumers whose participation increased five-fold, to 49%." How can marketers take advantage of this rapid growth?
"Wealthy consumers surf the social networks"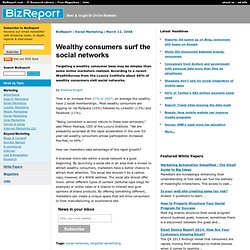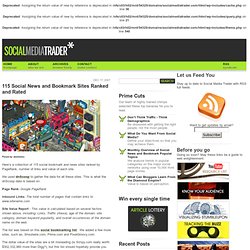 Picture by: destinetics Here's a collection of 115 social bookmark and news sites ranked by PageRank, number of links and value of each site. We used dnScoop to gather the data for all these sites. This is what the dnScoop data is based on: Page Rank - Google PageRank Inbound Links - The total number of pages that contain links to www.sitename.com
115 Social News and Bookmark Sites Ranked and Rated | Social Med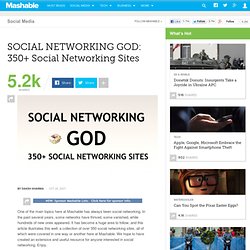 One of the main topics here at Mashable has always been social networking. In the past several years, some networks have thrived, some vanished, while hundreds of new ones appeared. It has become a huge area to follow, and this article illustrates this well: a collection of over 350 social networking sites, all of which were covered in one way or another here at Mashable. We hope to have created an extensive and useful resource for anyone interested in social networking. Enjoy.
Top 30 Social Bookmarking Sites July 2007 | eBizMBA
Younger generation can't live without Internet - Research -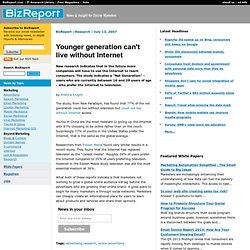 The study, from New Paradigm, has found that 77% of the net generation could live without television but could not live without Internet access. Youths in China are the most resistant to giving up the Internet with 87% choosing to be online rather than on the couch. Surprisingly 77% of youths in the United States prefer the Internet; that is the same as the global average. Researchers from Edison Media found very similar results in a recent study. They found that the Internet had replaced television as the "coolest media".
It's a busy Sunday evening – first the news on Yahoo Mosh , and now news that Google is working on its own next generation social networking service called Socialstream, possibly to take the spotlight away from the ailing Orkut. Yahoo Mosh We don't know much yet, other than the project exists, it will be launched at mosh.yahoo.com and is being called a "new cool social network product" within Yahoo. No screen shots are available yet.
Google, Yahoo Both Working On Next Generation Social Networks