Crafts
...love Maegan: * Partial French Braid & Cascading Hair Tutorial *also known as the "Waterfall Braid" Fashion+Home+Lifestyle. I'm not the originator of this hair style but I've gotten so many requests for it, I thought I'd give it a go for you.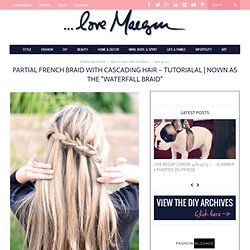 I don't know what it's called either so I haven't researched it and/or found any other tutorials for it …thus, this is my version of it, and I've dubbed it the Partial French Braid w/ Cascading Hair. The photos I've seen online show the braid a little more straight across the back of the head and mine sort of braids at an angle, similar to my side/low french braid up-do.
I'm sure this is 100% easier to do on someone else's hair than your own but it goes pretty quickly once you get the hang of it …I mean, it's my shortest hair video tutorial to date. Most favorited all-time. Re-purposing: Tshirts into 5-strand-braided-headbands. I was walking through Target a few weeks ago and noticed this little knit fabric headband that was not just braided together…….but woven.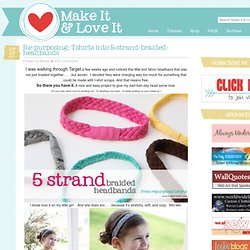 I decided they were charging way too much for something that could be made with t-shirt scraps. And that means free. So there you have it. Everyday Mom Ideas: Scrap Paper Tree Centerpiece Tutorial (Featured guest blogger) Hi there!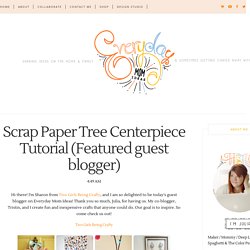 I'm Sharon from Two Girls Being Crafty, and I am so delighted to be today's guest blogger on Everyday Mom Ideas! Thank you so much, Julia, for having us.
---