Drinks
13 Vodka Shots You'll Actually Want To Take. Homemade Energy Drink. I started out with the intention of coming up with a recipe for a homemade version of the store bought energy drinks, but after doing some research and discovering how unhealthy they are for you, I decided instead to try and design a less sugar/caffeine fueled way to help myself through the workday afternoon sleepy slump.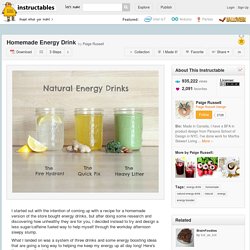 What I landed on was a system of three drinks and some energy boosting ideas that are going a long way to helping me keep my energy up all day long! Here's the good on the drinks: The Fire Hydrant (left) - 3-4 8oz glasses throughout the day. 20 Alcoholic Beverages Inspired By The Harry Potter Series. Amazing Spiced Chai Concentrate.
Salted Hot Chocolate. Please update your google readers!
As mid-afternoon hit on our snowed- in Saturday, I started to go a little stir crazy. I love being snowed in, but one can only take so many bad action movies, spazed cleaning moments, and requests to make something to eat every 5 minutes from a turkey-loving husband. I certainly think I will be well prepared for children one day. Strawberry Margarita Jell-O Shooters. Strawberry Margarita Jell-O Shooters Margarita Jell-O Shooters ~ A fun farewell to summer and a festive edition to your Sunday football tailgate party or gatherings.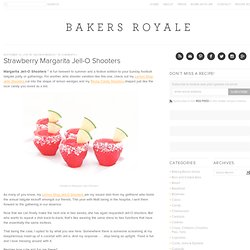 For another Jello shooter variation like this one, check out my Lemon Drop Jello Shooters cut into the shape of lemon wedges and my Rocky Candy Shooters shaped just like the rock candy you loved as a kid. Step-by-Step: Amazing Spiced Chai Concentrate – Tasty Kitchen Blog. Warm spices, strong tea and steamed milk swirling around in my tummy make chai lattes a favorite during the winter months.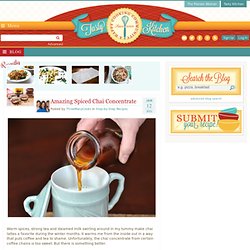 It warms me from the inside out in a way that puts coffee and tea to shame. Unfortunately, the chai concentrate from certain coffee chains is too sweet. But there is something better. Tequila-Soaked Watermelon Wedges.
---