Food
Get flash to fully experience Pearltrees
I'm sorry. I know it's Monday morning and you probably came here for some pretty pictures of food that you could glance at, and then move on with your day… and here I go thrusting warm, soft cinnamon sugar bread in your face. It's not fair.
Cupcake Buns + Brownie Burgers + Cookie Fries = One Happy Meal! Or many… I can hardly stand how cute these little guys are. You've probably seen them around before.
I've always had a penchant for sunshine in a jar. Doesn't the very phrase itself, "sunshine in a jar," roll off your tongue and fill your mouth with magic? While I've never yet found myself a sunshine in a jar, I think we may have just concocted it in our kitchen tonight. In this simple recipe, a basic white cake is turned into a slew of bright colors, baked to perfection, then topped with a creamy white frosting.
2010 is almost a memory, and what remains is mostly the bitter-sweet disassembling of Christmas. I've been finding pieces of packaging shrapnel from eager gift opening and the odd half-eaten piece of Christmas candy (a sure sign of overindulgence). For me, these days-after feel a little awkward, but reflecting on the year fills my glass half-full again. So many amazing things happened, and I am hopeful that 2011 will be even better! I may even have a resolution or two.
Strawberry Margarita Jell-O Shooters Margarita Jell-O Shooters ~ A fun farewell to summer and a festive edition to your Sunday football tailgate party or gatherings. For another Jello shooter variation like this one, check out my Lemon Drop Jello Shooters cut into the shape of lemon wedges and my Rocky Candy Shooters shaped just like the rock candy you loved as a kid.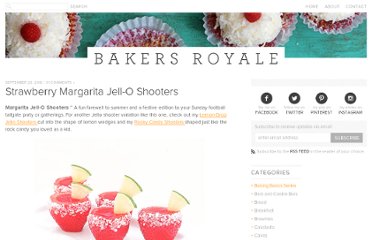 Have you given up on making biscuits? Do they seem like too much trouble for the end result? I was kinda in that boat.