Softwar and webapps to increase productivity
Online Employee Scheduling. That's Otipo.
spendbrite : Budgeting made easy : Free personal budget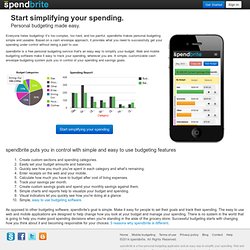 Everyone hates budgeting! It's too complex, too hard, and too painful. spendbrite makes personal budgeting simple and useable. Based on a cash envelope approach, it provides what you need to successfully get your spending under control without being a pain to use. spendbrite is a free personal budgeting service that's an easy way to simplify your budget. Web and mobile budgeting software make it easy to track your spending, wherever you are. A simple, customizable cash envelope budgeting system puts you in control of your spending and savings goals.
oneDrum
Zen - The distraction free writing enviroment
web2phone -- Web bookmarks for Android
+ New .COMs $7.99/yr plus 18 cents/yr ICANN fee. Discount based on new one-year registration prices as of 1/27/2012 with sale price reflected in your shopping cart at checkout. Discount applies to new registrations and renewals and cannot be used in conjunction with any other offer or promotion.
申し込みをインターネットや、ATMなどから行うと、その後早ければ30分ていどで融資を行ってくれるサービスを即日融資とよんでいます。これは消費者金融などお金を貸してくれるサービスの中で、最も人気の高い商品と言われています。 即日融資はまず利息を比較 まず即日融資を比べるのなら、利息を確認してほしいものです。利息とは返済のときに支払う手数料のようなもので、この利息は即日融資を行っている会社の儲けになります。
Downtweet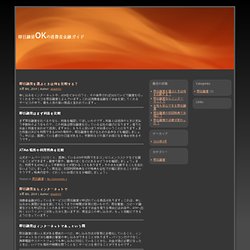 Email Marketing Analytics - CampaignCog
08:18
Using the same password for multiple email, shopping and social networking websites is risky, it means that a security breach at one website will compromise all your accounts, possibly even leading to identity theft. So, the idea is that you memorise just one, reasonably long/secure master password and use that to generate a set of non-dictionary passwords. Copy and paste the new password(s) into the website and set your web browser to remember them.
Password Generator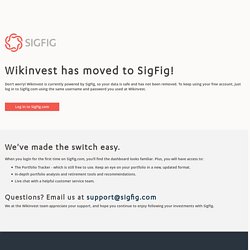 Rest assured, our secure servers download data for over 80,000 accounts from over 55 different brokerages totaling over $20 billion each day. Protecting your information is our top priority. Creating a username and password helps keeps your information secure. "The new portfolio manager from Wikinvest.com is already the most advanced of its kind."
jobety
FlipMyPhotos is an easy to use online photo editor. It provides many common features of popular photo editing tools (such as cropping, rotating, red eye reduction, etc.) and all of it from a user friendly web site. Now you don't need to install any complicated software just to crop your photos so you can use it from any computer in the world! It's perfect for editing photos for Facebook©, MySpace© or Flickr©. One the unique features of FlipMyPhotos is the outstanding performance of the editor window.
Flip My Photos - Online Photo Editor - Rotate, Resize, Fix Red Eye. Image Editor for MySpace and Facebook.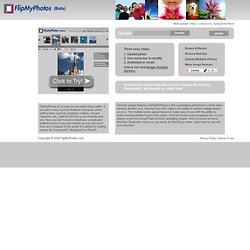 NameNinja | Super Fast Domain Name Search
Boo.kmarked | The Free Bookmarklet Maker
Waterbear is a toolkit for creating drag-and-drop programming languages, with some example languages you can play around with and learn from. The goal is to make it easy to wrap other existing languages with Waterbear blocks to create draggable, snappable syntaxes for them. Waterbear is a toolkit for making programming more accessible and fun.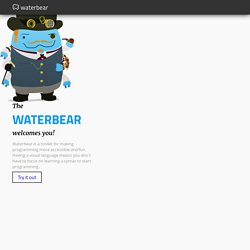 Thirteen months ago, as the story goes, I went mappy. Quoth myself: Once upon a time, I lived in Oakland, California, near a tidy stripe of pavement called John Street. After the birth of my son John, who took my middle name, we'd occasionally roll by. I'd holler "Hey, look, it's John Street!"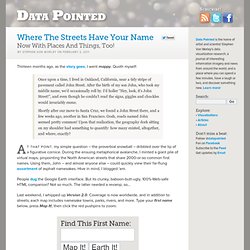 Where The Streets Have Your Name – Now With Places And Things, Too!
WriteThat.Name by Kwaga: your address book, always up-to-date.
This Sidebar gadget isn't quite "yet another power meter" for your laptop battery: while most power meters show the remaining battery charge (similar to the task bar icon that's included in Windows), this one shows the current power drain in real time. Make sure to visit our FAQ! This means that if you start doing something that's power intensive, like turning on WiFi, turning up the display brightness, or plugging in lots of USB devices, you'll be alerted immediately about the increased consumption. Although this description might sound very techincal, it's actually very easy to use and really pretty, too!
pwrdrain-gadget - A Windows Sidebar gadget that shows the system's power usage in real time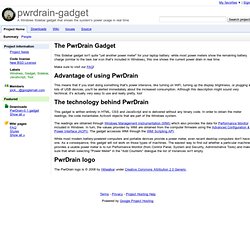 Split a PDF into Useful Pages or Chapters in PDF tooSupports Range, Burst, and Odd-Even ModesRange: Enter page no. and/or ranges separated by commasBurst: Save every page as a PDF fileEven/Odd: Save odd and even pages as 2 separate PDF filesNo Registration, No EmailUnlimited Uploads Extract useful pages from large size PDF file such as dissertation, thesis, transaction, newspaper, and magazine Sample Test PDF Select image thumbnail then click the Orange button.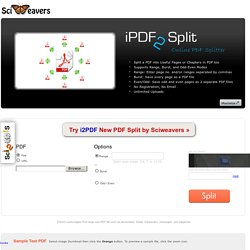 i2Type - International On-screen Keyboard
Cool Websites and Tools [July 21st] | MakeUseOf