Softwar and webapps to increase productivity
QRnot.es - Create a mobile web page with QR code FREE. Online Employee Scheduling. That's Otipo. Spendbrite : Budgeting made easy : Free personal budget. Page Speed Online. Appsbar - iPhone App Builder, Android App Builder, Windows App Builder.
OneDrum. Pen - Simple Online Publishing. Zen - The distraction free writing enviroment. Web2phone -- Web bookmarks for Android. + New .COMs $7.99/yr plus 18 cents/yr ICANN fee.
Discount based on new one-year registration prices as of 1/27/2012 with sale price reflected in your shopping cart at checkout. Discount applies to new registrations and renewals and cannot be used in conjunction with any other offer or promotion. Downtweet. Email Marketing Analytics - CampaignCog. 08:18. Password Generator. Using the same password for multiple email, shopping and social networking websites is risky, it means that a security breach at one website will compromise all your accounts, possibly even leading to identity theft. So, the idea is that you memorise just one, reasonably long/secure master password and use that to generate a set of non-dictionary passwords. Copy and paste the new password(s) into the website and set your web browser to remember them. See your portfolio in a whole new light - Wikinvest. Rest assured, our secure servers download data for over 80,000 accounts from over 55 different brokerages totaling over $20 billion each day.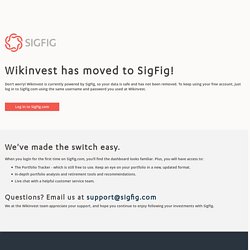 Protecting your information is our top priority. Creating a username and password helps keeps your information secure. "The new portfolio manager from Wikinvest.com is already the most advanced of its kind. " Jobety. Website Analysis and Stats. Flip My Photos - Online Photo Editor - Rotate, Resize, Fix Red Eye. Image Editor for MySpace and Facebook. NameNinja | Super Fast Domain Name Search. Strike - A fun and easy way to strike stuff off lists. Boo.kmarked | The Free Bookmarklet Maker. Waterbear. Where The Streets Have Your Name – Now With Places And Things, Too!
Thirteen months ago, as the story goes, I went mappy.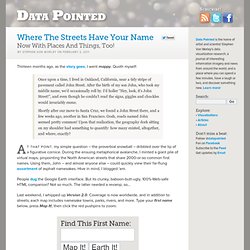 Quoth myself: Once upon a time, I lived in Oakland, California, near a tidy stripe of pavement called John Street. After the birth of my son John, who took my middle name, we'd occasionally roll by. I'd holler "Hey, look, it's John Street!" WriteThat.Name by Kwaga: your address book, always up-to-date. Pwrdrain-gadget - A Windows Sidebar gadget that shows the system's power usage in real time.
This Sidebar gadget isn't quite "yet another power meter" for your laptop battery: while most power meters show the remaining battery charge (similar to the task bar icon that's included in Windows), this one shows the current power drain in real time.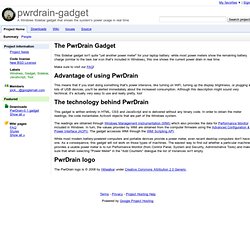 Make sure to visit our FAQ! This means that if you start doing something that's power intensive, like turning on WiFi, turning up the display brightness, or plugging in lots of USB devices, you'll be alerted immediately about the increased consumption. Although this description might sound very techincal, it's actually very easy to use and really pretty, too! Feeds API full text rss feed information extraction - content retrieval | Create fulltextrss. iPDF2Split - Free Online PDF Split. Split a PDF into Useful Pages or Chapters in PDF tooSupports Range, Burst, and Odd-Even ModesRange: Enter page no. and/or ranges separated by commasBurst: Save every page as a PDF fileEven/Odd: Save odd and even pages as 2 separate PDF filesNo Registration, No EmailUnlimited Uploads Extract useful pages from large size PDF file such as dissertation, thesis, transaction, newspaper, and magazine Sample Test PDF Select image thumbnail then click the Orange button.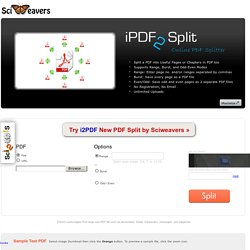 Online Latex Equation Editor. Convert Latex Equations into Images to Embed in Documents Embed Equation in Web Page, Forum, Google Docs, Twitter Render Latex Math Equations into Plain Text ASCII Insert ASCII Eqn as comment in source-code or email.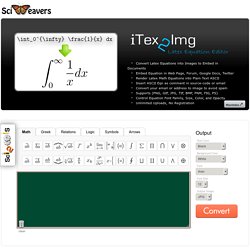 iWeb2Print - Free Online Web Page to Printer Friendly PDF. Convert Web Page to Elegant Printer Friendly PDFSave, Read, and Print Directly from your BrowserControl Page Size (Letter, Legal, A0-A9, B0-B10, +more)Control Orientation (Landscape, Portrait)Control PDF Mode (Color, Gray)Exclude Web Page Images or Background to Optimize PrintingNo Registration, No Email, Unlimited UsageChrome Extension - Firefox Add-On Printing TipsCheck gray scale for non color printer | Check no images to print text only | Check no background when converting dark background page to save printer toner Bookmarklet Convert web pages to PDF directly from your browser.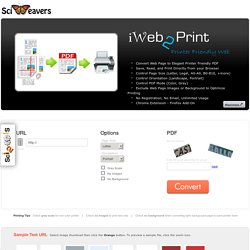 Drag this button to your browser Bookmarks toolbar Browser Extension / Add-On iWeb2x is a plugin for both Google Chrome and Firefox browsers. iWeb2x combines both iWeb2Print and iWeb2Shot. i2OCR - The Free Online OCR. i2Type - International On-screen Keyboard. ➘ More Productivity Tools i2Clipart Royalty Free Public Domain Clipart suitable for academic presentations and project logos i2Symbol Personalize social messages, e-mails, and tweets with rich graphical symbols.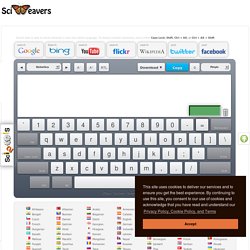 Online Task Management - Producteev. Cool Websites and Tools [July 21st] | MakeUseOf.
---