Philosophy
Daily Schedule for Happiness. After a while you learn&8230;. 4:37pm | Jan 30th, 2010 "After a while you learn the subtle difference between holding a hand and chaining a soul, and you learn that love doesn't mean leaning and company doesn't mean security, and you begin to learn that kisses aren't contracts and presents aren't promises, and you begin to accept your defeats with your head up and your eyes open, with the grace of an adult, not the grief of a child, and you learn to build all your roads on today because tomorrow's ground is too uncertain for plans.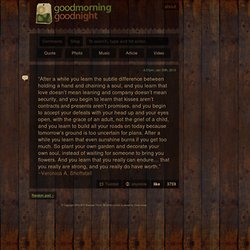 After a while you learn that even sunshine burns if you get too much. So plant your own garden and decorate your own soul, instead of waiting for someone to bring you flowers. And you learn that you really can endure… that you really are strong, and you really do have worth." ~Veronica A. The-Holstee-Manifesto.jpg?1285103639 from shopify.com.
Img-thingD.jpeg from deshoda.com - StumbleUpon. Eve,ensler,quote,quotes,words,courage-4cbe9ccdd83fb21125298c15d4308e5a_h.jpg... Secret Worlds. 7 Lessons From 7 Great Minds - Global One TV. Have you ever wished you could go back in time and have a conversation with one of the greatest minds in history?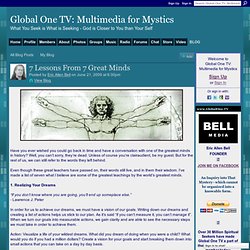 Well, you can't sorry, they're dead. Unless of course you're clairaudient, be my guest. But for the rest of us, we can still refer to the words they left behind. Even though these great teachers have passed on, their words still live, and in them their wisdom. I've made a list of seven what I believe are some of the greatest teachings by the world's greatest minds. The Egg - StumbleUpon. The Egg By: Andy Weir You were on your way home when you died.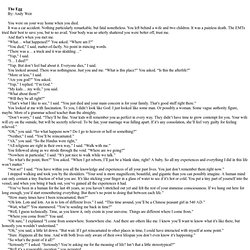 It was a car accident. Squashed Philosophers- Condensed Plato Aristotle Augustine Descartes Hume... - StumbleUpon. 25 Great Thinkers Every College Student Should Read | Bachelor's Degree... - StumbleUpon. By Donna Scott College is for expanding one's intellectual horizons.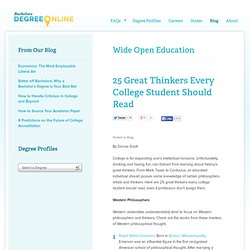 Unfortunately, drinking and having fun, can distract from learning about history's great thinkers. From Mark Twain to Confucius, an educated individual should posses some knowledge of certain philosophers, artists and thinkers.
---