Travel
Pub guide to London pubs and other pubs in the UK. | Fancyapint? - StumbleUpon. BUG Europe - the Backpackers Ultimate guide to budget travel in Europe - StumbleUpon. 80 things we wish we knew before we started traveling - StumbleUpon. 60+ Things to do in 40 European countries - StumbleUpon. Tipping Etiquette Around the World | MintLife Blog | Personal Finance News... - StumbleUpon. One of the biggest riddles of global travel isn't which airline to fly, where to stay or even which restaurants to dine in — plenty of travel guides and websites are eager to offer up advice and pricing options on that.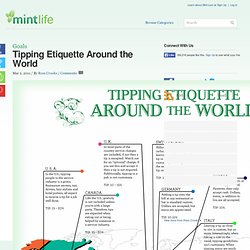 But how do you figure out, once at your destination, where and how much to tip? Just as customs and cultures vary in each country, so do tipping habits and expectations. In this infographic, we give you the basics on tipping etiquette, country by country, as well as a detailed guide on how much you're expected to tip for various services here in the United States. For more world infographic fun see: Medical Tourism Map: Where Patients Go to Save. How to Get Cheap Flights& ( 8 pgs. 3 illus.) - Art of Travel - European... - StumbleUpon. Chapter 4 Booking Strategies Large Internet Sites Student and Budget Specialists Domestic Bucket Shops Ethnic and Foreign Bucket Shops Courier Flying Round-the-World Tickets Charters Bumping To Gateways Glossary TWO HUNDRED YEARS ago the cost was seven years to a lifetime of servitude for average people making a one-way crossing of the Atlantic.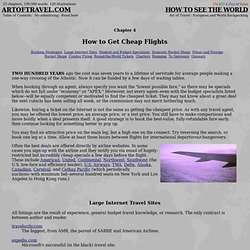 Now it can be funded by a few days of waiting tables. When booking through an agent, always specify you want the "lowest possible fare," as there may be specials which do not fall under "economy" or "APEX. " Airfare Deals - Cheap Flights. Ireland's Achill Island | OneTravel - StumbleUpon. 10 Irish Words You Should Know When Traveling Around the Emerald Isle | Ir... - StumbleUpon. One of the great things about traveling to Ireland is that the Irish people speak English.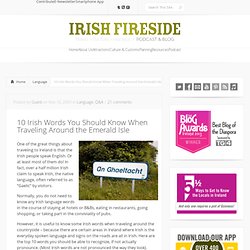 Or at least most of them do! In fact, over a half million Irish claim to speak Irish, the native language, often referred to as "Gaelic" by visitors.
---