Exterior
The First Zombie-Proof House. Somehow, ritual drunk-conversation concerning team captains for the apocalypse has become a major part of the lives of 20-somethings.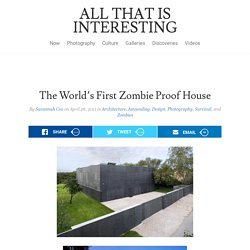 Having been matured in the Grandaddy-crowned masterpiece film (put "A.M. 180" on and forget that you have a job) 28 Days Later and the best-selling Zombie Survival Guide, we're all a little too ready to deal with the 2012 zombie apocalypse of our dreams. "The Safe House," designed by KWK Promes, starts to get eerily close to something I could work with, if say 200 bludgeoned members of the undead army came over to eat their way into borrowing some sugar.
"The most essential item for our clients was acquiring the feeling of maximum security," begins the designers' website in the summary of the structure. Earthbag Construction. EarthBag Homes - you're standing on the building materials... earthbag home Long sandbags are filled on-site and arranged in layers or as compressed coils.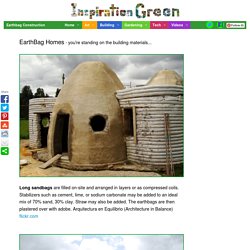 Stabilizers such as cement, lime, or sodium carbonate may be added to an ideal mix of 70% sand, 30% clay. Straw may also be added.
Backyard Projects. Fresh Ideas for Outdoor Play. By Handmade Charlotte | Now that summer has arrived, the backyard is the central spot for family activities.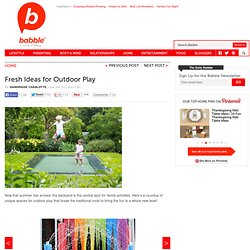 Here's a roundup of unique spaces for outdoor play that break the traditional mold to bring the fun to a whole new level! Nggallery id='121260′ Kiddie Car Wash. Pallet Shed. Privacy Policy for If you require any more information or have any questions about our privacy policy, please feel free to contact us by email at johnmd@eastlink.ca.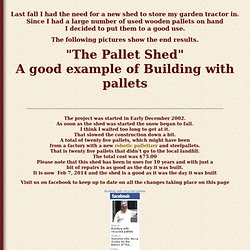 At the privacy of our visitors is of extreme importance to us. This privacy policy document outlines the types of personal information is received and collected by and how it is used. Log Files Like many other Web sites, makes use of log files. Pallet Fence 2. Privacy Policy for If you require any more information or have any questions about our privacy policy, please feel free to contact us by email at johnmd@eastlink.ca.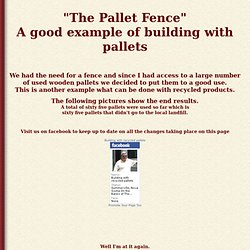 At the privacy of our visitors is of extreme importance to us. This privacy policy document outlines the types of personal information is received and collected by and how it is used. Log Files Like many other Web sites, makes use of log files. Pallet Fence. If you have access to various sizes of free pallets, consider this idea for your next fence.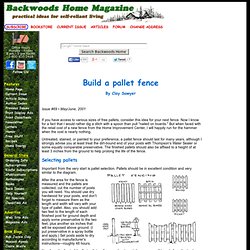 Now I know for a fact that I would rather dig a ditch with a spoon than pull "nailed on boards. " But when faced with the retail cost of a new fence from the Home Improvement Center, I will happily run for the hammer when the cost is nearly nothing. Untreated, stained, or painted to your preference, a pallet fence should last for many years, although I strongly advise you at least treat the dirt-bound end of your posts with Thompson's Water Sealer or some equally comparable preservative.
---