LISTENING
Teaching with songs. Una lista de canciones para aprender inglés. The Bangles Eternal Flame (verbo "to be" y presente simple) Historical heritage.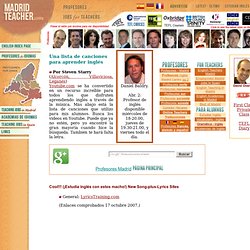 Special English | Learning English. English Vocabulary Flashcards - Fichas de Vocabulario de inglés. Songs - Aprender inglés con letras de canciones en inglés - Learn English with song lyrics. Las letras de canciones en inglés resultan muy útiles para aprender palabras y expresiones nuevas.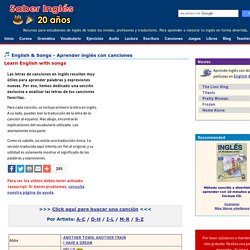 Por eso, hemos dedicado una sección exclusiva a analizar las letras de tus canciones favoritas. Por cada canción, se incluye la letra en inglés, notas relacionadas con el vocabulario utilizado en la canción y la letra traducida al español. Listening. Welcome to EnglishClub Listening, to help you learn the skill of listening in English.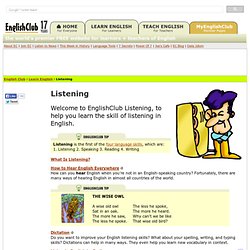 Listening is the first of the four language skills, which are: 1. Listening 2. Speaking 3. Reading 4.
---