Art
Mozilla Firefox
Family Style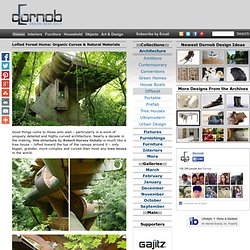 Good things come to those who wait – particularly in a work of uniquely detailed and highly curved architecture.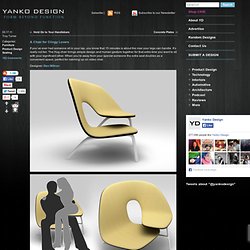 A Chair for Clingy Lovers If you've ever had someone sit in your lap, you know that 15 minutes is about the max your legs can handle. It's really not fair.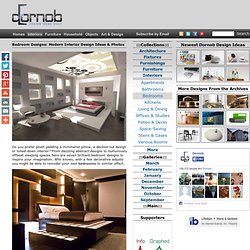 Do you prefer plush padding a minimalist pillow, a decked-out design or toned-down interior?
Man decorates basement with $10 worth of Sharpie | Health
When Charlie Kratzer started on the basement art project in his south Lexington home, he was surrounded by walls painted a classic cream. Ten dollars of Magic Marker and Sharpie later, the place was black and cream and drawn all over. There are fictional detectives Hercule Poirot and Sherlock Holmes, Winston Churchill lounging with George Bernard Shaw — and the TV squirrel Rocky and his less adroit moose pal Bullwinkle.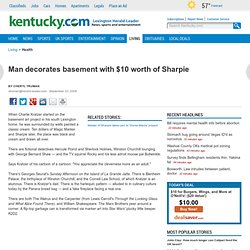 Graphic Design Examples Worldwide: How Nationality Reflects In Artworks Part 2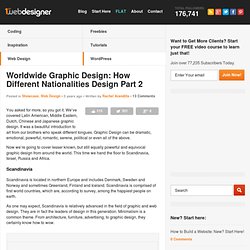 You asked for more, so you got it. We've covered Latin American, Middle Eastern, Dutch, Chinese and Japanese graphic design. It was a beautiful introduction to art from our brothers who speak different tongues. Graphic Design can be dramatic, emotional, powerful, romantic, serene, political or even all of the above.
When I bought something at a store recently, the clerk handed me my purchase in a bag made from a newspaper. I liked it very much and had to make some more—thus today's DIY recycled newspaper project: gift bags made from the Wall Street Journal. You can vary the dimensions, of course, but here's what I used to create a bag that's 5" tall, 4.5" wide, and 3" deep. Stack two sheets of newspaper on top of each other.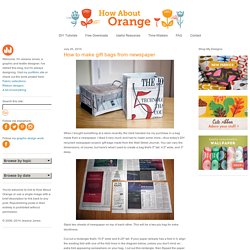 Chateaux in France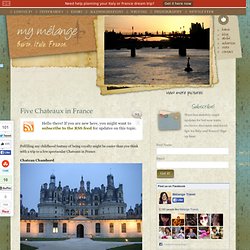 Hello there! If you are new here, you might want to subscribe to the RSS feed for updates on this topic. Powered by WP Greet Box WordPress Plugin Fulfilling any childhood fantasy of being royalty might be easier than you think with a trip to a few spectacular Chateaux in France. Chateau Chambord Hidden in the center of a forest is the Chateau Chambord.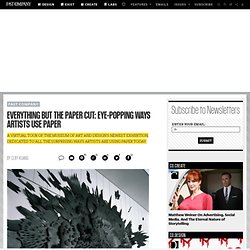 Andreas Kocks" width="572" height="727" /> In the year since the Museum of Art and Design reopened in its new digs on Columbus Circle, they've been delivering consistently compelling shows--from punk-rock lace to radical knitting experiments. The newest, "Slash: Paper Under the Knife", opened last weekend and runs through April 4, 2010. The focus is paper--and the way contemporary artists have used paper itself as a medium, whether by cutting, tearing, burning, or shredding. In all, the show features 50 artists and a dozen installations made just for the show, including Andreas Kocks's Paperwork #701G (in the Beginning), seen above. Here's a sampling of the other works on display:
Paris Cavallini City Guide Notebook 5x7 |Touch Of Europe
Two facts about me: I'm cheap. I love dresses. I wear dresses probably 6 days out of the week. It's not that I one day just decided to wear dresses to feel cute and girly. Far from it.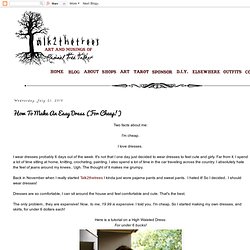 12 Coolest Steampunk Gadgets - Oddee.com (steampunk jewelry)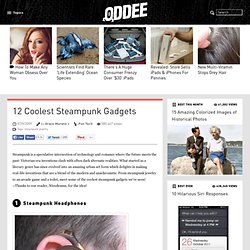 Steampunk is a speculative intersection of technology and romance where the future meets the past: Victorian era inventions clash with often dark alternate realities. What started as a literary genre has since evolved into an amazing urban art form which delights in making real-life inventions that are a blend of the modern and anachronistic. From steampunk jewelry to an arcade game and a toilet, meet some of the coolest steampunk gadgets we've seen!
Advertisement Album cover art is often considered to be one of the "extincted" fields in modern graphics design. In times when digital copies are cheaper and quicker to get, album covers have somehow lost their importance as less and less customers actually buy CDs and LPs in the stores. That's a pity because album covers can be extremely expressive and convey the message of the album in a number of creative ways. This post attempts to prove exactly that.
35 Beautiful Music Album Covers - Smashing Magazine
Millenium Development Goals
Paying the Same Amount for Smaller Products
Dance - une vidéo Arts
blue moss