Ux
Elliot H R sur Twitter : Still on Google Drive. Not great #UX with the random error pop up. No indication what it's to do with. Uhmm? Horror Vacui. After the launch of Codecademy's redesign on April 23rd, some people reached out to us wondering how we were able to embrace such a clean, minimal interface.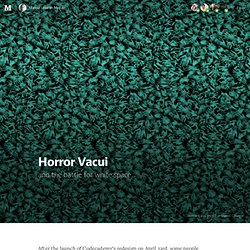 Designers are of course renowned for their lust for white space and unconfined content, yet for us, this was not just a preference or arbitrary choice, but a very intentional pursuit. Some of you might have heard of horror vacui, a latin expression originally applied to visual arts, which expresses a "fear of the empty". It simply entails a very common human desire to fill empty spaces with objects or information.
Unicorn, Shmunicorn: Be a Pegasus. If you're reading this, you're probably a designer .
Maybe you code, maybe you don't. But it's likely you're feeling more and more pressure to hone your programming skills and become that mythical product development creature who can both create compelling designs and write production code. There are plenty of reasons why being a unicorn isn't all it's cracked up to be. But what you might not have considered is that aspiring to be a unicorn could be the biggest mistake of your career. Qwasi Intelligent Engagement, Opera Coast browser for iOS will change Mobile Web forever. Opera Coast browser for iOS will change Mobile Web forever (Credit: IntoMobile) After iPad, Opera Software is bringing its Opera Coast browser to the iPhone, featuring a revamped UI that is especially designed for single-hand use.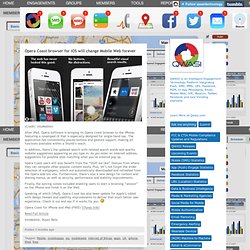 What Is Pinterest? Best of 2012: UI Animations — Beautiful Pixels. Ten things we know to be true – Company – Google. We first wrote these "10 things" when Google was just a few years old.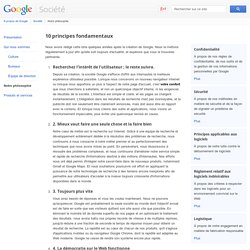 From time to time we revisit this list to see if it still holds true. We hope it does—and you can hold us to that. Focus on the user and all else will follow. Since the beginning, we've focused on providing the best user experience possible. Whether we're designing a new Internet browser or a new tweak to the look of the homepage, we take great care to ensure that they will ultimately serve you, rather than our own internal goal or bottom line. Hotels.com - Réservations offres et remises | wake up happy. Research on web usability and conversion rate optimization - Baymard Institute. Serif vs. Sans-Serif Fonts for HD Screens. Introducing the next iteration of GOV.UK. As Tom explained back in January, the GOV.UK beta is a work in progress.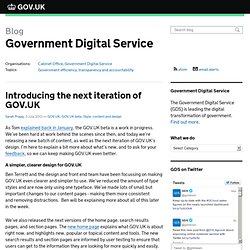 We've been hard at work behind the scenes since then, and today we're releasing a new batch of content, as well as the next iteration of GOV.UK's design. I'm here to explain a bit more about what's new, and to ask for your feedback, so we can keep making GOV.UK even better. UI Prototyping Tool Made Beautiful - Create Interactive Wireframes & High Fidelity Prototypes. To Connect With Consumers, Ditch The Focus Groups. Try Acting Instead. Some months ago, I wrote an article here where I claimed that market research data is overrated, especially when it comes to innovative products and services.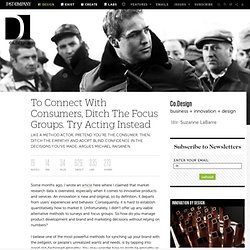 An innovation is new and original, so by definition, it departs from users' experiences and behavior. Consequently, it is hard to establish quantitatively how to market it. Unfortunately, I didn't offer up any viable alternative methods to surveys and focus groups. So how do you manage product development and brand and marketing decisions without relying on numbers? Symbol Signs. The complete set of 50 passenger/pedestrian symbols developed by AIGA is available for all to use, free of charge.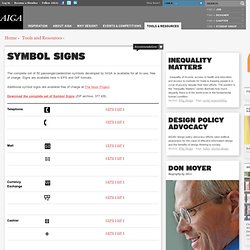 Signs are available here in EPS and GIF formats. Additional symbol signs are available free of charge at The Noun Project. Unicorn: a visual designer with UX chops. Unicorn: a visual designer with UX skills I was speaking to an entrepreneur the other day when he mentioned he was looking for a "creative director with UX skills."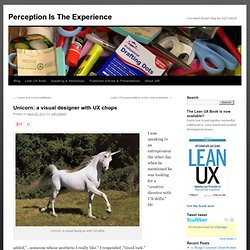 He added,"…someone whose aesthetic I really like." I responded ,"Good luck." Having recently completed a year-long search for just such a person I'd resigned to believe this person was a in fact a unicorn. This person may exist – someone may have seen one once – but in most cases they're simply fantastical stories of designers long-since employed elsewhere. 5 Reasons Why Metaphors Can Improve the User Experience.
There are many ways to experience the world around us.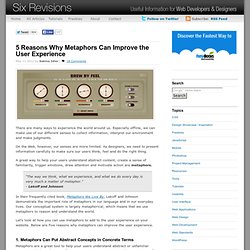 Especially offline, we can make use of our different senses to collect information, interpret our environment and make judgments. On the Web, however, our senses are more limited. As designers, we need to present information carefully to make sure our users think, feel and do the right thing. A great way to help your users understand abstract content, create a sense of familiarity, trigger emotions, draw attention and motivate action are metaphors. "The way we think, what we experience, and what we do every day is very much a matter of metaphor. " - Lakoff and Johnson. QR Code Survey. Mydeco.com | Shop Unique Range Of Furniture, Home Accessories & Gifts.
Helping startups design great products. A Collection of Printable Sketch Templates and Sketch Books for Wireframing | geekchix.org. At the beginning of a web (or application) development project I always create the sketches first.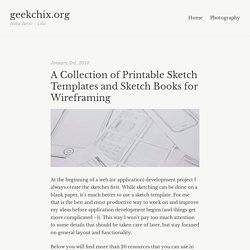 While sketching can be done on a blank paper, it's much better to use a sketch template. For me that is the best and most productive way to work on and improve my ideas before application development begins (and things get more complicated :-)). This way I won't pay too much attention to some details that should be taken care of later, but stay focused on general layout and functionality. Below you will find more than 20 resources that you can use in sketching phase of application development. If you have some additional resources to share, please leave a comment so I can add them to the list. Lara: I love this messaging! Wha... iTravel: Apple's Future Travel Centric App for the iPhone. Patent Background Transportation ticketing has traditionally involved a pre-printed ticket which is scanned at a departure station. For example, transportation tickets may be printed at home with a barcode or a QR code (i.e., a 3-dimensional barcode) encoded with information about the traveler and/or the travel (e.g., name, destination, departure time, schedule number, etc.).
Kevin Mireles | Product Management, Marketing, Startups & News 2.0. Why wireframes can hurt your project | Attack Of Design. Wireframes are one of the main tools in the user experience designer's toolkit. Most usability and web design books devote a considerable section to sketching, paper prototyping, and other forms of planning. But while I agree wireframes can have their place in some projects, I think they are actually detrimental in a lot of cases. A new environment In recent years, a few factors have started shaping the world of web design and development in a new direction. The Landscape of User Experience Design in Asia, by Daniel Szuc and Josephine Wong. Posted by core jr | 5 Jan 2012 | Comments (4) As businesses in Asia in various domains look to how they can mature, differentiate and compete globally in their respective products and services, User Experience (UX) is gaining significant momentum.
Management are curious as to what UX means and how it can be applied to not just improve experiences but towards real customer delight. They are looking for people and professional communities to help them understand. TinyGrab - Simple. Screenshot. Sharing. Taming Complexity. I'm going to step into my UX trousers for this one. I wouldn't usually wear them in public, but it's Christmas, so there's nothing wrong with looking silly. Anyway, to business. Wherever I roam, I hear the familiar call for simplicity and the denouncement of complexity. I read often that the simpler something is, the more usable it will be. We understand that simple is hard to achieve, but we push for it nonetheless, convinced it will make what we build easier to use. More on Burying the Sign Up Button. Why the counter-intuitive removal of sign-up actually helps you focus on your user's goals. A couple weeks ago I published Why You Should Bury your Sign Up Button and got some really interesting feedback and comments from folks.
One of the more interesting bits was a follow-up post by the folks at Zurb who had experienced the exact same phenomenon…when they took away the "sign up" button and instead put a "learn more" button at the bottom of the page they got a 350% increase in sign ups: Why Burying Sign Up Buttons Helps Get More Sign Ups. What I Learned About the Web in 2011. BBC Internet Blog: BBC Weather: Design Refresh in Pictures. Twitter: Yours to discover.
Kindle Fire Usability Findings. Lean UX: Getting Out of the Deliverables Business - Releasing in 2012, this book redefines the way UX designers work with their colleagues by focusing on a shared understanding of the experience being created rather than documentation. Usability Counts | Blog Archive | Five Reasons Why Skype 5.0 for Mac Sucks. It's what you do. UX Magazine | Defining and Informing the Complex Field of User Experience (UX)
---