Technology
Help Forums - Google Help. How to Estimate the Break-Even Point of Paid Search. A few months ago I wrote about the death of paid search and had to sustain the backlash of the paid search community through 38 comments and multiple "hate tweets."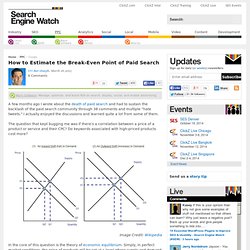 I actually enjoyed the discussions and learned quite a lot from some of them. The question that kept bugging me was if there's a correlation between a price of a product or service and their CPC? Do keywords associated with high-priced products cost more? Why am I seeing extra information next to the sender's name? - Gmail Help. Gmail believes that by adding more information about the origin of a message, you can be better informed about who sent the message and can avoid confusion.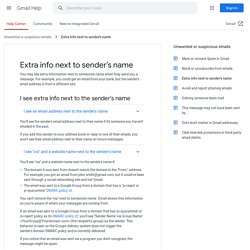 For example, if someone fakes a message from a sender that you trust, like your bank, you can use this information to see that the message is not really from your trusted sender. The information that we use to display this information is included in the message headers but these headers can be hard to understand. CircleCount.com ─ Google+ Statistics - Get your CircleRank and see the most popular people at Google+ How Traditional Media Companies Can Conquer the Digital Wave.
June 5, 2012 • Michael Teitelbaum • Marketing Strategy How Traditional Media Companies Can Conquer the Digital Wave I recently returned from addressing the Media Financial Management Association conference in Las Vegas.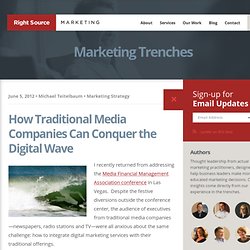 Despite the festive diversions outside the conference center, the audience of executives from traditional media companies—newspapers, radio stations and TV—were all anxious about the same challenge: how to integrate digital marketing services with their traditional offerings. Consumers and businesses have more entertainment and information choices than ever before and audiences are increasingly fragmented. Advertisers are demanding digital exposure. Using tinEye to understand Google's image search. 16.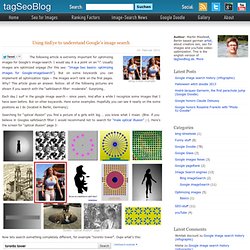 Februar 2011 Using tinEye example The following article is extremly important for optimizing images for Google's image-search. LunaTV Ep. 10 - Google Analytics - GA for Large Sites. This week's topic is Google Analytics.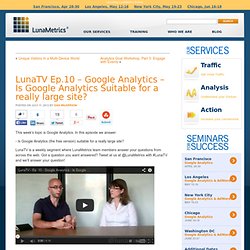 In this episode we answer: - Is Google Analytics (the free version) suitable for a really large site? LunaTV is a weekly segment where LunaMetrics team members answer your questions from across the web. Got a question you want answered? Tweet at us at @LunaMetrics with #LunaTV and we'll answer your question! Wajam's Updated Social Search Takes On Google's "Search, Plus Your World" Ever since it launched earlier this year, Google's "Search Plus Your World" initiative has been criticized for favoring results from its own social network over those from larger and more popular services like Facebook and Twitter.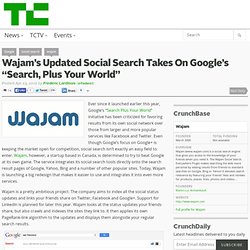 Even though Google's focus on Google+ is keeping the market open for competition, social search isn't exactly an easy field to enter. Wajam, however, a startup based in Canada, is determined to try to beat Google at its own game. The service integrates its social search tools directly onto the search result pages of Google, Yahoo, Bing and a number of other popular sites.
Today, Wajam is launching a big redesign that makes it easier to use and integrates it into even more services. Wajam is a pretty ambitious project. Should We Disavow Links To Combat Negative SEO? The Negative SEO conversation has truly been re-ignited and has everyone debating its affect again.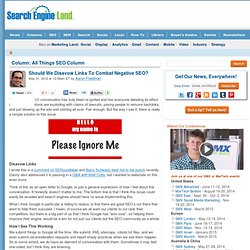 Conversations are exploding with claims of lawsuits, paying people to remove backlinks, and just blowing up the site and starting all over. Fair enough. Wepbage Screenshot Are you a webmaster. Powered by Übersetzer Get free Custom Brand Version of Webpage Screesnhot.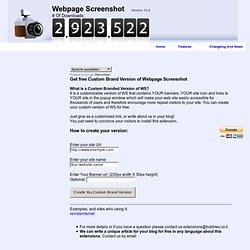 Wepbage Screenshot changelog. My blog disappeared - Blogger Help. If you can't find your blog or are seeing an error page, we're here to help.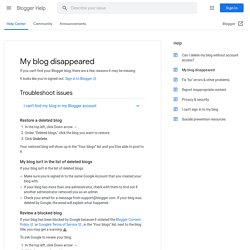 There are several common reasons for a blog disappearing, and we'll walk you through each one and how to resolve the problem. Accidental deletion Possible reason: Double check that you or a team member didn't delete your blog by accident. 7 Tips & Tricks To Get The Most Out Of Google Drive. Google Drive is a great service, but installing the application and synchronizing some files is just the first step.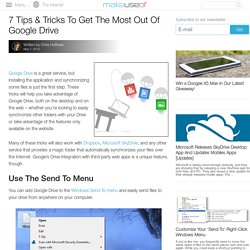 These tricks will help you take advantage of Google Drive, both on the desktop and on the web – whether you're looking to easily synchronize other folders with your Drive or take advantage of the features only available on the website. Many of these tricks will also work with Dropbox, Microsoft SkyDrive, and any other service that provides a magic folder that automatically synchronizes your files over the Internet. Google's Drive integration with third-party web apps is a unique feature, though. Use The Send To Menu. Google Penguin Update Recovery Tips & Advice. Struggling to know what to do in the wake of Google's Penguin Update? Judging from all the comments and forum discussions we've seen, plenty are. We've got a little initial advice from Google on the topic, mixed with our own. What Was Penguin? The Penguin Update launched on April 24. What Google's "Over-Optimization" Penalty Really Means.
The dust is beginning to settle around the announcement Matt Cutts, head of the webspam team at Google, made at South by Southwest (SXSW) in Austin. Essentially, he commented that Google will soon be rolling out a new over-optimization penalty in their ranking algorithm. This update has supposedly gone live already according to some, but Google said "in the next few days" 36 hours ago.
Regardless, there's no shortage of speculation. Here's some of what he said: Google AdWords Tests Trusted Stores Endorsements. Looks like Google has started testing out customer service endorsements inside paid search ads according to Internet Retailer. About a dozen of Trusted Stores' "couple hundred" retailers are taking part in this experiment.
Google Trusted Stores is a customer service program that takes into account reviews, shipping times, products, customer issues resolved and a variety of other factors. Google Plus Guide in 15 Minutes. Some people don't believe in climate change. Other people don't believe that Google+ is changing how the internet works. This article is for people in the second group. Why Google+? Put simply, Google wants to customize your search results based on what your friends like. Google Drive's Introduction Looks To Dropkick Dropbox. 10 GB of Free File Storage – Sync, Store, Share All In The Cloud. Could DuckDuckGo Be The Biggest Long-Term Threat To Google? Robin Wauters at The Next Web recently wrote about an interesting trend taking place at upstart search engine DuckDuckGo.
DDG (DuckDuckGo) is self-described as: We are a search engine with: Way more instant answers. Way less spam and clutter. Where Are Your Inbound Links? Create Presentation Slides with iPad Drawing App Paper. Tell Google To Remove An Indexed Post or Page From The Search Results. Turn any Twitter into an RSS feed | CNET TV | Video Product Reviews, CNET Podcasts, Tech Shows, Live CNET Video. Friendcaster for Facebook. About personalized ads on Google Search and Gmail - Web Search Help. Free Keyword Suggestion Tool - Keyword Country. How To Use Firefox Profiles & Run Multiple Firefox Profiles At Once. Keyword stuffing - Webmaster Tools Help.
Creating Responsive Web Design. Instagr.am. 5 Tips for Creating and Maintaining Customer Loyalty. Think you're affected by the recent algorithm change? Post here. WP Profiles. Google Drive Offers 5GB Free Storage, Rumored Release in Third Week of April. The future of Android, visualized. Google I/O day 1: Android 3.1, Ice Cream Sandwich, movies and more.
Social Media Dashboard | Unilyzer | Social Media DashboardUnilyzer. Google Meets Miss Manners, Encourages Searchers To Thank Those Who +1'd Content. Android 4.0 upgrade list: Is your device getting Ice Cream Sandwich? About Google Play - Google Play Help. Android Apps on Google Play. Play. Search plus Your World: Personal results - Web Search Help. Privacy tools – Google. Manage your data – Good to Know – Google. Good to Know – Google. Policies & Principles. 5 Essential Spreadsheets for Social Media Analytics.
---