Tech
The 80 Best Lifehacks of 2008. And so we arrive yet again at the end of another year. 2008 was at best a mixed bag – while the world was electrified by the US election and it's promise of change, the global economy was shaken to its core as a decade of financial mismanagement and willful blindness finally caught up with us.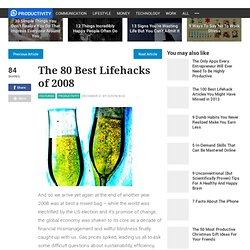 Gas prices spiked, leading us all to ask some difficult questions about sustainability, efficiency, and consumption – and then plummeted, leaving us feeling somewhat relieved, but baffled by the unpredictability of it all. As we roll into 2009, there is an atmosphere of suspenseful anticipation, of hope mixed with not a little uncertainty. 100+ Sites to Download All Sorts of Things. These days you can find all sorts of things online, from audio books to flash files, from sound effects to CSS templates. Below we compiled a list with over 100 download sites that serve that purpose. We will also try to keep the list updated, so if your favorite download site is not here, let us know about it with a comment. Audio Books Librivox: One of the most popular audio libraries on the web. 7 Ways to Use Evernote. Last week, Lifehack founder Leon Ho introduced me to the beta note taking application Evernote.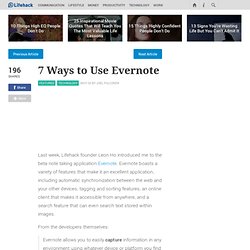 Evernote boasts a variety of features that make it an excellent application, including automatic synchronization between the web and your other devices, tagging and sorting features, an online client that makes it accessible from anywhere, and a search feature that can even search text stored within images. From the developers themselves: 21 Websites That Will Make Your Twitter Explode | AwardSpace Blo. We all want to be followed, well maybe not all of us but anyway..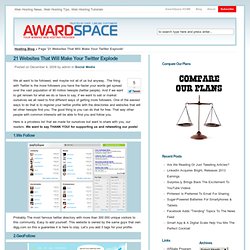 The thing with Twitter is the more followers you have the faster your words get spread over the vast population of 90 million tweople (twitter people). And if we want to get renown for what we do or have to say, if we want to sell or market ourselves we all need to find different ways of getting more followers. One of the easiest ways to do that is to register your twitter profile with the directories and websites that will let other tweople find you. Improve Your Google Search Skills [Infographic] - How-To Geek - StumbleUpon.
Don't limit yourself to just plugging in simple search terms to Google; check out this infographic and learn a search string search or two.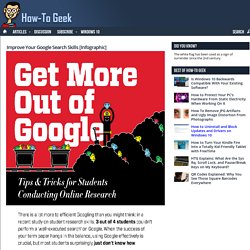 You don't need to limit yourself to searching just for simple strings; Google supports all manner of handy search tricks. If you want to search just HowToGeek.com's archive of XBMC articles, for example, you can plug in site:howtogeek.com XBMC to search our site. Get More Out of Google [HackCollege via Mashable] Jason Fitzpatrick is warranty-voiding DIYer and all around geek. When he's not documenting mods and hacks he's doing his best to make sure a generation of college students graduate knowing they should put their pants on one leg at a time and go on to greatness, just like Bruce Dickinson.
Watch TV Online for Free - Clicker. Top 100 Podcasts : Podcast Directory. D*I*Y Planner | the best thing in printing since Gutenberg. 64 Things Every Geek Should Know « Caintech.co.uk. If you consider yourself a geek, or aspire to the honor of geekhood, here's an essential checklist of must-have geek skills.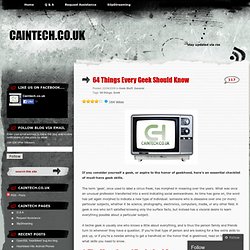 The term 'geek', once used to label a circus freak, has morphed in meaning over the years. What was once an unusual profession transferred into a word indicating social awkwardness. As time has gone on, the word has yet again morphed to indicate a new type of individual: someone who is obsessive over one (or more) particular subjects, whether it be science, photography, electronics, computers, media, or any other field.
A geek is one who isn't satisfied knowing only the surface facts, but instead has a visceral desire to learn everything possible about a particular subject. Hacking Knowledge: 77 Ways to Learn Faster, Deeper, and Better | OEDb - StumbleUpon. If someone granted you one wish, what do you imagine you would want out of life that you haven't gotten yet?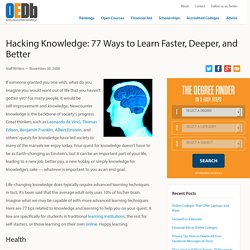 For many people, it would be self-improvement and knowledge. New knowledge is the backbone of society's progress. Great thinkers such as Leonardo da Vinci, Thomas Edison, Benjamin Franklin, Albert Einstein, and others' quests for knowledge have led society to many of the marvels we enjoy today. Discover - Recent Activity. 50 Free And Useful Websites To Be Thankful For. Do you ever wonder where we got our information before the Internet?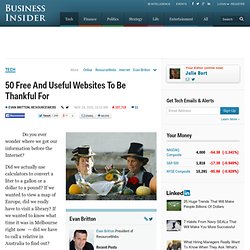 Did we actually use calculators to convert a liter to a gallon or a dollar to a pound? If we wanted to view a map of Europe, did we really have to visit a library?
---