Diy
Letter Art « 346 Living. 6 Jun Hi All!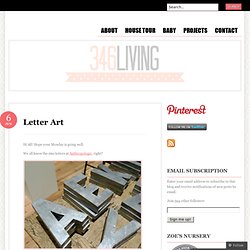 Hope your Monday is going well. We all know the zinc letters at Anthropologie, right? Tutorials by Lee. 25 clever ideas to make life easier. Via: amy-newnostalgia.blogspot.com Why didn't I think of that?!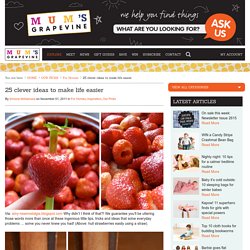 We guarantee you'll be uttering those words more than once at these ingenious little tips, tricks and ideas that solve everyday problems … some you never knew you had! (Above: hull strawberries easily using a straw). Stencils/Patterns/Ideas. Craft Passion: Free Craft Pattern & Tutorial. 80 How-To Sites Worth Bookmarking. Sitting on my dining room table, I currently have half a dozen projects in various states of doneness.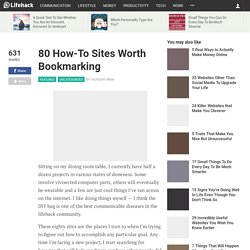 Some involve vivisected computer parts, others will eventually be wearable and a few are just cool things I've ran across on the internet. I like doing things myself — I think the DIY bug is one of the best communicable diseases in the lifehack community. These eighty sites are the places I turn to when I'm trying to figure out how to accomplish any particular goal. Any time I'm facing a new project, I start searching for how-tos that will help me figure out how other people did similar things and how likely I am to finish the project with all ten fingers still intact. I've broken them up into a few different categories, just to help you narrow down what you might be looking for. Copycat Crafts | DIY Designer Knock-Off Things to Make. Song Lyric Wall Art / D.I.Y. Project - A Beautiful Mess - StumbleUpon. A couple weeks ago, I found a paint-by-number at an unbeatable price.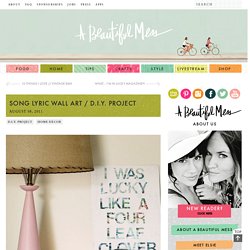 I can't pass these things up even though I already owned this particular design. I thought that I could maybe use it to make a fun D.I.Y., but my new rule is that all thrifts that I purchase with the intent of restyling need to get done right away. I have way too many half finished projects in my life. Impress Rubber Stamps: rubber stamps and card making ideas. Makeovers for Garage Sale Gems. Before: Boring & Basic Unattractive TV cabinets are thrift shop regulars.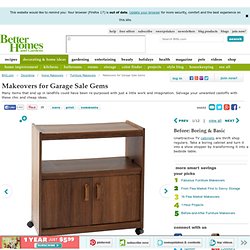 Take a boring cabinet and turn it into a show stopper by transforming it into a bedside table. After: Cute & Functional Start by removing the wheels and installing new wooden furniture feet. Then prime and paint the cart. Next, remove the doors and decoupage the fronts with decorative paper. Cut a new back for the cart from 1/4-inch plywood and decoupage it with coordinating paper. 30 Low-Cost Cabinet Makeovers: Save Money... Dramatic Accent Add drama to your kitchen by contrasting light-color cabinetry with a dark-stained cabinet.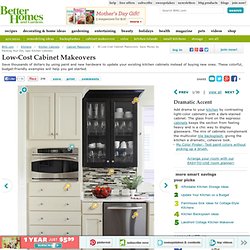 The glass front on the espresso cabinets keeps the section from feeling heavy and is a chic way to display glassware. The mix of cabinets complement the multicolor tile backsplash, giving the kitchen a dramatic, cohesive look. My Color Finder: Test paint colors without picking up a brush. Be Blogged : Wall Art. I am going to start a new feature on the website- Wall Art Wednesdays.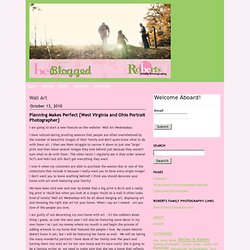 I have noticed during proofing sessions that people are often overwhelmed by the number of beautiful images of their family and don't quite know what to do with them all. I then see them struggle to narrow it down to just one "large" print and then leave several images they love behind just because they weren't sure what to do with them.
The other tactic I regularly see is they order several 5x7's and 4x6's but still don't get everything they want.
---