Gardening
DIY Succulent Pallet Table | Far Out Flora. Max with the new Succulent Table.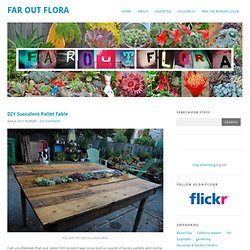 Can you believe that our latest DIY project was once just a couple of junky pallets and some scrappy table legs? Crazy…if I didn't have photos, I wouldn't believe it myself. Not too long ago, we whipped out a coffee table sized succulent table out of an old shipping crate. Small Footprint, Big Yield: Create an Easy Micro Organic Urban Garden Today! | Urban Gardens | Unlimited Thinking For Limited Spaces. April 28, 2009 by Robin Plaskoff Horton There are two things urban gardeners are short on: space and time.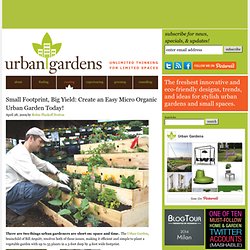 The Urban Garden, brainchild of Bill Arquitt, resolves both of these issues, making it efficient and simple to plant a vegetable garden with up to 55 plants in a 3-foot deep by 4-foot wide footprint. The contained six level tiered system is nearly maintenance-free, eliminating heavy weeding, and its northwestern cedar construction renders it naturally bug repellent. How To Make a Hanging Gutter Garden aHa! Home & Garden | Apartment Therapy New York.
Blog » 5 Secrets to a 'No-work' Garden. It took over 20 years of gardening to realize that I didn't have to work so hard to achieve a fruitful harvest.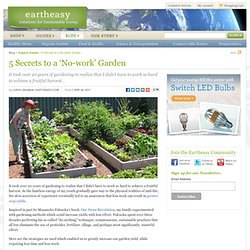 As the limitless energy of my youth gradually gave way to the physical realities of mid-life, the slow accretion of experience eventually led to an awareness that less work can result in greater crop yields. Inspired in part by Masanobu Fukuoka's book, One Straw Revolution, my family experimented with gardening methods which could increase yields with less effort. Fukuoka spent over three decades perfecting his so-called "do-nothing" technique: commonsense, sustainable practices that all but eliminate the use of pesticides, fertilizer, tillage, and perhaps most significantly, wasteful effort. Here are the strategies we used which enabled us to greatly increase our garden yield, while requiring less time and less work. 1. How to build a raised bed for your garden. How to Grow 100 Pounds of Potatoes in 4 Square Feet | Apartment Therapy Re-Nest.
On many occasions, we've been tempted to grow our own potatoes.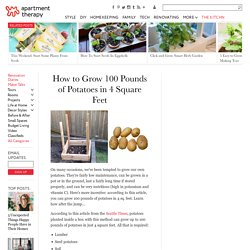 They're fairly low maintenance, can be grown in a pot or in the ground, last a fairly long time if stored properly, and can be very nutritious (high in potassium and vitamin C). Here's more incentive: according to this article, you can grow 100 pounds of potatoes in 4 sq. feet. Learn how after the jump... According to this article from the Seattle Times, potatoes planted inside a box with this method can grow up to 100 pounds of potatoes in just 4 square feet. Buckets, boxes, bowls, oh my! Gutter Gardens Grow Produce Without Taking Up Space.
How to Grow Vegetables | Guide to Growing Vegetables. Some general considerations for growing vegetables: Sowing Tips When sowing seeds, a good general rule of thumb is to sow to a depth of approximately twice the thickness of the seed.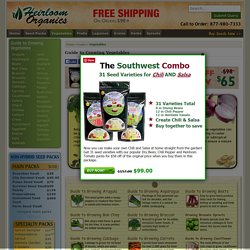 Some smaller seeds require light to germinate and should not be sown too deep; otherwise they may never germinate or break through the surface of the soil. Conversely, large seeds planted too shallow may not develop properly. Keep seeds well-moistened while awaiting germination and check regularly.
---